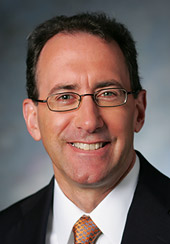 FROM OUR PRESIDENT:
I'm pleased to share some great news with you on OPB's recent awards, expansion and cutting-edge education coverage.
On June 7, the National Academy of Television Arts and Sciences announced the winners of the 2014 Northwest Regional Emmy Awards in Seattle. OPB won a record 10 Emmys, including the award for Station Excellence that recognizes one organization in the Northwest (Washington, Alaska, Oregon, Idaho and Montana) for overall quality. We are the first public broadcaster and only the second outside of Seattle to win this honor.
Oregon Experience, Oregon Art Beat, and Oregon Field Guide all received Emmys, and in some cases, more than one.
Our Glacier Caves special also recently won the national Murrow Award for Large Market Television-News Documentary from the Radio Television Digital News Association.
We are humbled by the support of our members who allow us to do such amazing work and receive such recognition and I couldn't be more proud of everyone here at OPB for these recent accomplishments.
I am also excited to announce that OPB is expanding. We are opening a Southwest Washington bureau to focus more on community coverage north of the Columbia. We've selected Conrad Wilson as our new Southwest Washington correspondent.
Wilson is a multimedia journalist with a wide range of experience, having covered politics in Washington, D.C, the environment in the Rocky Mountains, and agriculture in the Midwest. He spent several years at Minnesota Public Radio as the bureau reporter in central Minnesota, and was news director at KDNK in Carbondale, CO. His reports have aired on Marketplace, Morning Edition and All Things Considered. He's also written for BusinessWeek, The Christian Science Monitor, and the Minneapolis Start Tribune. With the bureau in place, we'll expand our service in that community and better cover important stories north of the Columbia.
Education is one of our core coverage areas. As Oregon legislators aim for 100 percent high school graduation rates by 2025, OPB is following a group of first graders at Earl Boyles Elementary School toward their anticipated graduation in a news series and radio documentary called "Class of 2025." We will take a deeper look at the various factors affecting students' abilities to get their diplomas. I encourage you to take some time to see and hear all of the great work that our team is creating.
Thank you for your continued support of all we do here at OPB – it wouldn't be possible without you.

Steven M. Bass
President and CEO
OUR MISSION
Oregon Public Broadcasting: giving voice to the community, connecting Oregon and its neighbors, illuminating a wider world.
OPB MANAGEMENT
Steve Bass, President & CEO (email)
Morgan Holm, Senior VP and Chief Content Officer (email)
Dan Metziga, Senior VP, Development (email)
Lynne Clendenin, VP, Programming (email)
Dave Davis, VP, TV Production (email)
Mary Gardner, Director, TV Programming (email)
Jan Heskiss, Chief Financial Officer (email)
Rebecca Morris, General Counsel (email)
Lynne Pollard, VP, Digital Services (email)
Debbie Rotich, Chief Administration Officer (email)
OPB BOARD OF DIRECTORS
Chair: Keith Mobley
Vice Chair: Jim Huston
Secretary/Treasurer: Linda Hoffman
Board Members:
Betsy Cramer
Debra Derr
Bobbie Dore Foster
Tinker Hatfield
Pamela Jones
Jenn Lynch
Gary Maffei
Romy Mortensen
Emily Powell
Ron Saxton
Elizabeth Schwartz
Howard Shapiro
Jenny Ulum
Al Vermeulen
Fred Ziari
Ex-Officio: Steven M. Bass
CAB Chair: Jack McGowan
OPB Board Liaison: Rad Probst (email)
OPB COMMUNITY ADVISORY BOARD
Chair: Jack McGowan
Board Members:
Jesse Beason
Beth Berselli
Ronault LS Catalani (Polo)
Charlie Dolezal
Charles Hudson
Marty Jones
Gian Paul Morelli
Dawn Rasmussen
Jane Rosen
Karen Wheeler
OPB Staff Liaison: Rad Probst
BOARD OF DIRECTORS MEETING SCHEDULE
All meetings are open to the public and held at OPB unless otherwise noted. The schedule below is subject to change. Please contact us to confirm meeting times and dates or to get more information.
Friday, December 5, 2014, 11:45 am
Friday, March 6, 2015, 11:45 am
Friday, June 5, 2015, 11:45 am
Friday, September 18, 2015, 11:45 am
Friday, December 4, 2015, 11:45 am
Friday, March 4, 2016, 11:45 am
Friday, June 10, 2016, 11:45 am
BOARD OF DIRECTORS COMMITTEE MEETING SCHEDULE
The schedule below is subject to change. Committee meetings are often conducted in executive session and therefore may not always be open to the public. Please contact us for more information.
AUDIT COMMITTEE
Tuesday, November 18, 2 pm
Wednesday, January 28, 2015, 10 am
COMMUNITY ADVISORY BOARD
Friday, December 5, 11:45 am
Development committee
FINANCE & INVESTMENT COMMITTEE
Friday, November 14, 12 pm
Thursday, February 12, 2015, 12 pm
Friday, May 15, 2015, 12 pm
Friday, September 11, 2015, 12 pm
Friday, November 13, 2015, 12 pm
GOVERNANCE COMMITTEE
HUMAN RESOURCES COMMITTEE
Tuesday, December 2, 1:30 pm - closed meeting to be held in executive session dealing with confidential executive performance matters
STRATEGIC PLANNING COMMITTEE
Tuesday, November 4, 2 pm - closed meeting to be held in executive session dealing with proprietary information
MILESTONES IN OPB HISTORY
1922
KFDJ-AM radio is created as part of a physics experiment at Oregon Agricultural College, now Oregon State University, in Corvallis.
1930s
KFDJ becomes KOAC, with studios in Covell Hall at Oregon State University.
1957
OPB's first television station, KOAC-TV, goes on the air.
EARLY 1960s
Westinghouse Broadcasting Co. transfers ownership of its FM frequency to OPB and KOAP-FM (now KOPB) begins broadcasting.
1979
The Oregon Commission on Public Broadcasting is established. In 1981 OPB leaves the Department of Higher Education and becomes an independent state agency.
1988
OPB moves into its new facility on SW Macadam Avenue after its successful building campaign.
1989
Oregon Considered, OPB's own Pacific Northwest news magazine, is first broadcast.
EARLY 1990s
Membership exceeds 100,000.
1990
Oregon Field Guide begins production.
1993
OPB becomes a private, nonprofit corporation with ongoing financial support from the State of Oregon.
1997
OPB Radio's program format is refined to include more news and information.
OPB installs Oregon's first digital transmitter, taking a critical first step in the digital television transition.
2000
Oregon Art Beat begins production.
2002
OPB's World of Learning Digital Campaign raises $22 million.
OPB loses all state funding.
2003
History Detectives season 1 premieres for PBS.
2005
OPB brings StoryCorps -- a national project inspiring Americans to record one another's stories in sound -- to Portland. Local residents visit the mobile StoryBooth to share their stories for broadcast on OPB Radio and preservation at the Library of Congress.
2006
Oregon Experience, OPB's local television series exploring key people, places and events in our state's history, premieres.
OPB, FRONTLINE and the Oregonian join forces to examine the methamphetamine epidemic through television specials (FRONTLINE: The Meth Epidemic, Meth: The Oregon Front), radio programs and online resources.
2007
OPB TV celebrates its 50th anniversary.
OPBnews.org -- an expanded news and information Web site -- launches.
OPB invites community members from around the Northwest to help cover the news by signing up for the Public Insight Network.
2008
opbmusic.org, an online music service encouraging conversation and connection between OPB and our community of local music fans, launches.
Think Out Loud, OPB's local online and daily radio broadcast, premieres.
KOPB-AM (1600) Eugene begins providing OPB Radio's news and information service.
OPB and its community partners begin a statewide, multiplatform campaign to increase awareness about the impact of invasive species, featuring The Silent Invasion: An Oregon Field Guide Special, aninvasive species online hotline and numerous outreach opportunities.
Time Team USA, a new archaeology program for PBS, begins production.
2009
OPB receives the duPont-Columbia University Award, one of the most prestigious national honors in the field of broadcast journalism, forThe Silent Invasion: An Oregon Field Guide Special. The documentary illustrates how invasive species are changing the environment in Oregon, and focuses on ways people can work together to make a difference to native fish and wildlife resources, Oregon's economy and quality of life. The program's premiere in April 2008 marked the kickoff of the ongoing "Stop the Invasion" campaign that encourages community partners and citizens to collaborate in their efforts to take action against invasive species.
OPB switches to all-digital broadcasting of its full-power television stations.
2010
OPB and its community partners share the voices, ideas and stories of rural Oregonians through the Rural Economy Project, which includes OPB Radio and news stories, along with extensive online resources.
OPB receives a $1.4 million two-year grant from CPB to direct a consortium of public broadcasting stations in the Northwest (with reporters in Portland, Seattle, Pullman, Boise and Medford) that will become the region's primary source of environmental coverage.
2011
OPB expands its multimedia arts coverage with the launch of Arts & Life on OPB.org.
OPB launches EarthFix, a public media partnership with reporters in Portland, Seattle, Pullman, Boise and Medford, to provide multimedia coverage of regional environmental issues.
Through a partnership with OPB, Literary Arts and the National Book Foundation, the finalists for the National Book Awards were announced live on public radio for the first time. The announcement was broadcast on Think Out Loud, as well as carried by a live video stream and blog. The initiative won first place in the Innovation Award (Online) category from the Society of Professional Journalists.
2012
OPB receives a $1 million commitment from the James F. and Marion L. Miller Foundation in support of coverage of the arts, culture and history, with a special focus on developing younger and more diverse audiences.
OPB receives a $750,000 commitment from the Robert D. and Marcia H. Randall Charitable Trust to support OPB's educational programming serving learners of all ages throughout Oregon and southwest Washington.
2013
OPB launches State of Wonder, a new weekly arts and culture program airing on Saturdays on OPB Radio. Developed by a grant from the Paul G. Allen Foundation, the program brings to life the week's show-stopping stories, ideas and must-see happenings in visual arts, theater, music, literature, culture and more.
OPB establishes The Northwest News Partnership, which brings together news coverage from more than 40 news organizations across Oregon and Washington. This network gives communities across the region greater access to local news right where they live.
Oregon Field Guide, OPB's longest-running local production, celebrates 25 years on air. The season premiered with a dedicated special on the largest-known glacier cave system in the lower 48 states, located on Oregon's Mount Hood. The program was one part of OPB's multiplatform storytelling, which also included a multimedia website and a series of reports from EarthFix and on OPB Radio.
MORE INFORMATION ABOUT OPB
PDF DOWNLOADS
Independent Auditor's Report and Financial Statement — FY13 (PDF)
CPB Annual Financial Report Radio 2013 (PDF)
CPB Annual Financial Report TV 2013 (PDF)
OPB Local Content & Service Report 2013 (PDF)
EMERGENCY ALERT SYSTEM
OPB has been designated the "State Primary" for the Emergency Alert System, initiating messages informing other broadcasters, viewers and listeners of a wide variety of emergencies including tsunamis, floods and Amber Alerts.
OPB PUBLIC FILES
Access OPB Public Files for Television
Main Studio Address for KOPB-TV, KEPB-TV, KOAB-TV, KOAC-TV and KTVR:
7140 SW Macadam Avenue, Portland, OR 97219
Phone: 503.244.9900
Email: publicfiles@opb.org
Accessibility Services:
Any person with disabilities who requires assistance with access to the OPB Public Files may call 503.244.9900 or email publicfiles@opb.orgwith inquiries.
WEBSITE CREDITS
Three multimedia icons used throughout our articles and main pages are available through the Creative Commons license: "Video Camera" symbol by Anas Ramadan, "Camera" symbol by Dave Tappy, and "Headphones" symbol, from Noun Project collection.
The "Android" icon on our news index page was designed by David Ferreira for WPZOOM, and is protected by the Creative Commons 3 license.