Note: If you have lost reception of OPB TV, you may need to rescan your digital TV or converter box. Refer to the channel chart to find the OPB channel in your community.
Since the switch to all-digital broadcasting, some viewers are having difficulty receiving OPB TV and other local channels. According to the FCC, this problem may occur if converter boxes do not pick up the new frequencies for the digital TV channels. To resolve the situation, try this quick fix:
Consult your owner's manual for your converter box or digital TV and find the scan ("auto-tune," "search") instructions. Then:
1. Disconnect the antenna from the back.
2. Rescan without the antenna connected.
3. Unplug the converter box or digital TV for at least one minute.
4. Reconnect the antenna; plug the converter box or TV back in.
5. Rescan the converter box or digital TV one more time.
More information on how to scan
Digital TV Is Here!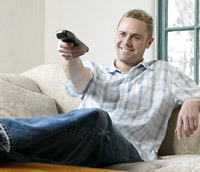 Yes, it's finally happened. All full-power TV stations have switched to digital television. So what does it mean for you? More OPB channels to choose from, plus great pictures and sound. Even better, digital OPB TV is free for everyone.
Do you live in a rural area? Your digital conversion date will likely be later than that of OPB's full-power stations. Find out more.
If you haven't yet made the switch, or if you have some questions about how to hook up your converter box, which antenna to use, how to scan for channels and more, explore this site for fact sheets, tips and advice. And if you need more help, e-mail our Member Center or give us a call at 1.800.241.8123.