Monthly Giving
Membership just got easier!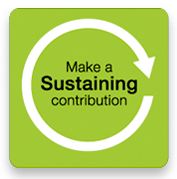 OPB monthly givers — the Sustaining Circle — make ongoing monthly gifts through automatic bank transfers (EFT) or automatic credit/debit card charges.
Why?
Your OPB membership is always current ... no more renewal reminders!

No checks to write, and no payments to remember.

OPB receives reliable income as other funding sources become more uncertain.
How?
To have your monthly gift deducted directly from your bank account or charged to your credit or debit card, complete the online contribution form.

To increase your monthly Sustaining Circle contribution, go to the online contribution form and fill out the form with your complete name and address information, and with the new monthly amount you'd like to contribute. Your previous monthly contribution will be canceled, and your new one will begin immediately.
You can cancel or change your contribution at any time by calling Shasta Zielke at 503.293.1956 or 800.241.8123 x1956, or sending an e-mail to szielke@opb.org.