Maynard E. Orme Internship
---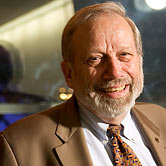 For 19 years, Maynard Orme served as the president and CEO of Oregon Public Broadcasting. Maynard believes strongly in lifelong learning, and his vision helped shape OPB's local and national productions, groundbreaking Web sites, educational materials and community outreach campaigns. In honor of his considerable contributions to OPB, the Maynard E. Orme Internship has been established to encourage students to cultivate skills in the development and production of high-quality news and public affairs programming.
"Maynard has defined OPB's mission in terms of providing life-long learning opportunities for Oregon's communities. Thanks to Maynard, everything OPB does — new technology, new programs, new ways to serve communities — is about developing new ways to bring information to people."
—CPB Board Member Beth Courtney upon presenting Maynard with the Ralph Lowell Medal
Internship Description
To encourage the future development of Oregon-produced programming and inspire University of Oregon journalism and communication students to develop skills toward careers in telecommunications and broadcast journalism, OPB has established the Maynard E. Orme Internship. This endowed internship honors Maynard Orme, whose 19 years of leadership as OPB's president and CEO helped the statewide public broadcasting network achieve unprecedented growth and community service.
The focus of this internship is news and public affairs. Interns at OPB serve as Production Assistants (PAs) and will have the opportunity to shape their experience in conjunction with senior OPB News editors. Primary duties consist of radio journalism, with potential online and television journalism elements. Ideally, the selected PA will complete a major project during their tenure, experiencing both radio production and reporting.
PAs may be assigned to OPB's daily newsroom, Think Out Loud and/or other special projects that may include an in-depth series or a multiplatform enterprise news project. This position requires a great deal of creativity, innovation, follow-through and initiative.
Each year, one PA will be selected for the Maynard E. Orme Internship. The internship involves:
3-month commitment, starting between June and September (exact dates are flexible)
40 hour work week
$13.25 per hour
The opportunity to create high-quality work, network with professionals, participate in journalism that serves the public interest, and hone your skills in regional reporting at a premier public broadcasting organization.
Eligibility Requirements
Students must be either currently enrolled at the University of Oregon School of Journalism and Communication OR have graduated following Fall 2019 or Winter 2020 from the University of Oregon School of Journalism and Communication.
Students from Oregon will receive preference in the selection process.
To Apply
To apply complete the online application form.
The application requires:
Resume
Cover letter
Recent academic transcript (unofficial or official)
2 letters of recommendation
3-5 links to or PDFs of work samples (Examples of previous journalism work could include articles published in a student newspaper, audio or video production for school or professional projects, or an independent film project.)
Important Dates
February 26, 2020: Applications due by 4pm
Mid April 2020: Decisions to candidates


Contact
Students can contact an academic advisor at the SOJC Student Services Center for application assistance or academic planning.
For questions about the Orme Internship, contact Jen Ames at OPB.
"It was a pleasant surprise to learn the intricacies of public radio with such a tight-knit news staff. I had a prior internship in television that nearly soured me on the profession as a whole. Nobody seemed to have a passion for their job. At OPB passion is a prerequisite. I learned that quickly from the morning news meetings. The radio staff welcomed me as a contributing member of their team from the beginning. I was not just another intern. OPB is respected across the community, and I felt compelled to live up to those high expectations through my reporting. It is an experience I will truly treasure."
— Andrew Theen, 2006 Inaugural Intern