Sudan Archives at the Doug Fir Lounge
---
More Info
Doug Fir Lounge
830 E Burnside St
Portland
When:
Feb. 22, 2020, 9 p.m.
Layered harmonies and hip-hop beats with Sudanese-inspired violin loops from critically acclaimed solo artist.
About this Event
Sudan Archives
Instagram | Twitter | Facebook | Spotify | Youtube
Violinist, singer, songwriter and producer Sudan Archives will release her debut album Athena this November on Stones Throw Records, with the first single 'Confessions' out on 28 August. With its unique blend of influences and styles, it is the definitive statement from a truly groundbreaking artist.
Athena follows on from the EPs Sudan Archives (2017) and Sink (2018), whose thrilling sound and distinctive creative vision were praised by the New York Times, Pitchfork, Vogue and more. Athena builds on Sink and Sudan Archives' foundation of soaring vocals, enigmatic lyrics, and violin-led arrangements with a fuller and richer sound -- the result of fruitful collaboration. Having worked solely with Stones Throw and Leaving Records' Matthewdavid on her EPs, Sudan invited a cast of musicians to collaborate on her vision for Athena: producers Washed Out, Rodaidh McDonald (The xx, Sampha, King Krule), and Paul White (Danny Brown), as well as jazz players, rappers, and more.
Sudan Archives has brought her electrifying live performances to festivals such as Coachella and Pitchfork Midwinter, and she's shared the stage with artists such as Ibeyi, Michael Kiwanuka, St Vincent, and Tune-Yards. She's also performed at Disney Hall in LA for Yoko Ono's birthday tribute, played ambient shows as Sudan Moon, and was in an art/music installation at LACMA curated for Robert Rauschenberg's 1/4 Mile Exhibition. She will take Athena on the road later this year, with a full European tour and dates in the US, Asia and Australia to be announced.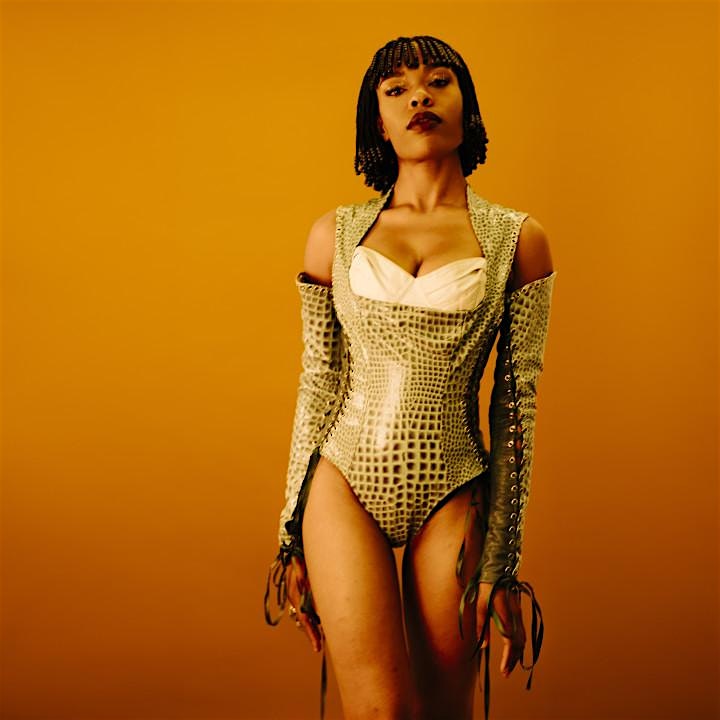 Velvet Negroni
Website | Instagram | Twitter | Facebook | Spotify | Bandcamp | Soundcloud | Youtube
If you were to trace the sonic contour of Velvet Negroni's debut album, NEON BROWN (out 30th August 2019 on 4AD), you might end up with something resembling a map to his island of one. It's a singular place, with the squeak and thrum of guitar strings looped over drum machine beats accented by steely marimbas, all creating a pocket for one of the most authentic and original artistic voices ever committed to tape.
You follow his voice as it rhymes in double time, or hiccups and la-las through a break, or croons from a room down the hall, as it unfolds into another story of lost love, or another joke about lost drugs, as it tries to make sense of a life spent in the (sometimes harrowing) pursuit of communion. On NEON BROWN, Velvet Negroni is a griot relaying the life and times of his own island—we're listening to him attempt to make emotional contact with the rest of us.
Turns out what sounds like a lonely island is in fact the city of Minneapolis. Velvet Negroni grew up in an outer suburb of the Twin Cities as Jeremy Nutzman, a black kid adopted into a white evangelical Christian family. His fundamentalist missionary of a mother drove him to virtuosity, both as a classically trained concert pianist and a competitive figure skater, but he had to climb out his bedroom window to play guitar in his first band. When he finally made it out of the church and into Minneapolis' music community, he acted out, becoming a full on enfant terrible. Before he was Velvet Negroni, he performed under a schizophrenic rotation of various aliases, consciously trying to freak out the city's over-conscious backpacker rap scene. He spent years getting kicked out of clubs, living in squatter's apartments and practice spaces, crashing on couches on cold three season porches, hustling to get by, whether selling his own ink drawings or someone else's dime bags. Through his extended delinquency he became the coolest dude on the scene: He developed an inimitable fashion of derelict chic, and always found a place to hang, even if he had to literally sing for his supper.
As the tumult and momentum grew, in 2016 Nutzman finally landed on a persona that he felt he could be proud of, getting as close as he could to a version of himself that he could really be. It was in a fancy cocktail bar in Austin, Texas that he hatched this last iteration, a more evolved, more lived in, yet still somewhat droll persona, Velvet Negroni. And through his musical talent and his voice, he inevitably made connections, later that year collaborating with Tickle Torture on "Full Court Press," his homage to his hometown hero, Prince (and the video finally gave him the opportunity to showcase his competitive skating talent). Then in 2017, he was hooked up with an opening slot on Bon Iver's tour, and that connection led to another, culminating in a writing credit on Kid Cudi and Kanye West's "Feel the Love" off their 2018 album Kids See Ghosts. That same year, he released his first singles on b4, "First Time" and "Crybaby." But all these successes felt too random, and he nursed anxieties that they were random enough that they would prove to be short lived. And living and performing without his own space, using whatever he found in his pockets in a fruitless and exhausting attempt at maximizing his creative output, inevitably was: In the winter of 2018, Velvet Negroni found himself in the hospital.
When he got out that spring, Velvet knew the engine of his creative life, a reliable machine fueled by the short term urgency of various chemicals and the violent deadline of TONIGHT WE HAVE NO CHOICE BUT TO FINISH THIS SONG—well, he realized that ride just wasn't going to work for him anymore. But he didn't have or know of any other way to coax his muse out of its cave. It was during this summer of discontent that he relied on his friends, the producer Psymun (Future, Young Thug, Dua Saleh) and Tickle Torture, to get him to the studio every day, to help him build a new creative structure, song by song. Together with his friends, Velvet Negroni rebuilt his sonic palette, and in time, over weeks and then months, he found his voice, and was able to compose the stories on NEON BROWN, stories he's been waiting a lifetime to tell.