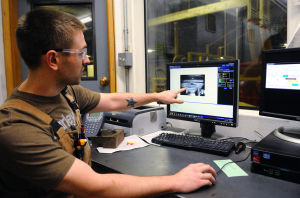 Forestry technology is advancing as career foresters are retiring, creating a void for local wood products companies.
Companies like Roseburg Resources Co. need young workers with bachelor's degrees.
But there are two problems: recent graduates with four-year degrees in forestry typically don't want to move to rural Oregon; and rural, often poor, kids who grew up with firsthand knowledge of the industry have trouble getting to college in the first place.
Southwestern Oregon Community College wants to help solve this dilemma through a new two-year associate's degree in forestry, launching this fall.
"We've had so many students on campus clamoring for a forestry degree," said Ross Tomlin, SWOCC's vice president of instruction and student services.
He hopes to work out an agreement with Oregon State University allowing SWOCC forestry grads to transfer, finish their bachelor's degrees in Corvallis — and hopefully return home to work.
"Our company has found its greatest success in rural kids," said Mark Wall, Roseburg Resources' forestry manager. "They have strong work ethics, and they know the terrain because they used to hunt, fish and play in the forests here. And their family and friends are here, their social network."
Without a local community college, there isn't a clear path for rural families struggling financially to give their kids a shot at higher education.
"We need people with the technical skills who can troubleshoot," said Randy Sturgill, Roseburg Forest Products' Coquille mill plant manager. "We're processing more pieces today. Cycle counts go up and maintenance needs increase."
Larry Kreiser, of Coos Bay originally, is one of Sturgill's "techies," operating and maintaining advanced machinery that makes the company a top competitor in the industry. He's an electrician apprentice, making his way through four years of classes at SWOCC and Umpqua Community College to meet the state requirement.
He would never be able to do his job without that training and education, he said.
Companies across the industry are racing to snag OSU forestry grads.
"Those kids right now are getting two, three, four job offers that they're picking from," said Ann Mary Quarandillo, OSU college of forestry's director of marketing communications.
Following the 1980s recession and the spotted owl controversy of the early 1990s, the timber industry plummeted and thousands lost their jobs. But the career foresters who stayed on are closing in on retirement in the next 5 to 10 years.
Since 2000, OSU's college of forestry expanded its scope and enrollment doubled.
A forestry student fresh out of OSU can make $43,000 to $45,000 a year — and it only climbs from there.
Forestry is far more technical today. A few decades ago, foresters cut old growth and let natural regeneration happen. Today, they analyze growth models and genetically-improved seeds to maximize yield on less land. At the same time, they have to keep a close eye on strict environmental regulations and the global market.
Foresters need to understand herbicides, seed genetics, tree improvement, toxicology, phenology, chemistry, finance, economics, statistics, trigonometry, algebra and public relations. The skills list keeps growing.
"There's a technological revolution in everything we do and it's not going to stop," Wall said. "You have to have aptitude, intellect and analytical skills."
Others try to mimic top-notch machinery like Roseburg's skoog robots, but if you don't have the "techies" to maintain them, you have nothing, Sturgill said.
"That technical ability and problem solving, you get from school," he said. "You have a standard machine, and we need people like Larry to improve it and advance it technically to make Roseburg more competitive.
"Times are changing and have changed. If you don't improve technologically, the world will swallow you whole."
From