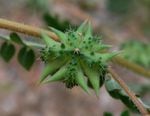 The Eastern Oregon town of Irrigon has put a bounty on its most-wanted weed, a plant that's toxic to sheep and produced tough thorns capable of popping bike tires. The weed in question is an invasive plant called puncturevine, or goathead weed. It's native to Europe, Asia and Africa.
East of the Cascades, the weed spreads quickly like Himalayan blackberry, according to Irrigon City Manager Aaron Palmquist. So he has decided to pay a people a dollar for a large trash bag of puncture weed. The city has $1,000 to spend. Palmquist said a similar program worked well in the nearby town of Boardman.
Oregon generally doesn't offer bounties for invasive weed removal. But you can earn cash hooking Northern Pikeminnows, a fish that snacks on baby salmon and steelhead.
A fishing commission pays $4 dollars per Pikeminnow and $500 for special tagged fish. And for a while, Polk County in the Willamette Valley offered a $4 bounty on nutria, an invasive aquatic rodent.
Editor's note: In an earlier version of this story about invasive species, OPB mischaracterized the Northern Pikeminnow.
The Pikeminnow is native to the Columbia River basin. OPB regrets the error.