Name-calling. Accusations of "weak sauce" policy plans. Rowdy booing from the audience.
While some in the audience critiqued the Portland Mayoral Climate Debate for being light on policy, the discourse was heavy on jabs against the two contenders who have so far garnered the most attention: incumbent Mayor Ted Wheeler and educator Sarah Iannarone.
The event played out Sunday evening at a sold-out Revolution Hall. It was presented by the local chapter of the Sunrise Movement, the climate justice nonprofit 350PDX, and the Environmental Justice Club from Harriet Tubman Middle School, which sits in the path of a proposed project to widen Interstate 5 through the Rose Quarter. The young activists — along with a lone adult moderator — took turns asking questions.
The sitting mayor took a few hits — perhaps the bluntest of which came early on.
Asked how the candidates would support migrant communities displaced by climate change, Wheeler said he appreciated the question, as he'd been asked on the campaign trail how he was going to put his privilege as "a blue-eyed, blonde, white, middle-aged, cisgendered male" to use. Part of the answer, he said, lay in advocating for immigrant rights.
"When we said we were a welcoming, inclusive sanctuary city, we did put teeth behind it," he said, noting the city council's support for local coalition Portland United Against Hate. "And then, when white supremacists wanted to come to our community to commit acts of violence and hate and white supremacy, we fought back. … We had 80 different organizations gathered together — community organizations, frontline organizations, those who do not always come together on political issues, and we said those are not the values of our community."
Red construction paper, which the audience had been told to wave if they disagreed with an answer, flew up. Iannarone asked to respond.
"I find this very difficult to listen to because when our community mobilizes to protect our vulnerable people against hate, the police brutalize us in the streets," she said, noting the mayor had allowed the police to escort the Proud Boys across the Hawthorne Bridge, while young climate change protesters met a different fate weeks later.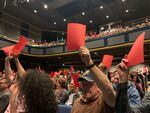 Teressa Raiford, the founder of anti-gun violence nonprofit Don't shoot PDX, jumped in.
"Ted, you're a liar," she said, then paused. "Period."
The two other contenders on stage — Ozzie González and Piper Crowell — snapped approvingly. Wheeler quietly muttered, wow, twice. Twenty-five seconds of silence ensued.
Wheeler wasn't the only one taking hits.
González, an architect and TriMet board member, used a notable sliver of his time to go after Iannarone, seated just to his right. He called her climate policy "weak sauce" and said her answer on ways to invest in the Cully Neighborhood and the Jade District "hurt [his] ears a little."
Crowell, Nike's director of global and innovation policy, was the sole candidate to refrain from a direct attack. Some in the crowd were feeling less amicable.
Facing a question on how she would address the housing crisis, Crowell said this was one of the reasons she entered the race.
"It did not make sense to me, as a concerned citizen, why Portland was not doing better. We have a great economy for some, we have a super low unemployment rate, and yet we are not living up to our values," said Crowell, before being interrupted by jeers of "Tax Nike."
"Thanks, organizer," Crowell retorted.
The speaker corrected her. She was, in fact, a volunteer.
The contentious interactions left at least one voter dispirited.
"I don't like the contempt towards the audience. I didn't like some of the audience's contempt towards the candidates, and I don't like candidates bad-mouthing each other," said Portland resident Edith Gillis, adding she felt like there was a lot of fluff and few concrete proposals. "I want specific actions that 'I am doing and I will do.' And I didn't hear that."
It wasn't all crowd-appeasing statements, however.
After telling the crowd he did not support the controversial widening of Interstate 5 along the Rose Quarter "if it's not done right," Wheeler warned the crowd he was about to say something slightly controversial and to get the boos out of their system.
"I don't believe we should end the project," he continued, noting that in 20 years, a large number of trucks will still need to move through the area, even if they're electric and can be operated with renewable energy. He added that Albina Vision, the plan to build a neighborhood on top of the highway, depended on freeway caps being placed over the I-5. "So do it, but do it right."
Related: Time Running Out For Wheeler To Deliver On Portland Homeless Crisis Promises
Other candidates differed. Raiford said she believed the plan would likely create displacement and disenfranchisement for nearby communities; Iannarone said it was a poor use of billions in the middle of a climate crisis.
"The fact is ODOT is trying to sell this to the public on bad data, bad analysis and the false premise that this is a safety project," she said. "We need to be making sure that when it comes to fossil fuel infrastructure that we are managing the decline, not making increasing investments in it."
González used his 30-second reply to tell Iannarone her response was "just not good enough."
"It shows that you're not really thinking of the big picture," he said. "If we were to do the thing you're saying and dismantle the I-5, what are we going to do tomorrow?"
For all the rebukes, the event ended with a display of unity — albeit one requested by the organizers.
To close, an organizer asked everyone to join in a song they had learned over the summer working in youth advocacy. The lyrics were projected on the screen behind the candidates, who acquiesced.
"I'm madly in love with you," the candidates sang along, some more confidently than others. "I'm madly in love with you."