Emery and Alyssa Sund were booked into the Benton County Jail on Dec. 19, 2018. Police arrested them for living in a home without permission while it was listed for sale. They were charged with criminal mischief and burglary.
The couple arrived at the Benton County Jail around 5:15 p.m. Some 91 hours later, jail staff found Alyssa Sund, 41, dead in her cell.
A federal civil rights lawsuit filed this month by Emry Sund raises questions about the medical care Benton County Jail officials provided to his wife.
Alyssa Sund is one of the more than 300 people who died in Pacific Northwest jails between 2008 to 2018, according to an investigation by OPB, KUOW and the Northwest News Network. Like more than 70% of those who died, Sund was legally innocent at the time she died.
That investigation found deaths in Oregon and Washington weren't being tracked by either state, leaving public officials unaware of the chronic problems facing jails.
Accounts like those alleged in Sund's case — where underfunded, deteriorating jails are staffed with limited medical staff — remain common throughout the region.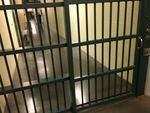 "Alyssa Sund was a mother and wife whose numerous medical conditions contributed to her drug addiction," said attorney Michael Willes, who is part of the team of lawyers behind the litigation. "Benton County jail personnel believed she was faking symptoms of withdrawal. She died alone without receiving even basic medical care. As a society, we have a moral and constitutional obligation to ensure that vulnerable people like Alyssa do not die in government custody."
Benton County did not return a request for comment on the lawsuit.
The Benton County Jail was built in 1976 as a temporary facility, meant to only last about a decade, the lawsuit states. Voters in the county have twice shot down tax measures to build a new facility. Its poor condition is well known by public officials and those who work in the Benton County Sheriffs Office, who have described it as a weakness in the local criminal justice system.
"We use to be the Benton County Corrections Facility," the lawsuit quotes one captain in the sheriff's office as saying in 2014. "Now, we're Benton County Jail, because we're not correcting anything."
Sund was booked in jail with numerous medical conditions: post-traumatic stress disorder, heart problems, asthma and others, according to the lawsuit. Deputies working in the jail were aware of her medical needs and numerous medications, the lawsuit states. Jails are constitutionally required to provide medical care that meets inmates' needs.
Related: Booked And Buried: Northwest Jails' Mounting Death Toll
"She never saw a doctor," the lawsuit states. "The jail nurse saw her once early in her stay at the jail."
Attorneys allege not only did that nurse not perform a physical exam, but she didn't provide Sund with her prescription medications.
"The jail nurse left for vacation without arranging for anyone to cover her shifts," the lawsuit states.
Emery Sund said he could hear Alyssa Sund calling for him while she vomited and tried repeatedly to get jail staff to help.
"Instead of helping her, those employees concluded that she was only pretending and punished her by placing her in a holding cell without a sink or a toilet," the lawsuit states.
In June 2019, Benton County District Attorney John Haroldson asked the Oregon Department of Justice to review the investigation into Sund's death for any criminal wrongdoing.
In a letter dated Nov. 1, 2019, the DOJ told Haroldson that the agency found no evidence of criminally negligent homicide or other criminal conduct.
"Jail staff appears to have followed standard protocol in treating Ms. Sund," the DOJ letter states. "At no time did Ms. Sund request to see a doctor or complain of any ailments that would have alerted jail staff to seek further medical treatment."
Emery Sund said she used heroin and methamphetamine daily prior to her arrest, and he believed she was experiencing withdrawals.
The medical examiner found Sund died of acute methamphetamine toxicity, the DOJ letter stated.
"According to Dr. [Sean] Hurst, the presence of methamphetamine in the bloodstream can cause heart arrhythmia and sudden death," the DOJ letter states. While Sund's vomiting may have caused some dehydration, it was not enough to have contributed to her death, according to the state Justice Department.
While criminal charges appear to be off the table, the civil suit is moving forward. The lawsuit states jail staff violated Sund's 8th and 14th amendment rights — cruel and unusual punishment as well as equal protection under the law. The lawsuit also alleges jail staff was negligent.
Jail staff failed to properly screen Sund before admitting her and failed to provide her proper medical attention to address her serious needs, the lawsuit claims. Not only were jail staff improperly trained, but the lawsuit claims the jail has a policy and practice of giving insufficient medical care to people who are incarcerated.
In 2019, lawmakers in Oregon created a law that requires the state to study how deaths were tracked in jails. The Oregon Criminal Justice Commission issued a report in September, though there remains no centralized way of tracking deaths in the state's jails.