During the early days of the pandemic, whether or not you had a backbone could have been the difference between life and death. At least if you were a lab animal.
"(Oregon State University) would let you take care of fish during the shutdown, but invertebrates were not considered to be, I guess, important enough," said OSU eco-toxicologist Susanne Brander.
She studies how microplastics and chemical pollutants affect sea life – including the lowly spineless mysid shrimp that plays a big role in the ocean food web.
Not being able to access her lab was a big problem, so she had to come up with a solution on the fly.
"The best place to put them was my basement," she said.
The 10 gallon tanks lived there for several months — thanks in part to her own junior lab assistants.
"My kids were happy to feed them a couple times a day and help me out," Brander said.
By summer, the shrimp were back home on the Corvallis campus, but things were not back to normal – and they still aren't. Fewer researchers can access the lab at the same time and all the workstations have been spaced out.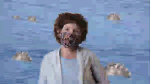 Like so many professions across the Pacific Northwest, scientific advancement has run headlong into the disruptions of the pandemic. Their work to understand and help solve some of the most important environmental and social problems we face – like climate change, pollution and homelessness – has taken a hit.
Disruptions in access to facilities and research materials are common, but the real concern for Brander is money. Much of her lab's research – staffing and supplies – is funded by grants.
"It's hard because it's not as if you can ask a funding agency that's giving you a grant for more money. So you have to kind of stretch it out and make it work, even though you're missing a three or four months chunk of time," she said.
Funding agencies are giving extensions on deadlines to get research projects done, but not more resources to do the work.
Career penalties, for some
The grant money crunch is also being felt by Oregon Health and Science University's Nicole Bowles, who studies the effects of irregular sleep cycles on cardiac health in firefighters.
She said money is especially of concern for early-career scientists.
"As a young investigator who is trying to build my research portfolio, every dollar really does count," Bowles said.
Senior researchers seem to be more secure. Bowles said she saw an example on display during a talk from an established researcher.
"They were able to flourish during this time. They seemed to be writing a paper a week. Whereas I'm trying to figure out: How am I going to make it work?" she said.
In universities, women and people of color are far less likely to be in those senior scientific positions.
"Established researchers, they're … not the most diverse cohorts that we have," said Uraina Clark, a biomedical researcher at the Icahn School of Medicine at Mount Sinai in New York. Clark has written about racism and disparities in the sciences in the journal Nature Human Behavior.
Related: A new kind of blue from an Oregon research lab
One of the primary ways that scientists show their work and advance their careers is through publication in journals. Early in the pandemic, when so many labs were shuttered and active research slowed, many scientists stuck working from home turned to data analysis and writing up previous findings. An analysis of one of the major journal publishers showed that overall, there was a dramatic increase in submissions from scientists during that time.
But women, who already publish at a significantly lower rate than men, did not see the same gains as their male counterparts. The pandemic lockdown benefited men and penalized women, who more often take on more household, family and childcare responsibilities – which has been particularly true during the pandemic.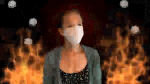 Clark said researchers of color are also feeling different degrees and kinds of pressure stemming from the pandemic.
"Not only are minority researchers dealing with the difficulties of conducting research during this time. They're also dealing with the disproportionate burden that the pandemic is having on their families and communities," she said.
For example, American Indians, Black Americans and Hispanics and Latinos are all more than 4.5 times more likely to be hospitalized with COVID-19 than non-Hispanic whites. And Black Americans are 2.1 times more likely than white Americans to die from the disease.
Clark says people of color are also taking on additional duties in the renewed push for anti-racism work at academic institutions.
"All of this, of course, can lead to reductions in research productivity, and it can have disproportionate effects on faculty of color," she said.
Researchers adapt to new constraints
Research involving disadvantaged populations has also taken a hit during the pandemic.
Greg Townley and Marta Petteni are researchers with Portland State University's Homelessness Research and Action Collaborative, which was formed to examine the fundamental causes and possible solutions for homelessness in Portland and surrounding regions.
When the pandemic hit in spring, the collaborative was getting ready to launch several field-based projects that were immediately put on pause by the university.
"Some of our projects we were able to shift online," Townley said, referring to work with PSU students and employees experiencing food and housing insecurity.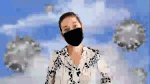 But for work with homeless populations without a connection to the university, it was more difficult.
One project to evaluate how well Portland's transitional villages – like Kenton Women's Village and Dignity Village – were serving their residents, seemed unlikely to get off the ground.
"That project really depended that we were in the field, making space with people and hearing their stories and building rapport and relationships," Townley said. "It also logistically wasn't going to be feasible to expect that people in the villages were all going to have access to a computer and Wi-Fi."
This is where Petteni came in. She drew on her background as an architect and designer to create what her team is calling an "engagement station" – a 6-foot-long collapsible table with a plexiglass divider to separate the researcher and the interviewee.
"The idea is to have something that can be like a pop-up kit – everything is foldable so it would be easy to transport with all the pieces," Petteni said.
With the innovation of the engagement station included in fieldwork plans, Portland State gave approval for the field work to move forward. And by fall, the collaborative's research project was moving forward once again.
Petteni and the university are sharing the design for the station with other researchers needing to interact with study participants in person.
Gaps emerge in long-term data efforts
While concerns over funding and productivity are widespread, in some cases the interruption of the research itself is the most acute loss.
Every summer, the non-profit Klamath Bird Observatory monitors migratory bird populations in rural Southern Oregon using a crew of budding scientists from all over the world. But this year, as the pandemic was breaking out, they came to a stark realization.
"We cannot be vectors into rural communities where we do this work," said director John Alexander.
The observatory told its crew to stay home and, consequently, for the first time in 25 years the bird counts didn't happen.
"It's a huge setback when you have these long term datasets to miss a year of data," said science director Jamie Stephens.
The stakes are high, she said. A recent study found that the U.S. and Canada have lost 3 billion birds in the past 50 years, and the Klamath Bird Observatory's long-term data provides the backbone for policy changes that could help reverse the trend.
"It's just incredibly urgent right now. It's just all getting a little behind when we don't have time to get behind. We need to be taking actions like a decade ago," she said.
The same goes for research connected to ocean and climate change. OSU's Ed Dever oversees the Ocean Observatories Initiative, an offshore array of stationary sensors and underwater gliders that measure physical and chemical conditions off the Pacific Northwest – things like ocean acidification and low-oxygen dead zones (called hypoxia), which are already hurting Oregon's fisheries and are expected to continue to get worse. The goal is to collect data over a long period of time to understand how ocean conditions are changing in response to climate and other factors.
"Our data set is at its most useful if it's not broken up," Dever said.
But keeping the flow of data coming requires regular upkeep of instruments buoyed out in the middle of the ocean, which is not most hospitable of places for electronics. Batteries die. Extreme weather damages equipment. Sensors get crusted over with marine life.
The initiative requires crews to service all the instruments twice a year.
"A lot of the work that we do is off oceanographic research vessels, a pretty enclosed environment. And it is a place where, if COVID-19 got loose, a lot of people could get sick pretty quickly," he said.
Related: OPB science coverage
The spring work cruise was cancelled, and bit by bit the data stopped coming in.
"One of the things we're really interested in is the development of hypoxia over the Oregon and Washington shelves, and that mainly is a seasonal phenomena that happens at the start of summer. We were pretty bummed to not have things working at their best at the start of summer," Dever said.
With strict crew pre-isolation and what felt like competing in the logistical Olympics, Dever said they managed to pull off a maintenance cruise in July, but they won't go back out again until next spring.
"We've managed to bend, but not break," he said.
Generally scientists, and the institutions they work for, are figuring out how to push their research forward in a pandemic world. Like Devers, plastics researcher Brander said she feels like she's successfully ridden out the first wave.
"For now we're okay. It's not great, but we can manage," she said.
But with Oregon experiencing a record surge in cases, she's concerned about the future.
"I'm terrified about what things are going to look like after Thanksgiving – especially seeing and hearing about the numbers of people thinking about still traveling or having family from out of town," she said.
So far Oregon State University is allowing the labs to remain open, but if case counts get much higher, Brander fears another complete shutdown of her research could be coming.