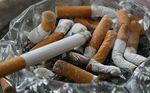 Oregon's tobacco tax has gone up with the start of the new year. That's the result of a measure approved by voters in November.
The tax on cigarettes is up by $2 a pack. Taxes on cigars are also higher. And for the first time, Oregon is taxing vaping products such as e-cigarettes.
The changes are expected to bring in an additional $165 million per year. Most of the new revenue will go towards health coverage for low-income Oregonians. It's also expected to triple the amount of spending on tobacco cessation programs.
That's a big win, said Jamie Dunphy of the American Cancer Society's Cancer Action Network.
"This will level the playing field," he said. "It will provide us with tools that we need to convince folks to quit and to prevent people from ever starting in the first place."
The ballot measure was supported by two-thirds of Oregon voters in the November election.