Editor's note: This story is part of a series looking at efforts communities in Grant County, like other parts of rural Oregon, are taking to attempt to attract and retain workers.
Ryne Smith sits in front of a computer at Grant County's first so-called CyberMill, which opened this winter in Seneca. He's working on a contract to check new Intel products for glitches — work that requires faster and more reliable internet than he has at home.
"If I didn't have this internet, this CyberMill, I wouldn't have been able to do this job," said the 31-year-old "I'd have to move."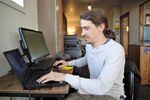 Smith is an execution associate for U. S. T and makes $41,000 a year. So he's exactly the kind of young worker Grant County is anxious to keep happy.
When the pandemic began in 2020, many people like Smith headed out to live in rural Oregon. They were seeking to escape the virus in places that offer more space and a more affordable lifestyle.
But now the pandemic is winding down, and civic leaders in rural Oregon are looking for ways to convince those workers to stay.
Grant County economic development director Tory Stinnett said after decades of mill closures their population has shrunk and aged. More than half of the residents are 55 or older. And from 2000 to 2021 the population declined nine percent, from 7,200 to 6,500 people.
"We've had quite a few folks that have moved here for remote work," she said, citing data from recent housing purchases. "Having something like this helps to anchor people into the community."
To attract and keep young workers, local cities are helping a nonprofit build three demonstration CyberMills in Seneca, John Day and Prairie City. If they're successful, the chain plans to expand to Dayville, Monument and Long Creek.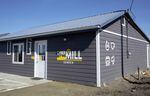 The first CyberMills are a one-year demonstration project. The U.S. Economic Development Administration donated $268,000, and John Day and Prairie City contributed $50,000 and $10,000. Other contributors included the Oregon Community Foundation, private donors and quasi-governmental groups such as Grant County Digital.
Funders are watching the CyberMills. Customers can use the internet cafes for more than just work — they can play games, for example. But that kind of recreational use is unlikely to help attract the grants needed to keep the CyberMills open.
So users have to sign-up with the county and disclose their age, gender, education and what they use the service for — like running a business or attending college.
Didgette McCracken with the Oregon State University extension service helped set up the CyberMill nonprofit, and she thinks the Seneca cafe has been a success so far. Since opening in November 2021, it has attracted 80 individual users in a town of just 260 people. At the end of the pilot project, she hopes city, state and federal agencies will see that benefit and want to keep it going.
"There are ways that this is being utilized that we didn't even imagine," McCracken said.
For example, people who need to download software updates for their iPads and laptops visit the cafe for the fast, reliable internet. Updating computers at home on a slow, glitchy internet system can take hours, if it works at all.
"One day somebody drove up here in their new pickup, and they needed to get an update on the electronics," McCracken said with a laugh.
With technology now, it is possible to get internet access just about anywhere. Many small towns are linked to fiber optic cable and people in especially remote areas can get internet over a satellite. But that can run $150 a month in Grant County, where the average income is $27,000. And while satellite service is good for shopping or catching up on the news, it's often not fast enough to fully participate in a Zoom meeting, for example.
Buffering breaks can leave a distant boss wondering if an employee truly is 100% available.
There are other ways to get online in Grant County. But each has its drawbacks. For example, several people told OPB they park outside the Bear Valley Minimart in Seneca to use the shop's free Wi-Fi. It is not exactly convenient or comfortable — especially in winter.
Others go online using their cell phones. And that's fine until you realize huge swaths of the county don't get cell service. Also, it's hard to write a school paper or print a document on a cell phone.
Still, not everyone likes the idea of a government-supported internet cafe.
John Day City Councilor Gregg Haberly runs a UHaul dealership and a Polaris dealership in town. Before a recent city council meeting, he said the idea concerns him:
"The problem that scares me is that when you're pushing people to be able to work from home from the internet, it really hurts storefront businesses in a small town," Haberly said.
In other words, if people have good internet access, they'll buy things online rather than locally. Haberly also thinks the government is too large and overly involved in people's day-to-day lives already.
Eastern Oregon's regional economist, Chis Rich, said providing fast, reliable internet is essential to keeping jobs, but he's not sure internet cafes are the right way to do it.
"Telecommuters generally want and need a private, fixed office location," Rich said.
The cafes cost about $20,000 a year to run once they're built. That pays for everything from heating to lighting and taxes. Their buildings will also be spruced up, adding a bit of glitz to each town center.
Marcus Bott, who lays fiber-optic internet cables in the area for his family firm OTC Connections, estimates that 60% of Grant County residents already have fast, reliable internet at home. That compares to about 98% in Portland or Bend.
Grant's percentage is likely to climb as more fiber optic cable is laid. But hooking up to it will be a huge expense for anyone with a long driveway, which isn't uncommon in a place like Grant County. Burying just one mile of cable can cost $100,000 or more.