The Portland Thorns have been fined $1 million by the National Women's Soccer League. League officials said a previously announced pledge by former owner Merritt Paulson to support the establishment of an NWSL Player Safety Office will constitute the fine.
Paulson said last month he would sell the Thorns, "so that the club can operate at the league level with a fresh voice." The NWSL has said it will work with Paulson to ensure that the club is transferred in an expeditious and appropriate manner.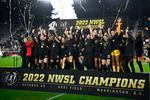 In addition, the NWSL has permanently banned former Thorns coach Paul Riley from the league.
A yearlong investigation into the NWSL led by former U.S. Attorney General Sally Yates revealed players had reported abusive and sexually coercive behavior from Riley to Thorns leadership in 2015. Team officials chose not to renew Riley's contract, but didn't mention the accusations when they let Riley go, nor did they alert other teams to the accusations. The Western New York Flash hired Riley after he lost his job with the Thorns.
The investigative report found that the league had previously heard that Riley was "verbally abusive," "sexist," and "destructive" through an anonymous player survey conducted in 2014.
On Monday, the same day that the league announced the ban and fine, Thorns assistant coach Mike Norris was introduced as the team's head coach ahead of the 2023 NWSL season. He is the fifth head coach in club history.
Although former head coach Rhian Wilkinson was investigated and cleared of potential wrongdoing by the league, she resigned in December after disclosing that she and another player had expressed feelings for each other.
Top executives at the Portland Thorns and Timbers — President of Soccer Gavin Wilkinson and President of Business Mike Golub — were fired in October last year following the Yates-led investigative report into NWSL. Shortly after, Merritt Paulson, the owner of both the Thorns and Timbers, announced he was stepping down as CEO of the soccer clubs. Several weeks later, he decided to sell the Thorns, but remain the owner of the Timbers.
The Thorns are one of six clubs facing a financial penalty, joining the Chicago Red Stars, Racing Louisville, North Carolina Courage, OL Reign and Gotham FC.
In a statement, the NWSL said all fines will be used solely in furtherance of systemic reform and to directly and positively impact the lives of players. That could include expanding mental health resources and positive culture-building, as well as enhancing coaching education and development. The league said they will work the NWSL Players Association and with the advice and support of outside subject-matter experts.
The months of controversy were juxtaposed against the Thorns winning the NWSL championship for the third time, becoming the first team in the league to have that many championships.