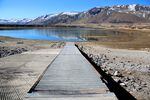 Thursday marks the beginning of a public comment period meant to guide Oregon's water agencies. The Oregon Water Resources Department wants to hear about local water challenges at seven public meetings across the state and through an online survey.
The outreach is part of a process to update Oregon's Integrated Water Resources Strategy by early 2024. The strategy is a document that has been periodically updated since 2012 and is supposed to help coordinate more than 14 state agencies involved in managing water.
Earlier this year the Oregon secretary of state's audits division warned that "state leadership must take action to protect water security for all Oregonians."
"The state has a fragmented and siloed institutional structure around water," according to the advisory report released in January. "State water policy also prioritizes water access for senior water right holders and does not fully account for the complexity of the resource or its relationship to ecosystem health."
The strategy being revised now does not compel state agencies to do anything they don't already have the legal authority to do, said Integrated Water Resource Strategy Specialist Crystal Grinnell, but it does influence priorities and how lawmakers consider funding proposals.
"It's a place for legislators to go and look and see, 'Oh, these are recommended actions,'" she said.
According to Grinnell, the strategy has two high-level goals: "One of them is understanding our water resources, and the second one is meeting our water needs."
Related: How big business took over Oregon's first protected aquifer
She encouraged people who come to meetings or fill out the survey to bring specific concerns from their communities, for example, sea level rise, drought and extreme temperatures.
The survey is open until June 15.
The meetings will offer child care and food, and are being facilitated by the nonprofit Oregon's Kitchen Table over the next month. Meetings will be held May 11 in Seaside, May 16 in Hermiston, May 17 in John Day, May 23 in Roseburg, May 24 in Corvallis, June 7 in Madras and June 8 in Ontario.