We know Ramona. We know Ralph and Beezus and Henry, too. But what about the woman who brought those characters to life? Here are five facts about beloved author Beverly Cleary.
---
Farm girl
Beverly Atlee Bunn was born on April 12, 1916, in McMinnville, Oregon. She lived with her mother, Mable, and father, Lloyd, on a farm in Yamhill until the age of 6, when the family moved to Portland.
---
A blackbird learns to read
Although her mother read to her often (Mable had, in fact, started a library in Yamhill), Beverly Cleary was placed in her first grade class's lowest reading group, the Blackbirds. It wasn't until the third grade that she began to enjoy reading.
---
Street smarts
Klickitat Street in Portland is the setting of some of Beverly Cleary's best-known books; however, the author never lived on that street. Her childhood homes in Portland were on NE Halsey Street, NE 77th Street, NE Hancock Street and NE 37th Street.
---
I have a question
Beverly Cleary was a librarian before she became an author. She attended librarianship school at the University of Washington in Seattle, interned at the Central Library in Portland and got a job as a children's librarian in Yakima, Washington. It was in Yakima that a little boy asked her, "Where are the books about kids like us?" His question served as inspiration when, nearly 10 years later, she sat down to write what would be her first book, "Henry Huggins."
---
Staying true
Childhood experiences color Beverly Cleary's works — the places she lived, the children she knew, what she thought and felt at that time. Her books' enduring appeal springs from her writing about kids being kids. She, however, does not want to be seen as a children's book author, but rather, an author who writes for children.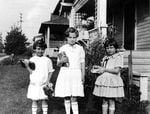 ---
100 years, 91 million copies
On April 12, 2016, Beverly Cleary turns 100; more than 91 million copies of her books have been sold; she has written almost a book a year for 50 years.