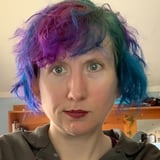 Courtney Sherwood fills in as editor and producer in a number of web and broadcast roles at Oregon Public Broadcasting.
Outside of OPB, she also reports for magazines, newspapers and online publications. Courtney was previously business and features editor at The Columbian newspaper in Vancouver, Washington. She also worked as a reporter at The Portland Business Journal and other publications in the Pacific Northwest and in Virginia.
She received a Wharton Business Journalists Fellowship at the University of Pennsylvania.
Courtney graduated with a degree in English from Grinnell College, where she was editor-in-chief of the college newspaper and hosted a news program on the community radio station KDIC.