The fires that have burned over more than 900,000 acres in Oregon this week crept closer to Portland and its suburbs Thursday afternoon and early evening.
Related: Live updates: Follow this story for the latest on Oregon wildfires
The Clackamas County communities of Molalla and Colton were under Level 3, or "Go Now," evacuation orders. Sandy, Oregon City and Canby were at Level 2, indicating that residents should "Be Set" to evacuate and should prepare to leave at a moment's notice. The area is affected by large wildfires burning in both Marion and Clackamas counties.
Clackamas County fire officials are anticipating extreme fire behavior that will cause the Beachie Creek and Riverside fires to merge. Firefighters were being re-positioned into safer areas so they will not be directly in the line of rapidly changing fire conditions. They announced a countywide curfew from 10 p.m. Thursday to 6 a.m. Friday for anyone not working on life-saving or property-saving activities or night-shift employees.
Multnomah County is not under any evacuation orders. Still, Portland Mayor Ted Wheeler issued an emergency order Thursday night. That will close city parks and other outdoor properties, establish evacuation sites for people who may be displaced because of fires and give city officials more power to ask people experiencing homelessness to move if they're in threatened areas. The emergency order runs through noon on Sept. 24.
And late Thursday, President Donald Trump declared a federal emergency for Oregon, something Gov. Kate Brown and all seven members of the state's Congressional delegation had requested. The declaration will make it easier for federal agencies to coordinate with state and local officials and for Oregon to receive federal money to aid in recovery.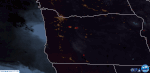 These online tools offer up-to-the-minute emergency information on wildfires, evacuations and air quality in the Pacific Northwest:
Northwest fires, Oregon evacuations: Oregon's RAPTOR Map shows wildfires across the U.S. West and evacuation zones within the state. Enter an address to quickly zoom in on a specific location. It's slow to load, so prepare for a brief wait before the map appears.
Major Oregon and Washington fires: The Northwest Interagency Coordination Center, which coordinates firefighters across the region, shares this map of major fires in the Pacific Northwest
Air Quality Index: Enter a zip code, town or address for the latest local air quality readings.
PublicAlerts.org provides links to sign up for emergency phone and email alerts across the Portland-Vancouver metro area. Scroll to find your local jurisdiction.
Outside the greater Portland metro area, alerts are handled by local governments. Search "Emergency Alerts" and your county's name to find a link.
Southern Oregon's Two Four Two Fire continues to grow
The Two Four Two Fire continued to spread Thursday near the town of Chiloquin north of Klamath Falls. The fire was burning more than 12,000 acres Thursday afternoon and evacuations were still in place for local communities.
The school and fish hatchery buildings are among the structures that have been destroyed.
Mike Wampler, a rancher near Fort Klamath who also owns a logging company which has been assisting with firefighting operations locally, stood in a field watching the fire just a quarter mile away burn toward his house.
"You can see from here, it's on the hillside and just about to our valley. So now we're trying to save these houses," he said. "It's a sad deal. Never seen anything like this since I've lived here."
As with many fires currently burning in Oregon, the Two Four Two Fire started earlier this week and has been spread rapidly by high winds. The fire has prompted neighborhood evacuations and closures to Highway 97.
Collier Memorial State Park was one of the first places evacuated and the park is listed as closed through the end of September due to wildfire damage.
Coffee Creek Correctional Facility to evacuate in Wilsonville
The Oregon Department of Corrections confirmed Thursday afternoon that Coffee Creek Correctional Facility in Wilsonville will be evacuating.
All of the women housed at the facility will be sent to the Deer Ridge prison near Madras.
"There's been smoke in our unit all morning, we all started complaining about it," said Anna Valdez, who told OPB she's an inmate in the minimum security portion of the prison.
"I don't know how they're going to do this," Valdez said. "There's no coordination at all."
She said inmates were handed a plastic bag to pack any medications and personal items. "It's insane right now," she said.
"We're all nervous, scared and want to know what's going on."
This is the fourth prison DOC has evacuated due to wildfires.
Portland Fire & Rescue responds to fire in Forest Park
Portland Fire and Rescue Thursday responded to an active wildfire in Forest Park in Northwest Portland. The agency advised people to stay away from the area.
PF&R reported the fire as being located on 11300 NW Germantown Road. Later, fire crews reported they had gained control of the fire.
Crews have made progress and gained control of the Germantown Rd fire. Some Of the extra crews are being released.

— Portland Fire&Rescue (@PDXFire) September 10, 2020
Oregon may see more favorable weather conditions Thursday
The latest images and temperature data from NASA's GOES-17 geostationary satellite bring some hope: Fires at lower elevations across Oregon appeared to be declining in intensity Thursday.
Since fires blew up across Oregon on Labor Day — fanned by dry east winds — they've burned hundreds of thousands of acres in just a few days. The fires have run so hot and moved so quickly in such proximity to urban areas that firefighters have joined emergency responders in prioritizing life safety. Crews and law enforcement have worked long hours to move people out of the way of the out-of-control wildfires.
But state officials said Wednesday they see an opening to more directly fight the fires, thanks to an upcoming change in the weather. Doug Grafe, Chief of Fire Protection at the Oregon Department of Forestry, said winds were already dying down near the valley floors of western Oregon, even as some gusty weather and stronger winds continued at higher elevations. He said that the positive weather trend was going to continue.
"The system that put us in this place is moving out and that's the best news I can give you," Grafe said. "[Thursday] begins a hopeful weather change and gives us a chance to shift from life safety ... to being aggressive where we can to reestablish containment lines."
Grafe said the dry winds out of the east will be replaced by moister air from the west.
"That is favorable," Grafe said, though with caution. He said favorable weather conditions are predicted to continue through the weekend.
Portland Fire & Rescue responds to 'back-to-back' fire incidents
Portland Fire & Rescue said as of Wednesday evening it had responded to more than 500 fire incidents in the city since Monday.
In the previous three days, the agency said it responded to about 150 fire incidents.
The agency reported that fires have been caused by downed power lines and stoked by strong winds.
PF&R said it is supplying as much mutual aid as it can while still working to protect Portland. Currently, 34 Portland firefighters have been deployed around the state to assist with continuing wildfires.
"This is an unprecedented fire event affecting our state and it requires all of us to work together as a community," Portland Fire Chief Sara Boone said in a statement. "I want to recognize that many City of Portland employees, including firefighters, have been forced to evacuate their homes and are experiencing loss. I am asking every single person in Portland to do their part to prevent fires in the city."
The agency is continuing to remind Portlanders that fire staffing throughout Oregon is stretched thin, and residents should take precautions to protect themselves and others. That includes not creating outdoor fires, not smoking outside and making sure cigarette butts are fully extinguished.
Return to Santiam Canyon met with 'heartache'
People forced to flee wildfires in Oregon's Santiam Canyon started to return Wednesday to assess the damage. Bob Stifel was among them and he had no difficulty describing what it was like to check on the condition of homes for friends and family who had yet to return.
"It's been a little heartache here, some heartache there, more heartache there. It's like, when's it going to quit?" Stifel said as he drove through the charred remains of Gates, one out of a half-dozen communities scorched as fire swept through Monday night and Tuesday.
Related: Rare fire good news: Mill City mayor says town 'relatively unscathed'
Winds, downed power lines fueled the Santiam fires
Strong winds late Monday downed power lines in Santiam Canyon, which turned a fire that was already burning into an inferno that left people fleeing for their lives.
The Beachie Creek Fire — now called the Santiam Fire — has forced the evacuations of several thousand people who live in the string of towns that dot the scenic Highway 22 running from Salem into the Cascade Mountains.
The Beachie Creek Fire started around Aug. 16. Its cause is under investigation. But downed power lines due to high winds this week ignited many smaller, new fires that quickly helped the blaze grow, fire officials said Wednesday.
"There were many electrical fires that started from downed power lines," said Stefan Myers with the Santiam Fire Information Team. "So, this isn't just the one Beachie Creek Fire that became the fire we see now. It's a multitude of small starts and fires that merged to become the Santiam Fire."
Related: Fire officials say downed power lines played role in Santiam Fire
FEMA approves Oregon emergency funding
The Federal Emergency Management Agency announced Wednesday it's approved money to help cover the costs of fighting four fires burning in Oregon, just a day after state officials said they were asking for the aid.
FEMA initially approved funding for three fires: the Holiday Farm Fire in Lane County, the Powerline Fire in Washington County and the Echo Mountain Complex Fire in Lincoln County. The Holiday Farm Fire was the largest at the time of the application — burning about 15,000 acres.
In a later announcement, FEMA included assistance for what officials called the Almeda and Glendower fires in Jackson County. The southern Oregon blazes devastated Phoenix and Talent and caused thousands to evacuate the city of Medford. Wednesday afternoon, a third fire, the Table Overpass Fire, started in central Medford.
Late Thursday, President Donald Trump declared a federal emergency for Oregon.
Smoke blankets western Oregon
Air quality remained poor across much of Oregon on Thursday morning, as smoke from raging wildfires escaped Western Oregon and settled over the rest of the state. In many cities west of the Cascades, air quality indexes well over 500 were observed. An AQI of 301-500 is considered "hazardous," the worst category the EPA recognizes. Anything above that is considered "above the index" — literally off the charts.
At the coast, far from fires, falling ash and smoke so thick it was almost tangible settled over fishing and tourist towns.
"The smoke is really bad, the ash is horrible, and the particulates just get in your eyes and your throat," said Lillian Curanzy, who works at the Newport Public Library.
Related: Hazardous smoke blankets western Oregon, with potentially deadly consequences
Fast-moving Clackamas County fires creep into bedroom communities
The smoky sun turned everything a deep red as residents packed bags and loaded families, belongings and livestock into trucks and vehicles Wednesday afternoon, potentially leaving their homes for the last time.
But even as they left, the community came together to help salvage what they could.
Clackamas County resident Bridgett Noce opened up her empty pasture for those who needed to evacuate livestock.
"People are just dropping what they're doing to help ... we didn't even know each other 12 hours ago," said Ryan Ramage, who left horses with Noce.
Ramage said he and other members of the community were pooling resources like trailers to make sure animals were being evacuated.
"Last night, we moved over 20 animals from random places," Ramage said. "It was pretty amazing to see all the stock trailers out and community coming together to get these animals out of the fire."
Related: In Clackamas County, fire-threatened residents find their own ways to face danger
Refugees gather in fairgrounds, evacuation centers
The fires in Santiam Canyon hit fast, OPB reports. People arrived at the State Fairgrounds smeared in soot, in the pajamas they'd been wearing when evacuations startled them out of bed. Some arrived after a harrowing escape through the mountains, as a snowplow cleared flaming, fallen debris from the road.
Related: At state fairgrounds, some worry about their homes. Others know they're gone.