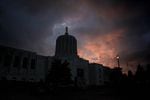 As Oregon lawmakers gear up for an unprecedented legislative session in January, many of their office staffers are attempting another first: They want to be the only group of Capitol aides in the country to form their own union.
In a petition filed with state regulators last week, legislative employees that play a critical role in assisting lawmakers and dealing with the public proposed a union that they say will give them more say in the policies that shape life in the Capitol.
The push has been discussed informally for years and doesn't arise out of a specific dispute, employees supporting the effort say. Rather, it's meant to address a concern that spans issues: That legislative aides don't have a meaningful or consistent say in Capitol policies.
"It's about being considered and consulted in decisions that are being made that ultimately impact us," said Logan Gilles, who's spent a decade as an aide to state Sen. Michael Dembrow, D-Portland, and supports the effort. "Personally I'm very happy with the health care I receive, the fringe benefits of the job. I also know that if the legislative administration wanted to change any of that they could do it tomorrow."
While unions often have a partisan tinge in the statehouse, staffers of lawmakers in both parties point toward a couple of changes in recent years they felt highlighted a need for better representation.
One is a lengthy process that has sought to modify pay within the Capitol. One facet of that process, adopted earlier this year, was focused on ensuring staffers are paid equitably if they serve in similar roles. The other would rejigger pay scales and job classifications within the building.
Legislative staffers that OPB spoke with didn't take specific issue with those changes but said the process had been confusing. Some were caught off guard earlier this month when Senate President Peter Courtney and House Speaker Tina Kotek announced they were adopting a consultant's recommendation to change the pay scale for legislative assistants. A spokesman for Kotek said in an email that move had been telegraphed in advance via a public hearings and e-mails to staff.
The entire effort, employees said, inspired conversations among aides about how to ensure their voices are present when lawmakers make such decisions.
"Like many other facets of society, the pandemic has revealed structural weaknesses in the way our communities and social services operate," a group of 25 Capitol employees wrote earlier this year, in a letter offering concerns about the payment changes. "The same can be said for the untenable and unsustainable structure we have within the Legislature."
Another change that has spurred conversation is the Legislature's ongoing revisions of Capitol policies for harassment and retaliation. Those became a major focus in 2018 when a former Republican state senator was accused of groping and harassing colleagues, lobbyists and staff. But the changes lawmakers made in response have raised concerns that victims can be outed against their will, and that investigations into reports of harassment are too drawn out.
"Informally, there have been questions about why aren't we unionized as long as I've been in the building," said Claire Prihoda, a union supporter who spent two legislative sessions working for state Rep. Susan McLain, D-Hillsboro, and is now moving to a Senate office. "It's just been this year that it's really been a driving force."
The push for a union, first reported by Willamette Week, would create a bargaining unit of 110 employees, represented by the International Brotherhood of Electrical Workers Local 89. If successful, the union would represent staff for all 90 state legislators, along with some employees in Democratic and Republican leadership offices.
The effort has some unique wrinkles in a building where public-employee unions are often large Democratic benefactors, and in which it's not rare for lawmakers to employ family members within their offices.
Supporters say IBEW is a great fit for that environment. Despite its name, the local already represents an array of clerical workers. And IBEW Local 89 doesn't take an active role in state politics, including funding lawmakers' campaigns or lobbying on bills, though it is a member of the AFL-CIO, a federation of labor unions that frequently supports Democratic candidates.
The union also said it's not out to start a major fight with the Legislature, a move that could potentially alienate aides and the lawmakers they work for.
"We see value in working with the employer," said Tony Ruiz, an IBEW organizer who's been working with aides. "Other unions want to be more combative. That's not where we are."
Ruiz would not disclose how many staffers have signed onto the push to unionize, and those records are kept private under state law. He did say staffers for members of both parties have shown their support. In order to qualify for certification by the state's Employment Relations Board, more than half of the proposed bargaining unit — at least 56 staffers — has to sign on.
"Our bargaining unit is going to be bicameral and bipartisan," Prihoda said. "I've had wonderful conversations with my colleagues from every section of the political spectrum."
If legislative officials take no issue with the unionization effort, it might be finalized by the end of December. But that could be slowed considerably if the Legislature takes issue with the proposed structure of the bargaining unit aides are attempting to create. That dispute would be taken up by an administrative law judge and could draw the process out for months, according to Adam Rhynard, chair of the Employment Relations Board.
The legislature has until Dec. 29 to lodge any dispute. In the meantime, Kotek and Courtney have warned lawmakers to stay out of the matter.
"While every employee and certainly every member is entitled to their opinion on such an effort, it is important to recognize that employees have a right to discuss these matters," the presiding officers wrote in a memo to lawmakers in November. "It is not appropriate, and contrary to state collective bargaining laws... to attempt to influence or interfere in any way – in support or opposition."