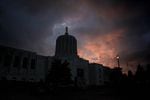 Oregon economists delivered some major, if familiar, news to lawmakers on Wednesday regarding the state's financial health. For the third forecast in a row, Oregon's tax revenues are set to outpace what economists expected mere months ago.
This time, though, the expectations are truly eye-popping.
State economist Mark McMullen told members of the House and Senate revenue committees that the state will see an extra $1.18 billion land in its coffers for the current two-year budget cycle ending June 30 than expected in February, a shift driven largely by surging income tax collections. Economists also expect an additional $1.25 billion for the 2021-23 biennium, and $1.64 billion more from 2023-25.
"This outlook, there is a whole lot more resources available than we last reported in March and even more than we reported at the beginning of the session when the budget was drafted two years ago," McMullen said.
Top lawmakers variously described the report as "unbelievable" and "stunning."
"In all my years in the Oregon Legislature, I have never seen a forecast like this," Senate President Peter Courtney, the longest-tenured lawmaker in state history, said in a statement.
The forecast means taxpayers will benefit from what McMullen characterized as "the mother of all kickers" — Oregon's unique tax refund that kicks in when actual revenues exceed forecasted revenues by 2% or more.
This year, the personal income tax kicker is expected to send more than $1.4 billion back to Oregonians as credits during next year's taxes. Oregonians at the state's median income level — making between $35,000 and $40,000 a year — will receive $312 back. The top 20% of income earners are estimated to receive between $1,182 and $12,856 in refunds.
Oregon's corporate tax kicker, which is dedicated to K-12 education funding, is projected to land around $664 million.
According to Joshua Lehner, state economic analyst, the primary reason for this bright economic outlook is federal policy that infused households and businesses with cash at levels that were unprecedented.
Even prior to the eye-popping forecast, Oregon was already on solid economic footing. Roughly $2.6 billion from the American Rescue Plan Act was projected to more than paper over a $1.3 billion budget hole lawmakers were preparing to grapple with.
But the new revenue forecast — the last before lawmakers pass a budget for the 2021-23 biennium — predicts Oregon will be able to largely close that hole on its own with far higher tax and lottery receipts than economists had expected.
Top lawmakers seized on the new forecast Wednesday, urging that the unanticipated money go toward their spending priorities.
"Today's forecast is stunning," House Speaker Tina Kotek, D-Portland, said in a statement. "A year ago, the world was in a free fall. Oregon's decisions and investments in the face of converging crises have started an incredibly strong recovery."
Kotek added that "too many Oregonians are struggling to pay rent or put food on the table," signaling she favors "bold action and immediate relief" for families.
Republicans reacted to the forecast by warning Democrats not to attempt to reduce the kicker via budget maneuvers and instead deliver it back to taxpayers who remain in recovery mode. House and Senate Republicans have also recommended the state put more money toward K-12 schools, an argument they renewed Wednesday.
"We must first ensure taxpayers get their full kicker. That money belongs to them, and there is no justification to take it from them," Senate Minority Leader Fred Girod, R-Lyons, said in a statement. "This money should be directed to Oregonians' most pressing needs. We must fully fund and fully reopen our schools, invest in our workforce, and assist in wildfire recovery efforts."
McMullen and Lehner noted that economists are tracking a number of factors that could "choke off" the economic growth they've forecasted, most notably supply constraints on Oregon's workforce.
According to the Oregon Bureau of Labor & Industries, an estimated 45,000 Oregonians are not looking for work due to the COVID-19 pandemic for myriad reasons including fear of the virus and lucrative unemployment benefits.