When you think of Pride month, what comes to mind? Perhaps you'll think of the parties, the exciting flamboyant marches, or maybe the endless rainbow rebrands from seemingly beige, corporate giants. Like who knew mouthwash cared so much about gay rights?
With all the fun and celebration surrounding Gay Pride events, it might be less common for people to think about the decades of struggle. The years and years of hard work that veteran LGBTQ+ activists put in to transform fear and hate into wider sentiments of love and acceptance, whether they be sincere or not.
At least one study shows there's a large group of Americans who know nothing about the Stonewall Riots.
And if you are among this group of Americans, here's a quick summary: In the early hours of June 28th,1969 an uprising took place at the Stonewall Inn in New York City that sparked a national gay rights and liberation movement.
Now, every June, people around the world commemorate that one night for an entire month. Even Crocs has a Pride collection.
Yet so much quiet labor has gone into turning one violent night into a month-long party.
Many American cities have experienced versions of nights like the Stonewall Inn, times in history when police have brutality targeted the gay community by enforcing discriminatory laws and ordinances.
In Oregon, police raids of gay and lesbian bars were common well into the 1970′s. The retaliation might not have been as big or as dramatic as the image of a brick flying through a police car window but it carried the same weight.
"I don't remember where the march started," says Kathleen Sadat. "I just remember being on like 3rd or 4th street, marching north and turning on to the Waterfront park. There were less than 200 of us. It was pretty scary."
Saadat looks up as if hoping to find the memory she's trying to recall. She has a lot of memories involving marches after spending over 40 years of her life fighting for the equal rights of Oregon's Black and LGBTQ+ communities. Most notably in 1992, when she helped lead the campaign that defeated the viciously anti-gay Ballot Measure 9.
Saadat has also worked for the city of Portland, Multnomah County, and the State of Oregon, championing more equitable and inclusive policies.
Even in retirement, she keeps busy. Whether it's putting out an album with Pink Martini or mentoring the next generation of activists, Saadat is, as she puts it: "still trying to raise hell."
But at this particular moment, she's trying to remember a day in 1976, when she and a few others organized Portland's first gay rights march.
"We were marching along and doing chants, being scared and seeing people on the sidewalk who we knew were gay or lesbian, but who were afraid to join the march," says Saadat. "And we understood that. And it was very tense. I can't tell you much about the rest of the day except having done it and going [sighs] you know, sorta like we lived through it, we weren't attacked."
One year prior to the march Portland had its first public Pride event. It had about the same turnout, around two hundred people or so. But that event was a little different because it was actually a stationary celebration. The march Saadat helped organize in 1976 was a demand for equal rights, physically moving through the city and ending at the Tom McCall waterfront park.
As Saadat recalls, some of the counter-protesters tried to infiltrate the march with signs that read: "Turn or Burn."
"We were attacked verbally by the people we call the "Turn and Burn" people, who carry giant signs that said we were going to hell. Some of the men took their banners away and tore them up and told them to get out of the march. And they did! They were frustrated, fed up with being told that we were bad people, that we had no business proclaiming our right to exist, that we were sinners and we were bound for hell."
But that didn't stop Saadat and all of the other organizers from doing it again the following year, and the year after that, and the year after that. Each time more and more people came.
Soon what started as a very tense gay rights march, that many were too scared to attend, became an annual part of Portland's Pride celebration. Now nearly 50 years later it's a party people can enjoy with their grandchildren.
And that's something Saadat, the self-proclaimed hell-raiser, has some complicated feelings about.
"One of the changes that I regret seeing is that some of the political edge has been lost. It did turn into a party. We didn't include enough of the, 'Hey, we're still fighting for our rights. This is not over. This is not the end of it.' And I, I kinda miss that part. At the same time maybe 5, 10 years ago, I was down on the waterfront during pride and I started to cry. Cause I looked at it and said, we did this, we did this work together. We made this happen and it's real. And there are people here who would never have been here 20 years ago. And they're here and they're celebrating with us."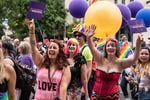 Despite all of the much-needed celebration, Saadat still thinks the gay community needs to stay engaged as political activists. Even when millions of people worldwide, from the police (not in NYC though!) to corporate America now march side-by-side with the LGBTQ community at these Pride events.
Saadat says, "We are supposedly a nation that's run by law and laws change. People change laws and the laws that stay are the ones that people embrace. And don't question and don't challenge. We have never stopped being challenged. If you look at the attack on trans people, you're looking at an attack on us. What we know is that we are here and we should be entitled to living our lives as full citizens of the country. And that goes for any oppressed group. If you look at how long we've been fighting for the rights of black people, and you see what's happened to that, and you see it's being raised again, so you cannot stop until there's enough comfort on the part of the nation to not continue to challenge and discount the people who are part of this country."