"If we opened people up, we'd find landscapes."- Agnes Vardas
Jennifer "JJ" Jones welcomed me into the sprawling backyard that she shares with a neighbor, "We moved in here in '98, and then our good friends bought the house next door to us. So we tore out the fence right away. There hasn't been a fence here since 1999," Jones says through a grin.
She offers me herbal iced tea while shooing away the clucking chickens gathering near my microphone. As a multimedia artist, Jones is used to dividing her attention. She was in the middle of explaining what inspired her latest project, "Agnes Varda Forever," before trailing off and running after the birds. "You guys, get out," she shouts. "Go somewhere else! Go take a dirt bath!" Jones returns huffing. "That's one of my many pastimes, chasing chickens."
Another one of her pastimes is sharing her admiration for the iconic late French filmmaker, Agnes Varda.
"What I love about Agnes is that she didn't follow any rules," Jones says. "She didn't go to film school. She watched some movies and thought: 'I can do it better than that.' Agnes is the only woman director from the French New Wave. She mixes fiction and documentary. So her films are unlike other people's films."
Varda is known for capturing the quiet beauty of ordinary life.
She was only 25 years old when she helped kickstart a mid-century movement that broke all the rules of conventional filmmaking and cleared the way for our modern-day cinema. The French New Wave haphazardly strapped cameras to cars, preferred character studies to plots, favored non-actors for the leads and embraced mistakes through the final edit.
Never officially part of the boys club, Varda's first film, "La Pointe Courte," came fully formed in the same ethos and style that the mold-breaking group adopted, nearly five years before any of their most famous (Truffaut, Godard) debuted a film.
Film scholars widely credit Varda as "the mother of the French New Wave." At only 30 years old, Varda already had film publications crowning her the "grandmother of the French New Wave." Varda has firmly pointed out she is only four years older than its youngest member. Mother, it became.
During the pandemic lockdown, Jennifer JJ Jones watched a different movie every day with her son, "We watched some Agnes movies and just talked all day about how great she was."
A filmmaker's filmmaker, directors like Martin Scorcese consider Varda "one of the gods of cinema" but she never found commercial success. "I didn't have a career," she's been known to say, "I made films. It's very different."
"And we said, 'We should just plaster her name all over town and make everybody know who she is!' My son said, 'We should say Agnes f—g Varda. We should paint it on a wall.' And I said, 'You know, maybe we could make it a little more friendly.'"
Switching out one F-word for another, Jones walked down the block and painted the words "Agnes Varda Forever" on a telephone pole.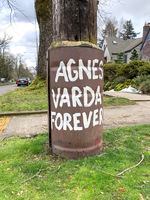 A few days later Laura Glazer, a friend of Jones, drove by and spotted the message.
"I turned the car around and photographed it," Glazer says. "Later in the evening, I emailed JJ, 'Hey, someone loves Agnes Varda as much as you and I do!' And then she wrote back, 'Oh my gosh, I painted that!' And my head just exploded at the serendipity."
"Chance has always been my best assistant." - Agnes Varda
Glazer is a graduate student studying Art and Social Practice at Portland State University. This past spring for a class assignment, she was given $100 by her professor and told to commission someone to do something.
"So I commissioned JJ to continue the project," Glazer says.
500 copies later, brightly colored posters with the message "Agnes Varda Forever" popped up all over Portland. At the bottom were pull tabs with titles from their favorite Varda films.
"We all see things on posters and think, 'Oh, that's great. I'm going to do that.'" Jones says. "And then by the time you get home, you've forgotten all about it."
These public love notes for Varda quickly became an Instagram hashtag. Meanwhile, Laura kept a close eye on her class assignment.
"As the project was growing we were tracking the number of Google searches for the term 'Agnes Varda,' and we could see that increasing in this region for that period of time," Glazer says.
Glazer also made Jones' poster a downloadable PDF on agnesvardaforever.com. Replicas soon began popping up in Los Angeles, Chicago, NYC, Washington DC — even Laredo, Texas. Word of the posters eventually reached France where Agnes' daughter, Rosalie, received the news enthusiastically.
"Rosalie comments on our Instagram stories and posts. And recently we had a few messages back and forth with her in which she gave us her mailing address, so we can mail some posters to her," Glazer says.
"In my films, I always wanted to make people see deeply. I don't want to show things, but to give people the desire to see" - Agnes Varda
But Varda's kin isn't the only enthusiastic poster supporters.
"One day we got an email from one of the programmers at the Clinton Street [Theatre], who said, 'Inspired by your project, we'd like to do a film festival and we'd like to collaborate with you on it. We are over the moon, so excited!" Jones says.
Each time she puts up a poster, Jones sees it as a tiny performance. A chance interaction between her environment and anybody watching.
"At first, I tried to be really sneaky because a lot of people consider it garbage or graffiti and they don't want it," Jones says. "Then as I did it, I got bolder and I just walked right up in front of the line at "Salt & Straw" and put that poster right up there. I don't want to be so bold as to say it's something that Agnes would do, but it is certainly in the vein of what she's all about. Finding delight in everyday mundanity on the street, on a phone pole, being surprised, advocating for art everywhere. I think it's all something that she would appreciate."
The "Agnes Varda Forever" festival runs from Aug 19th - 31st at the Clinton Street Theater.