Like many Americans, Billy Williams watched in horror last Jan. 6 as a violent mob attacked the U.S. Capitol while a joint session of Congress certified the 2020 election results.
Williams, who Trump appointed as Oregon's U.S. Attorney, said it was only after he got home from work that day that he began to fully grasp the threat the rioters posed to democracy.
"I was so disgusted at what was going on," Williams said. "And it being encouraged by the president of the United States, I just found it despicable."
Political appointees serve at the pleasure of the president. And like other presidential appointees, Williams received a large commission certificate signed by the president that hung, framed, on a wall in his sixth floor office at the Mark O. Hatfield Courthouse in downtown Portland.
"I went in the next day to my office," Williams recalled, "and took it down."
Williams, a career prosecutor whose office led federal cases stemming from both the 2016 armed standoff at the Malheur National Wildlife Refuge and Portland's 2020 racial justice protests, said taking down the signed certificate was his way of symbolically separating himself from Trump.
"I could see and hear the words chosen that he spoke and it just made me, in that moment, feel like I needed to do something," he said. "I didn't like what I saw happening."
Williams placed the certificate in a closet where it remained until he retired from the Justice Department that February. Now, he said, it's in his basement.
Over the course of the last year, the Justice Department has arrested and charged at least 11 people from Oregon and Washington for participating in the Jan. 6 attack. Those cases are representative of the broader prosecution picture forming the past 12 months as charges have been brought against more than 725 people across the country. Most defendants face low level charges for their participation, though federal prosecutors have sought harsher sentences for people who participated more directly in that day's violence.
"Those who assaulted officers or damaged the Capitol face greater charges. Those who conspired with others to obstruct the vote count, also face greater charges," U.S. Attorney General Merrick Garland said in a speech Wednesday. "Those who did not undertake such conduct have been charged with lesser offenses, particularly if they accepted their responsibility early and cooperated with the investigation."
A massive FBI investigation, research by extremism experts and investigative reporting by several news organizations have shown coordination between militias like the Oath Keepers and other violent far right groups, like the Proud Boys, contributed to the violence on Jan. 6.
Proud Boys members have been charged with the felonies for the insurrection, including two Oregon brothers in their 20s. Jonathanpeter Allen Klein, a self-identified member of the group, and his older brother Mathew Leland Klein both face a conspiracy charge – among the most serious charges brought against the pro-Trump rioters – as well as five other charges, including obstruction of law enforcement during civil disorder and destruction of government property.
"The purpose of the conspiracy was to corruptly stop, delay, or hinder Congress's certification of the Electoral College vote and to obstruct and interfere with law enforcement officers engaged in their official duties to protect the Capitol," the Kleins' indictment alleges.
Court documents spell out in detail how the brothers assisted other members of the crowd in climbing a wall to gain access to the upper west terrace of the Capitol. The Kleins then entered the building, and allegedly celebrated with another member of the Proud Boys screaming, "proud of your fucking boy."
"That they did so as part of a second or third wave of attacks — with knowledge of the mayhem that had already unfolded at the Capitol — shows their reckless disregard for others and the danger posed by these two actors," prosecutors wrote.
Like some who went to Washington, D.C., on Jan. 6, the brothers had participated in violent far-right protests before. Matthew Klein still faces a misdemeanor in Multnomah County for carrying a loaded firearm at a Proud Boy rally on Sept. 26, 2020.
Days after the attack on D.C., OPB identified three men from Jan. 6 who also were among a crowd that broke into the Oregon State Capitol on Dec. 21, 2020, while lawmakers were meeting. The building was closed to the public because of COVID-19 restrictions.
Richard Lee Harris was in Salem where video shows him pushing a photojournalist. Prosecutors in Marion County have charged Harris with harassment, a misdemeanor. After that, he traveled to the U.S. Capitol where he participated in the Jan. 6 attack, according to federal prosecutors.
"If you do not stand down, you're outnumbered," a man who appears to be Harris shouts at Capitol police officers in a video published by the New Yorker. "There's a fucking million of us out there, and we are listening to Trump, your boss."
Harris was arrested in Florida in March and charged with assaulting, resisting or impeding officers; obstruction of an official proceeding; and entering and remaining in a restricted building.
Last spring, the FBI also arrested Reed Knox Christensen for his role in the Jan. 6 attack. As recently as last year, he served in a leadership role on the Washington County Republican Party's Central Committee. His charges include engaging in an act of physical violence in the Capitol building, civil disorder, and entering or remaining on restricted grounds without lawful authority.
Video footage collected by prosecutors allegedly shows Christensen trying to move a metal bike rack that police were using as a barrier. Federal prosecutors said Christensen pushed and hit police officers. He also allegedly tried to breach the metal barrier when a Metropolitan Police Officer sprayed him with "a chemical irritant." Afterward, prosecutors wrote in charging documents, Christensen struck a U.S. Capitol Police officer with his fists.
So far, none of the defendants from Oregon and Washington have pleaded guilty or gone to trial, according to the Justice Department's list of cases.
Mary McCord, the former acting assistant attorney general for national security at the Justice Department from 2016-2017, said Jan. 6 brought together a wide array of militia members, white supremacists, conspiracy theorists and anti-government activists. That wide array of backgrounds is evident in the defendants from the Northwest as well.
"What you saw that day is those who clearly had gone with a plan, with a mission, with the equipment they needed to accomplish that mission," said McCord, who now serves as executive director of the Institute for Constitutional Advocacy and Protection at Georgetown Law School. "Then there were also ... tons of people who I think heeded Trump's call to come to protest and probably went originally just expecting they were going to be protesting. But that crowd became a mob once the first few people broke through the police barrier and engaged in violence."
Even though some defendants may not have expected the day to become violent, McCord said, "that doesn't mean they're not responsible for what they did that day."
McCord believes prosecutions have deterred some from violence.
"People are more conscious after January 6th about engaging in political violence and threats and the prospect of that resulting in prosecution," she said. "But now again, we just see some of the organizing in other nefarious ways that are also undermining democracy just as much as overt political violence."
She points to an effort by former Trump advisor Steve Bannon to install election deniers into state and local election positions, as well as state lawmakers who are turning over election safeguards to political bodies.
Prosecutions have not deterred everyone from violence, however, even those charged for the insurrection.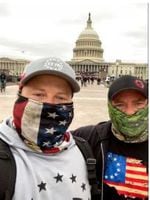 Jeffrey Grace, from Battle Ground, Washington, and his son Jeremy Grace, from Molalla, Oregon, both face charges for their participation in the Jan. 6 riot.
Since his arrest, Jeffrey Grace has traveled, armed, to El Paso, Texas, and downtown Portland.
"In both Portland and El Paso, Grace engaged in what appear to be pre-planned confrontations with individuals," prosecutors stated in court documents, before asking a judge to remove his right to possess weapons.
In August, a federal judge granted the request.
Tung Yin, who researches national security law at Lewis and Clark Law School in Portland, said he's struck by the massive scale of the Justice Department's case.
"The prosecutors there are going after a lot of people, and that in turn is consuming a lot of resources," he said. "I'm not offering that to criticize what they're doing, simply to highlight that the choice that they're making to go after cases is itself part of the reason that here we are a year later and they still have hundreds of cases to work through."
As for Williams, who is now retired and sought to distance himself from the president who appointed him U.S. attorney, he said it's time for people from Oregon and across the country to take responsibility for their actions.
"If you're going to go to Washington D.C., and you're gonna go to the mall and then you make the really bad decision, … I don't feel sorry for you," he said. "There's a consequence for being stupid and no one's gonna feel sorry for you if you make a decision that that causes a severe consequence."