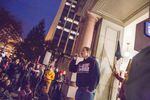 Portland police announced Thursday they have made an arrest in the 2019 high-profile murder of a local anti-fascist. The case has drawn national attention in the years since, largely due to local activists' insistence that police were not actively trying to find those involved in the murder of Sean Kealiher because of his political views.
Kealiher was killed in October 2019 by an SUV while leaving Cider Riot, a now-closed bar that was popular with leftist activists. Police said they have arrested Christopher Knipe, 47, and charged him with second degree murder.
Knipe had originally been identified on social media as a suspect by Kealiher's mother, Laura, after she became frustrated with the police bureau's slow progress. Soon after the arrest was announced, she told OPB she was in shock.
"There's gonna be a trial and they're gonna make Sean look like shit," she said, saying the arrest didn't do much to restore her confidence in the police. "At least they did something. It's better than nothing, I guess."
Laura Kealiher said she was told about Knipe's indictment Thursday by a Multnomah County deputy district attorney.
According to two men who were with Kealiher on the night of his death, the trio had been drinking at Cider Riot late into the night. When they left the bar, a group of men started a verbal altercation with Kealiher.
One of the witnesses, an activist who asked to be identified as Switch, told OPB that the altercation seemed to have resolved before an SUV sped quickly up the street and ran over Kealiher, crashing into a building rented by the local Democratic Party.
The people driving the SUV fled the scene, leaving the vehicle behind. Switch and another person drove Kealiher to a local hospital that night, where he died.
Kealiher was a well-known anti-fascist activist in Portland, and was mostly known in the city's protest scene by his alias, Armenio Lewis. Friends and family told OPB he was highly dedicated to anti-fascist and racial justice causes since he was a teenager. Police said Thursday that they do not believe the killing was politically motivated.
Family and friends of Kealiher have insisted for years that Knipe was involved in the murder, and that it was his SUV that ran over Kealiher. In 2021, Portland police denied a public records request by OPB seeking the release of a stolen vehicle report filed by Knipe the day after Kealiher was killed.
Laura Kealiher and the two witnesses who spoke to OPB have insisted that a friend of Knipe's was also in the SUV during the murder. Police have not made any other arrests in the case. Laura Kealiher said the deputy district attorney told her they did not have enough evidence to indict the man who was with Knipe that night.
The Portland Police Bureau has frequently cited a lack of cooperating witnesses as a reason arrests were not made for more than two years, despite police possessing the SUV involved.
It was not immediately clear if Portland police had obtained any new evidence in the case that led to Knipe's arrest. However, the city has been under increased legal pressure to advance the case or reveal what it did know about Kealiher's homicide.
OPB and The Intercept have each independently pursued legal action seeking the release of the full investigative file in the case, which attorneys for the city of Portland have consistently fought. Earlier this year, the city turned over the investigative file with all but 39 out of 685 pages completely or largely redacted. On an appeal currently with the Clackamas County District Attorney's Office, attorneys for OPB have argued the city had no grounds to pursue such broad redactions for a case that had made no discernable progress in more than two years.