For more than two years, the Portland Police Bureau has insisted its detectives diligently investigated the 2019 killing of a well-known anti-fascist activist.
Those claims now appear shakier than ever.
Related: "Dying for a Fight" Podcast: Investigating the death of Sean Kealiher.
New records obtained by OPB through a public records appeal show police collected significant evidence at the scene of the crime that pointed to a clear suspect just days after the homicide.
Portland police spoke to the main suspect, Christopher Knipe, in the days after the killing of Sean Kealiher. They also had likely obtained surveillance footage implicating Knipe more than two years before officers arrested him on Aug. 4.
In August, the Multnomah County District Attorney's Office arraigned Knipe on a charge of second-degree murder for allegedly running over and killing Kealiher with a silver Ford Explorer on Oct. 12, 2019.
The city of Portland only released the additional records in the case following a successful legal appeal by OPB, which had first requested the records in June 2021. OPB had argued that the homicide investigation had made no progress for several years and that the full record should be made publicly available to address concerns from Kealiher's mother and friends that police were slow to make an arrest due to Kealiher's critical views of law enforcement.
On Sept. 7, the Clackamas County District Attorney's office issued an order stating that some aspects of the investigative record must be made public, and the additional records were released Wednesday.
Those records show police initially interviewed Knipe and his uncle by phone on Oct. 13, 2019. Knipe's uncle owned the Ford Explorer allegedly used to kill Kealiher. It's not clear what was said in that conversation, however, because the Clackamas County District Attorney's Office agreed with the city of Portland that much of the investigative case file should remain redacted during Knipe's ongoing prosecution.
The records also indicate the case's lead investigator, Portland police Det. Scott Broughton, identified "subjects associated to Ford Explorer" as early as Jan. 14, 2020. Later court documents named Scott Duncan and Noah Caudle as associates of Knipe's who were allegedly with him the night Kealiher died.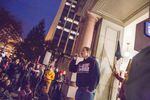 The 2019 phone call with Knipe also stands in contrast to how police interacted with Kealiher's two friends, who were with him and took Kealiher to the hospital after he was run over. The two had previously told OPB that detectives brought them into Central Precinct for questioning on the night of the killing.
"I certainly felt like I was a suspect," said Christopher Aulerich, who performed CPR on Kealiher the night he died "It wasn't a buddy meeting with a cop."
Knipe initially told detectives his car had been stolen the night of the incident, according to a probable cause affidavit for his arrest. That document also says that security camera footage shows Knipe driving the Ford Explorer away from Kealiher and his two friends, then turning around and accelerating back toward them and running over Kealiher. According to prosecutors, the footage also allegedly shows Knipe and Caudle "nonchalantly walking away from the crash."
The newly released records say officers spent time gathering security camera footage on Oct. 15, 2019, and Oct 18, 2019, suggesting detectives had video evidence for more than two years showing Knipe at the scene of the crime before they arrested him. Business owners in the area spoke to OPB in 2021 and confirmed that police had sought and received surveillance footage at the time of the crime.
Over the ensuing weeks and months, records indicate, detectives collected and analyzed fingerprints taken from the Ford Explorer and interviewed witnesses. According to the newly released records, most of the investigation appears to have stopped around February 2020 and didn't resume again until June 2022 when police again interviewed Knipe.
OPB and The Intercept, another media organization, were both engaged in legal action against Portland to release details of the investigation, and the cases were coming to a head around the time police revisited Knipe on June 28.
In July, days after OPB filed an appeal seeking the records, police interviewed a new witness in the homicide, Morgan Knoke, one of Knipe's former coworkers and Kealiher's friend. Knoke was first located and interviewed by OPB. That interview was published in November 2021, roughly eight months before police spoke to Knoke.
Related: 'Dying for a Fight' Podcast: Who gets justice?
In the interview, Knoke said she had confronted Knipe days after the homicide and told OPB she was suspicious of his potential involvement in Kealiher's death.
Knipe, who admitted to police he had abandoned his vehicle at the intersection where he allegedly killed Kealiher, was arrested one day before the Clackamas County District Attorney's Office was originally scheduled to rule on the request to release records.
In his Sept. 7 order, Deputy District Attorney Matt Semritc wrote that if Portland police had not arrested Knipe when they did, he likely would have released more of the investigative file.
"The case 'status,' was to be a paramount issue in this appeal until the recent arrest and subsequent prosecution of Mr. Knipe," Semritc wrote as he decided to keep most of the records private for now. "But for the recent developments, the balancing of the public interest and the importance of a successful prosecution might have looked very different."
Knipe remained in a Multnomah County jail as of Thursday. His next court hearing is scheduled for Nov. 21.