Gov. Tina Kotek criticized city of Portland and Multnomah County officials on Monday for not answering basic questions when it comes to how they would spend state dollars to address the homeless crisis.
The governor's remarks came Monday after she revealed which communities are in line to receive state emergency funding approved by the Legislature last month to help address the crisis.
The governor said she was surprised officials from the state's most populous county and biggest city — where the homeless crisis has been a dominant issue for years now — could not offer more clarity on how to tackle the issue if given state money.
"I'll be honest, I was disappointed," Kotek said.
Kotek signed a $200 million funding package last month she promised would go toward rehousing 1,200 households and creating more than 600 new shelter beds by the end of the year. The money is going to local communities across the state at the end of this month.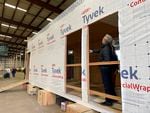 Newly established Multi-Agency Coordinating groups, or MAC groups, have been formed to oversee the money in each region and deliver emergency care. They are made up of a wide range of individuals, from people who are part of public housing authorities, local homelessness agencies, shelter developers and landlords associations.
After several meetings with city of Portland and Multnomah County officials, the governor said she still had a lot of questions.
"Who's paying for what? Where does the money come from? What's the city committed to? What's the County committed to? They need to get their stuff together," Kotek said.
Despite Kotek's concerns, she said she tentatively approved the state funding for the city of Portland and Multnomah County and promised state help to address some of the lingering questions. That wasn't the case for every county. In Clackamas County, the governor said, she wasn't convinced they could expand shelter capacity and so she denied funding.
"In the issue of Clackamas County … we did not allocate any resources for additional shelter capacity because we did not have confidence (in their ability to increase shelter beds)," the governor said.
Lane County provided clear, detailed plans, Kotek said, on how they would use state funds.
"They just hit all the marks, right?" the governor said of Lane County. "Strong partnerships, clarity on what was getting funded … clarity on the capacity they needed, who was gonna do it, where was it gonna be located … I just have to say they have a good handle on their existing infrastructure and where they need to go."
For the counties, like Multnomah, that didn't have enough concrete details, the governor said the state would continue to help them flesh out their plans.
Portland city officials and Multnomah County still have time to offer details to Kotek before April 28 so they can get the money when it's initially allocated.
"For example, in their plan it talks about money to purchase 100 pallet shelters," Kotek said of Multnomah County. "That's part of the plan. We need to know where, we need to know what the operating dollars to go along with that are. So, I have been very clear they need to sit down and give us a few more details before we can release the money."
Portland Mayor Ted Wheeler said he is working with county officials on revising their state plan.
"Both the City and the County are each responsible for different parts of an overall solution and we must show a clear strategy on how to best deliver those services with the allotted state emergency funding," Wheeler said in a statement.
Here is the current plan for the money:
Multnomah County: $18.2 million to rehouse 275 households and create 138 shelter beds
Lane County: $15.5 million to rehouse 247 households and create 230 shelter beds
Central Oregon: $13.9 million to rehouse 161 households and create 111 shelter beds
Marion and Polk Counties: $10.4 million to rehouse 158 households and create 79 shelter beds
Jackson County: $8.8 million to rehouse 133 households and create 67 shelter beds
Washington County: $8.0 million to rehouse 121 households and create 61 shelter beds
Clackamas County: $4.4 million to rehouse 130 households.
The state did not have enough money to fulfill all the requests for rehousing efforts and shelter assistance it needed, meaning not all the regions received the full amount they requested.
"I want to thank everyone who has stepped up to help move this work forward – including staff at the state and local level who have been working diligently to make sure we have solid plans to quickly distribute these emergency funds," Kotek said in a statement. "This alone won't solve this crisis, but it is a significant down payment on our efforts. It will build the new, outcomes-oriented infrastructure we need to address homelessness heading into next year."