Conservative senators who launched a six-week walkout that imperiled this year's legislative session now have a decision to make: Whether to seek reelection, despite a clear signal that most Oregon voters want them blocked from doing so.
Right now, most are lacing up their running shoes.
Out of 10 senators who refused to attend Senate floor sessions in order to block Democratic bills, six must run next year if they hope to continue their legislative careers. Four of those say they currently plan to run: Sens. Tim Knopp, Brian Boquist, Dennis Linthicum and Art Robinson. A fifth, Sen. Lynn Findley, says he's still making up his mind. Only Sen. Bill Hansell, R-Athena, has made his retirement official.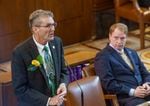 "I will absolutely be filing for reelection on Sept. 14th," said Linthicum, R-Beatty, nodding to the first possible day to file as a candidate for the 2024 election.
"I am hopeful that the voters of Senate District 2 will return me to the Capitol to represent them," said Robinson, of Cave Junction. "If they do, I am confident I will be seated as the Oregon constitution requires of duly elected legislators."
But there is a difference between planning to run for reelection and actually being allowed to do so.
When Robinson, Linthicum and their colleagues notched 10 unexcused absences because of this year's walkout, they ran afoul of Ballot Measure 113. Under the measure, approved overwhelmingly by voters last year, any lawmaker with at least 10 absences is blocked from running for reelection to the Legislature for a term.
The lingering question is when that one-term ban takes effect.
Since Measure 113 faced no organized opposition on the 2020 ballot, its language never got the close judicial parsing that more hotly contested ballot measures receive.
The conservative senators who walked out now say the measure contained a major flaw. While the public sector unions that pushed Measure 113 intended it to block absent lawmakers from running for their next term, the language it inserted into the state constitution is muddled. It says lawmakers with at least 10 unexcused absences cannot hold office "for the term following the election after the member's current term is completed."
Since elections in Oregon are held before a lawmakers term is completed — not after — Republicans say the constitution plainly allows them to serve another term before penalties take effect.
Knopp and Boquist want to know whether state elections officials agree. In May, their attorney asked the Secretary of State's Office for a formal ruling laying out how it would implement Measure 113.
Acting Secretary of State Cheryl Myers, who temporarily took over the office when former Secretary Shemia Fagan resigned in May, didn't respond. And now Oregon has a newly appointed secretary, LaVonne Griffin-Valade, who was very clear last week that she had a lot to learn.
"I got a fairly high-level overview of the entire organization," Griffin-Valade told reporters. "That's not quite where I want to be. I want to dig down."
A spokesman for Griffin-Valade said on Wednesday the office had not decided whether to issue a ruling on how Measure 113 will work in practice. The spokesman, Ben Morris, said the office was still awaiting advice from the Oregon Department of Justice that it requested in late May.
Griffin-Valade's decision will dictate how conservative senators planning to seek reelection move forward, said John DiLorenzo, the Portland attorney representing Knopp and Boquist.
If she determines the conservative lawmakers cannot seek reelection, effectively disqualifying six of the 10 lawmakers in next year's election, they could appeal directly to the Oregon Court of Appeals. If Griffin-Valade declines to issue a ruling, the lawmakers will need to wait until September to see how the secretary responds when they file for office.
"If this is something that is important for the public to know sooner than later, it would behoove the secretary to issue a declaratory ruling," DiLorenzo said.
No matter the details, if Griffin-Valade finds the lawmakers are ineligible to run for reelection, DiLorenzo says, a lawsuit is likely to follow. Not only do Republicans believe Measure 113 grants them another term in office, but they also argue it might run afoul of the First Amendment.
One state senator, Cedric Hayden of Fall Creek, has already indicated possible plans to sue the Legislature in federal court because he was not excused for missing weekend Senate floor sessions when he attends church and cares for his children.
The partisan makeup of the Senate is unlikely to change meaningfully regardless of whether the lawmakers who walked out are able to seek another term. Most represent parts of the state that will handily elect another Republican, though Knopp's Bend-area district now favors Democrats.
The bigger question might be who seeks to fill any vacancies. Since open Senate seats are usually pursued by members of the House, the lower chamber could see an exodus of Republicans looking to make a move.
Take Findley, the Vale Republican senator who says he hasn't decided whether he will run for reelection. If he does not, the seat could be attractive to House Minority Leader Vikki Breese-Iverson, of Prineville, or Rep. Mark Owens of Crane. Or a qualified legislative veteran who resides in the district, like former House Minority Leader Mike McLane, could make a play for the seat.
Findley, who earned praise from Democrats for playing a major role in negotiating a deal to end this year's walkout, is widely rumored to be planning to retire. But he cautioned this week that rumors can be misleading.
"I would encourage you to not believe everything you hear," he told OPB in an email. "The Senate Republicans have discussed M 113 with attorneys and have requested a decision from the Secretary of State and I plan on making a formal decision in September."