One of Oregon's largest labor unions is on the verge of forcing a recall election on one of the state's most labor-friendly lawmakers, and Lane County voters should prepare for political fireworks.
United Food and Commercial Workers Local 555 has submitted petitions containing more than 6,600 signatures in favor of recalling state Rep. Paul Holvey, the union's political director said this week.
Not all of those signatures will be deemed valid by state elections officials, but the union believes they are more than enough to clear the 4,598-signature threshold required to prompt a recall election. The Oregon Secretary of State's Office has said it will begin verifying signatures on July 17, though the union has until Aug. 21 to collect enough to qualify.
"We're very confident that this will put us over that threshold," said Michael Selvaggio, political director for UFCW Local 555. The union expects between 85% and 90% of signatures will be certified.
Holvey and his allies appear to agree. In recent days the Eugene Democrat has pivoted from trying to discourage Lane County voters from signing the petition. Instead he's been spending weekends going door to door to tout his accomplishments and recruiting organizations to help in his defense, according to his chief of staff, Robert Unger.
"The recall attempt is so misguided, that NO other labor union supports their campaign," Holvey says on a campaign website that has been revamped to address the attempt on his legislative life. "In fact, many labor unions have publicly stepped up to support me."
It's true that Holvey can count a long list of unions among his supporters, and the recall could spur a major fight among some of the state's Democratic heavy hitters.
Service Employees International Union Local 503, the state's largest union and a force in Oregon elections, opposes the recall attempt. So do House Democrats, who are vowing to defend one of their longtime leaders. An array of other labor and advocacy groups have signed onto the effort. But UFCW is politically astute in its own right, and the union has already spent nearly $100,000 collecting signatures. Selvaggio argues that petitioners have been educating voters of the case against Holvey, but he acknowledges more funding will be necessary to press their argument as an election nears.
"We've got in-house production capabilities — for mail, for TV. We have a printing press," Selvaggio said. "The money we spend on a campaign will go drastically more toward voter contact than overhead."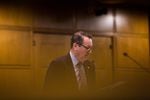 UFCW caught legislative Democrats completely off guard when it announced its intent to recall Holvey in May. A former carpenter's union representative, Holvey has built a reputation as a stalwart ally to labor over nearly two decades in the Capitol.
As chair of the House Committee on Business and Labor, he has outsized influence over which bills on labor issues move forward. Republican lawmakers sometimes grumble that the name of the committee should be rearranged to "labor and business" because of Holvey's allegiance to unions.
But UFCW says Holvey has lost his way. The union argues he has become an impediment to policies that would help its more than 27,000 members, who largely work in grocery and retail stores across Oregon.
UFCW often brings up COVID relief payments for frontline workers that got watered down, under what it says was Holvey's influence. But a major inciting factor in the recall attempt was the death of the union's main bill this year.
House Bill 3183 would have made it easier for workers in cannabis dispensaries to unionize, but Holvey believed the proposal was preempted by federal law. He refused to pass it from his committee to the House floor, instead sending it to another committee where it died. The union argues Holvey misunderstood the bill and that he dodged their attempts to educate him on the proposal.
"State Rep Paul Holvey has had a long career and gotten a few good things done," reads a UFCW-funded website promoting the recall. "But in recent years, he's abandoned the progressive values that he originally ran on. Some of his actions have even called into question who he answers to."
Holvey has already responded by filing a complaint with the state ethics commission against Selvaggio, arguing the recall petition was an improper attempt to strongarm him into rescuing UFCW's bill. But the bigger fight likely lies ahead.
If state elections officials determine the recall petition has qualified when it conducts its count later this month, both sides expect a ballot deciding Holvey's political fate will land in Lane County voters' mailboxes in August.