A Portland policy that requires that new apartments include some units affordable for low-income tenants isn't as costly for developers as previously feared, a new study found.
The study, funded by the city and conducted by BAE Urban Economics, concludes that the city's "inclusionary housing" policy has a lesser impact on development costs than other construction factors. It suggests areas where the city could reduce fees to further incentivize affordable housing construction.
The report will serve as a guide for policymakers tasked with navigating the city through the current housing affordability crisis.
"We're in a vastly different economic landscape than we were when [inclusionary housing] was introduced," said City Commissioner Carmen Rubio, who oversees the city's housing bureau. "It's important to reflect and recognize how other factors may be impacting growth. This will give us a better understanding of how we move forward and develop a city strategy on the heels of an economic downturn."
Related: Developers say Portland's building codes are helping drive the housing crisis
Portland adopted the inclusionary housing policy in 2017 to address the city's dwindling supply of affordable housing. The policy requires all new apartment complexes with 20 or more units keep a certain percentage of rents affordable for low-income tenants. Specifically, it mandates developers keep 20% of a building's units affordable to people making 80% or less of the region's median income. That's about $90,000 for a family of four, or $72,000 for a couple. The city alternatively allows developers to keep 10% of the units affordable to people making 60% of the median income. In exchange, developers can have certain development fees and 10 years of property taxes waived for the affordable units.
This program goes further in downtown Portland: If a developer builds a new apartment in an area that falls within a region the city calls the "central city" — a swath stretching from Lloyd Center to Goose Hollow — that meet these same affordable unit mandates, developers can have property taxes waived for 10 years for the entire building.
Developers can opt out of this program by paying between $23 and $27 per square foot of the planned building (a rate that's stuck the developer of downtown's Ritz-Carlton tower with a $7 million bill).
But the new study by consulting firm BAE Urban Economics found that it's worth opting in, especially in downtown Portland. Consultants concluded that the program is most beneficial to developers in the central city due to the heightened incentives.
Analysts crunched the numbers on the cost of building a seven-story residential building in the central city. Based on their research, developers agreeing to rent 15% of the building to low-income tenants would make an estimated $2.8 million less than if all units had market-rate rents. Yet the city incentives would save them $3.6 million, meaning the project would ultimately bring in more than $800,000 in additional profits.
It's less lucrative for developers building large apartment buildings outside the central city's boundaries. For the same seven-story building outside central Portland, a developer would forgo an estimated $825,000 in profits to create the mandatory affordable units and save only $594,000 through the city's incentives — leaving the project in the red.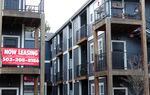 These examples both reflect construction in parts of the city with median area rents. The projects were even costlier for developers trying to build in neighborhoods with higher rents on average.
The data generally reflects the reality for Portland developers. Sarah Zahn is the director of development at Security Properties Development, a national residential real estate firm that operates in Portland.
"From the experience I've had, and what I've heard from developer friends, I agree with the findings," Zahn said. "The property tax abatement for the entire building generally balances out the inclusionary housing requirements. But it's hard to find that balance outside of the central city."
In all, the inclusionary housing policy has created 1,000 new affordable rental units in Portland since 2017. Rubio said that accomplishment shouldn't be overshadowed by the program's shortfalls.
"Overall, this study shows that inclusionary housing works," Rubio said. "Eliminating it would be a disincentive to downtown development."
Rubio said the inability for inclusionary housing projects to pencil out for developers outside of downtown isn't an indication that inclusionary zoning is failing. She said the city expected to make adjustments to the new program after a few years — and the issues identified in the report are not insurmountable.
"It isn't just one thing making development challenging right now, it's composed of dozens of things together," Rubio said.
Related: Achieving Kotek's housing goal could require painful compromises
The report reflects these overlapping costs. Consultants found that the largest overall cost to apartment developers isn't the requirement to keep units affordable under the inclusionary housing policy — it's system development costs, or SDCs. SDCs are developer fees the city uses to pay for changes to public infrastructure that may result from new construction, like an increase in residents using the sewer system or frequenting nearby parks.
According to the study, SDCs can account for more than 6% of total development costs for a new building.
"SDC waivers represent the largest potential cost savings," reads a page from a presentation on the report's findings shared with the city. Researchers note, however, that cutting SDC costs could derail a litany of city infrastructure projects funded by SDCs. City Council is aware of this cost burden. In May, commissioners approved a city budget that puts a freeze on all planned increases to SDC costs, in hopes of spurring new development.
Consultants also pointed to other ways the city could reduce the overall cost of building an apartment — from reducing the number of required bike parking spaces to cutting a mandate to include retail space in some buildings. The report also noted that developers could save money if the city created a more expedited and reliable permitting process — another hurdle City Council has spent more than two years trying to address.
Some of the contributing cost factors are out of the city's control, like high interest rates and supply chain delays tied to the global economy.
The study compared the cost of building an apartment in Portland to building in three other cities that have similar inclusionary housing requirements: Seattle, Sacramento, and Denver. In Portland, an average six-story apartment complex costs $60 million total, from pre-construction planning to completion.
It costs 10% more to construct the same building in Seattle or Sacramento. But it's 4% less expensive to build in Denver.
Out of the four cities, Portland renters had the lowest average incomes, which determines how much developers can feasibly charge for rent. This also impacts the bottom line: Because Portland's rent is disproportionately lower than other major Western cities, developers can't make as much of a profit building in Portland as they could in cities like Seattle or Sacramento.
The study released Monday doesn't explicitly show how inclusionary housing rules impact the speed of development across Portland, but an earlier city report does. A December 2022 analysis from the city's Bureau of Planning and Sustainability found that the number of apartment complexes built in Portland with under 20 units — meaning they wouldn't have to include affordable units — doubled after the inclusionary housing policy went into place in 2017.
Michael Andersen, a housing researcher at the Sightline Institute, said this data point shouldn't be ignored.
"It suggests that developers have been given an incentive to build fewer units per project," Andersen said. "If we want to maximize the number of both market-rate and below-market housing, we need to bring it into balance."
Staff with the Portland Housing Bureau pushed back on this narrative. In an email to OPB, bureau spokesperson Gabriel Mathews wrote that the prevalence of low-unit apartments in recent years has "not significantly reduced the number of units produced in the city since the policy went into effect."
While the city did add 1,000 affordable units under inclusionary housing, developers wonder how many more overall units could have been built if the policy wasn't in place.
"At the end of the day, the goal should be increasing overall housing supply," said Greg Frick, a partner at HFO Real Estate, which sells apartment complexes in Oregon and Washington. "Nobody ever talks about the under-developed housing due to inclusionary zoning. But if the city makes it hard for projects to pencil [out], then it's going to keep units from being built."
Frick said he knows out-of-state investors are wary of buying large residential buildings in Portland, due to the frequent policy changes.
"If rules keep changing all the time, they're going to ask, 'Why are we investing in this market?'" Frick said. "We can't just keep putting up roadblocks to that kind of investment."
With the absence of prior data on the impact that the inclusionary housing policy has had on construction, anecdotal data has filled the void. For years, developers have warned city officials that the program has made construction far too costly and will likely slow housing production.
Molly Rogers, the Portland Housing Bureau's interim director, said she hopes this new study can "mythbust" some of these assumptions.
"We've been hearing that inclusionary housing has been hindering development in the central city for years," Rogers said. "But the biggest takeaway from this [report] is that the program is positively offsetting building in the central city."
Portland's housing stock has been slow to keep up with the city's population size in recent years, according to city data. That's why it's critical the city focuses on incentivizing market rate housing along with affordable units, Rogers said.
"Without the private market, publicly funded affordable housing production will always be behind the displacement curve," Rogers said.
Multifamily Northwest, an advocacy group for apartment developers, agrees. In a statement sent to OPB, the organization's deputy director Gary Fisher said Multifamily Northwest shared the city's goal of expanding housing options.
"The recent inclusionary housing study produced by the city of Portland indicates the current incentive structure works well in some areas of the city and not in others, which is concerning if we want more housing throughout the entire city," Fisher said.
The city formed a volunteer work group made up of housing developers and researchers — including Zahn and Andersen — to review the study's findings and propose policy changes.
The work group is considering expanding the full-building property tax exemption allowed to central city buildings to citywide construction and looking at ways to improve the program's administrative systems to better serve developers. The city has yet to study what further reducing the property tax revenue base would mean for schools, libraries or other programs that depend on that revenue.
The group will present its recommendations to City Council during a July 25 work session. Council will vote on any changes to the policy in the fall.
Zahn said she's encouraged by the city's interest in improving the program as developers wait for economic challenges like inflation and supply costs to level out.
"The most important thing the city can do is recognize that we need to be at the starting line as the economy starts to improve," Zahn said. "If we can make meaningful adjustments now, we'll be prepared for whatever comes next."
Editor's Note: A previous version of this story contained outdated information about inclusionary zoning requirements based on data posted on the city's website.