Editor's note: Throughout 2023, OPB is taking a deep look at the biggest social and economic challenges facing Oregon today – their origins, their impacts and possible solutions. This week, we're looking at the root causes of and possible solutions to homelessness.
Candi Silvis spent the past three years always thinking about her next move: Where will she find dinner? When can she get a shower? How was she going to get to her doctor's appointment? Will she be able to find a safe place to sleep?
Silvis, 51, spent most of her days addressing her basic needs, using alcohol to dull the anxiety that came with living without reliable shelter.
"I was just constantly trying to take care of myself," Silvis said. "Whatever that looked like."
Silvis became homeless in Washington County after fleeing an abusive relationship. With little of her own money to rely on, she immediately applied to a litany of housing providers and services for help. She was told to wait.
In the meantime, Silvis slept in her car, at homeless shelters or returned to stay with her abuser.
After three years of living unsheltered, Silvis received a rental assistance voucher through Washington County. That voucher, which is available for older adults experiencing homelessness, covers rent for up to 10 years or until the recipient starts making a regular income.
Since moving into her new apartment in Beaverton in August, Silvis has discovered goals that stretch beyond her daily survival. She's applying to job training programs, creating artwork, working on her sobriety and taking care of her new kitten, Milo. She's much less anxious.
"It's surreal," she said. "I can go for a walk and know that I have something to come back to. I feel like I have a future."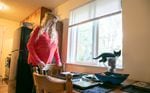 Silvis is one of the nearly 18,000 Oregonians who experienced homelessness in 2022. Her story reflects some of the biggest factors contributing to the state's growing crisis.
Long wait times, due to underfunded and understaffed housing programs, often lead to people living unhoused for far longer than anticipated. According to 2022 U.S. Census data, Oregon has the nation's highest rate of chronic homelessness – a term for people who've been homeless for more than one year or multiple times over several years. Homelessness can also be harder to escape when paired with other personal challenges, like addiction or domestic violence.
The most effective solution to homelessness is housing. Yet Oregon has failed for decades to develop enough housing to meet its growing population.
Oregon has the fourth largest homeless population per capita in the country, after D.C., California and Vermont, according to the census, and it's growing at an above-average pace. Its impact is felt across the state. Oregonians are struggling to stay housed – and public officials are struggling to find solutions. As the homeless population grows, so do the unique needs of people seeking to escape homelessness, making the crisis appear even more intractable.
The path out of Oregon's homelessness crisis isn't simple, nor is it direct. But solutions do exist. To uncover them, it's important to first understand the origins of this crisis.
History
Oregon's homeless crisis began in its cities.
At the end of the 19th century, Portland relied on low-wage migrant workers – employed as loggers, warehouse workers, longshoreman and more – to keep its economy afloat. But these workers couldn't afford to buy a house in Portland. So the city constructed short-term lodging houses, which became known as single room occupancy hotels (SROs), to house them for cheap. These hotels offered single rooms for around 35 cents a night ($12 in 2023 rates) with communal kitchens and bathrooms.
As migration slowed, and longtime laborers moved into more permanent housing, these hotels became more permanent rest stops for the poorest Portlanders. Some impoverished Oregonians at the turn of the century also moved to poor farms – or institutions run by counties for "indigent citizens" who were unable to take care of themselves.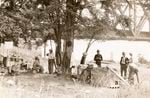 But in the 1950s and '60s, Portland began tearing down these hotels as part of a national shift toward urban renewal, where cities leveled poor and minority neighborhoods to make way for higher-end housing, businesses and other development meant to spur economic growth. According to an inventory created by the nonprofit Northwest Pilot Project, downtown Portland lost more than 2,000 rental units affordable to minimum-wage workers between 1978 and 2015. Many of them were SROs. The nonprofit estimated that, in 2015, around 3,100 apartments with rent below $481 — affordable for a minimum wage earner at the time — remained in downtown Portland. Most of those buildings were operated by Central City Concern or other publicly-funded housing programs. It's not clear how many of those units remain nearly a decade later.
This mass destruction of low-income housing came as the federal government flip-flopped on public housing. In 1968, the Housing and Urban Development Act established programs that help low-income people buy homes and afford mortgages, along with a rental assistance program for low-income tenants. Just five years later, President Richard Nixon issued a moratorium on all public housing spending. The dismantling of social service programs for low-income families paired with back-to-back recessions in the decade to follow only worsened the outcomes for low–income Oregonians.
These multiple blows to public and affordable housing programs "created a direct path to mass shelters," according to Ed Blackburn, the former executive director of homeless service provider Central City Concern. The nonprofit was established in 1979 to help preserve SRO buildings and turn some of them into recovery housing to address the growing number of people with alcohol addiction living on downtown streets.
Blackburn first joined Central City Concern in 1992 as the director of the Hooper Detoxification Stabilization Center, the nonprofit's inpatient substance abuse treatment program. Through his more than a quarter-century with the nonprofit, Blackburn said he saw a confluence of issues accelerate Portland's homeless problem.
Oregon began shutting down its large psychiatric facilities and poor farms in the 1980s and '90s after reports revealed inhumane treatment of patients. The state's plan was to replace these institutions with smaller, community-based treatment facilities. That never happened. Instead, rising housing and health care costs forced many people with serious mental illnesses into homelessness.
Then came the heroin epidemic.
The largely religious-based homeless shelters that opened after the low-income hotels were razed generally tolerated people with alcohol dependencies. But they began creating zero-tolerance rules for visitors addicted to heroin.
"So we started seeing more and more heroin-addicted people living and dying on the streets," Blackburn said.
The 1990s also saw a surge in Black Americans entering homelessness, in Oregon and beyond. This was spurred by the federal government's war on drugs, which disproportionately incarcerated Black Americans, and gentrification of Black neighborhoods, splintering families and communities.
"If you have a social network intact, and you run into a situation where you lose a job, or you can't pay your rent," Blackburn said. "Your ability to rely on family members or other community members to step in and help you out through that crisis keeps most people from experiencing homelessness. The Black community no longer had that."
For a while, service providers like Central City Concern were able to help people get off the streets – whether into a temporary hotel stay or an apartment lease. Up until the 2010s, Blackburn said, "there was a lot of slack in the housing market," making it affordable for a nonprofit to cover rents. Those vacancy rates began to dip as Portland saw its population balloon by nearly 100,000 between 2005 and 2015.
As rents skyrocketed in Oregon cities in the past decade, some people experiencing homelessness moved to smaller Oregon towns seeking affordable housing and work – which didn't always pan out. Others born and raised in smaller communities simply found they could no longer afford rent or a mortgage in their hometown, and moved into a tent or car. Like in cities, this crisis was worsened by a lack of housing. Available housing evaporated as formerly affordable homes turned into lucrative vacation rentals in small coastal towns. It continued to shrink when new construction failed to bounce back in small communities after the 2008 recession, despite population growth.
While homelessness first appeared in Oregon's larger cities, it's now taken root across the state. In 2022, Oregon ranked among the states with the largest rural homeless populations in the country, with an estimated 3,208 rural Oregonians living outside on a given evening.
How people become homeless
There are many factors that contributed to Oregon's current homelessness crisis. But most agree that the blame largely falls on one problem: the state's affordable housing shortage.
"It's not rocket science," said Marisa Zapata, an urban planning professor at Portland State University. Zapata is also the director of PSU's Homelessness Research & Action Collaborative, which studies the factors that lead to homelessness.
"It doesn't really matter what lens you look at it through," she said. "Escalation of housing values and rising rents is what causes homelessness."
According to state analysts, Oregon's current housing supply is short roughly 140,000 homes to meet the demands of its population size. This places the state fourth in the country in terms of under-producing housing. This shortage has taken a toll on low-income Oregonian renters. Because of the limited housing inventory, landlords are able to keep rents high. This has allowed Oregon to become one of the states with the lowest supply of rentals affordable to people at or below poverty levels.
Oregon's precarious housing situation isn't always obvious to those not at risk of losing their home. It can be easier to assume someone's homelessness is rooted in individual failures or circumstances. But while mental health, drug addiction, and poverty can influence a person's housing status, they aren't a direct cause.
Cities with high poverty rates, like Detroit and Philadelphia, have some of the lowest homelessness rates in the country, while wealthier cities like Seattle and San Francisco have some of the highest homelessness rates. At the same time, states like West Virginia rank highest in drug overdose deaths, while having one of the smallest homeless populations in the country.
"If you simply look across the country and you see where the rates of homelessness are the highest, they're in the parts of the country that have allowed their housing markets to overheat," said John Tapogna, a senior policy analyst at economic consulting firm ECONorthwest (Tapogna is a member of OPB's board of directors).
It's more likely that personal challenges like a mental health crisis, job loss or a personal injury act as a turning point for people who are already facing housing instability.
For Illene Burns, it was her husband's death that pushed her into homelessness.
"I just didn't care anymore… I just gave up," said Burns, 60, who became homeless in Portland in 2019. "I was getting ready to lose my place anyway, so I just put all my stuff into storage and hit the streets."
Burns spent most nights sleeping in her car or on the sidewalk by herself. She said it was hard to ever get a full night's sleep, as she was always worried about thieves. She avoided staying in mass shelters because she was receiving treatment for stage three cancer while living outside during the COVID-19 pandemic. She waited four years to move into housing.
Chronic homelessness is uniquely challenging to interrupt because of the effect the experience has on the way a person thinks. Living in constant high alert can put someone in a constant state of "flight, fight or freeze," where their brain's fear center is overactive. This dulls the brains' prefrontal cortex, which regulates critical thinking and emotions.
Brandi Tuck has seen how that mindset impacts people experiencing homelessness. Tuck is the director of Path Home, a Portland nonprofit that operates a shelter for homeless families and helps move those families into permanent housing.
"When someone experiences homelessness for days, weeks, months or years, our brains stay in that chemical stress response the whole time," Tuck said. "We can't show up to appointments on time. We can't keep a job. We can't even understand the rules of a shelter that are being told to us because our cognitive brain is offline through this chemical reaction."
It's even worse for children. This fear response can stunt brain growth, sending a child back years in development.
"We see kids sometimes who will be potty trained or a kid will know maybe 250 words or something… and then, when they experience homelessness, they lose all their words or they start having accidents," Tuck said.
Oregon is home to an estimated 3,373 homeless people who are in families with children – a population that surged by 27% between 2020 and 2022. And Oregon has the nation's highest percentage of homeless families that are living completely unsheltered – meaning they aren't sleeping in a shelter, hotel or other temporary housing while experiencing homelessness.
Tuck says she can see people's cognitive abilities to shift after they enter housing or even a shelter. That's why she's certain that Oregon's homeless crisis is curable.
"I believe there is a solution to homelessness," she said, "and it's helping people move back into housing."
Editor's note: an earlier version of this story misstated the year in which President Nixon issued a public housing spending moratorium. It was 1973. OPB regrets the error.
This story is part one of a two-part series of stories examining Oregon's homelessness crisis. On Tuesday, we'll explore potential solutions to the statewide crisis and barriers to their success. This story was written and reported by Alex Zielinski, with photography by Caden Perry and Kristyna Wentz-Graff, edited by Andrew Theen, photo editing by Kristyna Wentz-Graff and produced for the web by Meagan Cuthill. This series exploring both the biggest problems facing Oregon and potential solutions is sponsored by the Oregon Community Foundation. And none of OPB's journalism happens without you. Help us tell more stories like this one – and ensure stories like this reach as many people as possible – by joining as a Sustainer now.