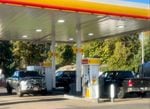 Eugene is considering restrictions on the building of new gas stations, including an outright ban. But some city councilors are worried about pushback from the fossil fuel industry.
On Wednesday, the City Council reviewed three different options to limit gas station construction. The discussion is part of the city's efforts to reduce the community's use of fossil fuels.
The first path would end the construction of new gas stations entirely. According to the advocacy group Beyond Toxics, bans like this have already been implemented in five cities across the country.
The second path would create a buffer between new gas stations and schools, residences or other stations. Some city councilors said this would effectively be an outright ban, but city planners didn't present further details.
The third path would create other guidelines for gas stations, such as size limitations. Currently, they aren't subject to special building codes, although they must meet state and federal environmental standards.
Related: Oregon, Washington join California in banning gas-powered new vehicles starting in 2035
No more gas stations before 2035 fossil fuel cars ban, advocate says
According to city staff, there are currently 42 gas stations in Eugene, four of which were built after 2017. Another two are currently in development.
Environmental activists say the city doesn't need more, as the sale of new gas-powered vehicles will largely be banned in Oregon by 2035.
"At a point when our transportation systems should be accommodating the exponential growth of electric cars and trucks, it makes no sense to expand gas station construction in Eugene," said Lisa Arkin, the Executive Director of Beyond Toxics.
Beyond Toxics also raised concerns about gas storage tanks leaking. And they claim chemicals in fumes are dangerous to neighbors, who have little control over what's built.
Arkin said when all these gas stations are gone, the land could be difficult to re-purpose. Eugene Water & Electric Board, or EWEB, projects that up to 95% of cars could be electric by 2040.
"The next generation will be saddled with disposing of the stranded assets and the hazardous pollution that gas stations both historically and presently have wrought," said Arkin.
Councilors differ on how to restrict gas stations
At Wednesday's meeting, Councilor Matt Keating proposed a buffer of 500 feet from schools and residences, while Councilor Emily Semple suggested it should be raised to 1,000 feet.
"Gas stations are poisonous," said Semple. "Obviously, we need them now. We have enough. Everybody is filling up their cars."
However, some city councilors raised concerns about the effect on gas prices. Others said they were worried about pushback.
Councilor Alan Zelenka recalled Northwest Natural's campaign against a previous city natural gas ordinance. The city eventually pulled that ordinance, citing a federal court ruling on a similar ordinance in Berkeley, California.
"I'm not sure why we didn't learn lessons from the gas ban and why we're willing to stub our toe again," said Zelenka, who also argued a ban on new gas stations wouldn't affect carbon emissions in Eugene.
"We should be spending our limited amount of time and effort and resources on actions that actually reduce a significant amount of greenhouse gas emissions," he said.
Related: Oregon has a plan to cap emissions from fuels
The city council considered one other proposal. It would require new gas stations to include charging stations for electric vehicles.
Keating proposed one electric vehicle station for every four fuel pumps, and a minimum of two stations for buildings undergoing expansion.
"This is a matter of leading with our values by trying to get EV charging ubiquitous throughout our entire community," said Keating.
Not everyone on council was a fan of the idea. Councilor Jennifer Yeh said as an electric vehicle owner, she doesn't think gas stations are the best place for these services.
"I would prefer not to sit at a gas station where there's one or two chargers," said Yeh. "I'm gonna go to a place where there's multiples, and I'm more likely to find a slot that's open, or I won't have to wait as long."
Councilors didn't vote on any of the proposals at the meeting, citing the need for more information. However, they agreed to revisit the issue at the earliest date possible.