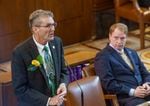 The Oregon Supreme Court has accepted a legal challenge by five Republican senators who say they should be allowed to seek reelection despite walking away from the Legislature for six weeks this year.
The decision, announced Tuesday, means one of the more pressing legal questions in Oregon politics will be taken up by the state's high court, rather than working its way through the appeals process. Impacted lawmakers – and those thinking of running for their seats – should have clarity before the March 12 deadline to file for office.
At issue is the actual meaning of Ballot Measure 113, the popular 2022 proposal that created new consequences for lawmakers who accrue 10 or more unexcused absences during a legislative session.
In news coverage, promotional materials and an official explanatory statement, the measure was touted as barring lawmakers who walk away to block legislative action from seeking reelection.
That's the meaning that state elections officials have chosen to adopt. In a rule issued earlier this year, Secretary of State LaVonne Griffin-Valade announced that 10 conservative senators who walked away from this year's legislative session would be prohibited from seeking reelection.
But five of those senators – Sens. Tim Knopp, Daniel Bonham, Suzanne Weber, Dennis Linthicum and Lynn Findley– have objected. In a legal challenge to Griffin-Valade's ruling, they argue that the convoluted wording of the measure contained a loophole that went unnoticed last year. That wording, they believe, allows them to be reelected for one more term before penalties kick in.
The senators filed the challenge in the Oregon Court of Appeals but asked that the matter be put directly before the state Supreme Court. State attorneys defending Griffin-Valade in the matter agreed.
Supreme Court justices first signaled some uncertainty about whether they could fast-track a challenge to Griffin-Valade's administrative ruling. They appeared to have cleared it up on Tuesday when the court announced it would accept the case – and adopt a speedy timetable.
Oral arguments are set to begin Dec. 14.