From blocks around the Veterans Memorial Coliseum the first weekend in February you could hear the low rumble of motorcycles starting up. The steady, droning accompaniment of bikes zooming around a flat, dirt oval filled the space between. Heard through the roar were the Ramones, Joan Jett and Tierra Whack.
Portland's world-renowned One Motorcycle Show marked its 11th year with its biggest, boldest celebration yet.
The One Show, as it's known, started as an outsider's motorcycle show designed by people — namely, founder Thor Drake — who appreciated bikes as art. They utilized the tail end of an expiring warehouse lease to bring together everyone from seasoned motorcycle enthusiasts to racers to "the moto-curious" over custom bikes and beers.
In time, the show grew and then grew some more. They started holding dirt track racing in Salem and the bike show in Portland. 2020 was their first year with both under the same roof.
The One Show is an expression of this rainy region's (to some, inexplicable) love of motorcycles, which are machines you ride outside. But it's also an appreciation of art, music, culture and, most of all, what the founders call family.
The love for motorcycles, said racer and One Show family member Emily George, is truly a love for the things we do on motorcycles — the racing and the road trips, the camping excursions and the commutes. Those memories attach themselves to the motorcycle, and so it too becomes an object of emotional significance. Our memories manifest.
OPB experienced the One Motorcycle Show firsthand this year. Here are stories from some of the family members reporter Claudia Meza met along the way. — Bradley W. Parks
---
I spotted Diana Gantt trying to start an impromptu dance party to Tierra Whack's "Only Child" next to the beer and whiskey. Shortly after introducing myself she walked me over to her husband, Todd Miller.
"We've been together for 25 years. This is our anniversary," Gantt told me.
Gantt and Miller came down from Seattle via train to attend the One Motorcycle Show. They're both members of Seattle's Vintage Motorcycle Enthusiasts (VME).
I asked them what they rode and Todd rattled off a list of all their bikes. When I asked Diana which ones she rode, she replied, "I ride every bike he got, 'cause it's gotta come through my house. I gotta OK them all."
---
---
"This is our show," Jaime Dempsey stated when I asked her how she was enjoying the event.
And I get what she means. Both the One Motorcycle Show and Atwyld, the apparel company she founded with two other women, began because of a lack of possibility.
Starting in 2016, Dempsey, along with Anya Violet and Corinne Mayer, set out to provide female riders with actual options.
As a woman who rides, I can attest, it's really hard to find anything stylish in terms of protective gear. As Dempsey put it, "Everything is either hideous or doesn't fit, or both."
Now with Atwyld thriving, other similarly focused companies and clothing lines are springing up with the idea that, yes, women ride too.
---
---
With the mindset of "look bad, do good," James Baker founded Bikers for Autism in 2012 to help raise awareness and funds for people living with autism spectrum disorder (ASD). Inspired by Baker's own familial connections to ASD and his love of motorcycles, Bikers for Autism sponsors events and rides that foster community and acceptance.
"We've been trying to get into the One Moto Show for a few years now and finally got a spot this year," Baker said. "We're really excited to be a part of it all."
---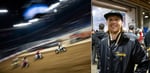 ---
As Iggy Pop's "Lust for Life" played loudly, people couldn't help but bop their heads.
Gary Inman gave more than a bop. He snaked around his table, accenting drum hits with jump-kicks and air headbutts. That's what first caught my eye.
As I approached his table mesmerized by his off-kilter dancing and fully intending to find out everything about him, a spread of colorful magazine covers soon distracted me.
Inman greeted me cheerfully a few times before I looked up from the pages of Sideburn, the DIY motorbike magazine he founded in 2008. Sideburn was not made for collectors, it was made for riders. And it's brimming with an energy that's reminiscent of punk zines and the "use what you got" mentality of hooligan racing.
Inman let me know he comes all the way from Lincolnshire, England, to attend the One Motorcycle Show as often as he can, and he's been doing it since 2013. I spent a good portion of my night later that evening devouring all the Sideburn internet content I could find. They're co-sponsoring a women-only Morocco ride in March that makes me want to learn how to ride in sand.
---
---
Oregon Vintage Motorcyclists have roughly 400 members all over the state, and a good portion of the bikes in the room they were situated in came from these members.
Rick Cambell and Jeff Marsh ran their club's table and playfully bantered with me: "The riders are vintage, the bikes are new."
After some verbal sparring between Marsh and Campbell on the latter's affection for Hondas, they assured me they are "a pretty fun bunch."
When Marsh, the Norton enthusiast, English expat and Honda scoffer, inquired what I rode, I mumbled, "an '81 Honda." Needless to say, I was fully embraced and told I was "vintage" enough to join their club. (Thanks?)
Look out for the OVMs first Sunday in August ride over to Oaks Park if you want to meet these hilarious vintage riders. They also have "disorganized" monthly meetings every second Saturday at the Horse Brass Pub in Portland.
If you're a moto enthusiast or simply "moto-curious" and want to learn more about racing what you got, a good place to start would be See See Motorcycles and Coffee on 1642 NE Sandy Blvd. They're always up on the latest events and serve excellent coffee. Until next year, here's every song we heard that weekend while taking pictures, talking to people and breathing in exhaust fumes.