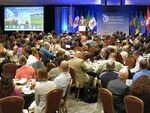 More than 700 business and education leaders, along with politicians from the Pacific Northwest and Canada, are in Portland this week for an economic summit.
They're discussing issues as varied as health care, the environment and NAFTA — the North American Free Trade Agreement.
Canada's agriculture minister, Lawrence MacAulay told delegates that NAFTA has created millions of jobs since it was signed.
"While our countries receive immense benefits from it. It's been 23 years ago. There's no question it will benefit from modernization," he said.
"But it's vitally important to remember what it did and what it's doing. Just like any long-term partnership, it needs to be looked at," said MacAulay.
During his campaign, Donald Trump called NAFTA the "worst trade deal in the history of the world." But after talking to the prime ministers of Canada and Mexico, he announced in April that his administration would renegotiate rather than withdraw from the agreement.
The Pacific Northwest Economic Region conference ends Thursday.