Spanish version (Versión en español): Arrestos En Oregon Crea Interrogantes Acerca De La Protecció De Ciudades Santuario
The Multnomah County Sheriff's Office confirmed Tuesday it has opened an investigation into an incident in which a sheriff's deputy may have assisted Immigration and Custom's Enforcement officers in detaining a person in the country illegally.
The incident possibly violates so-called sanctuary city policies established by the sheriff's office and the county.
Related: ICE Confirms Portland Officials' Fears About Immigration Arrests At Courthouse
In emails obtained by OPB, a sheriff's deputy said he gave ICE officers specifics about when someone on pretrial release would be at the county's Justice Center in downtown Portland for a court-mandated appointment.
The sheriff department's policy is to not provide aid to federal immigration officials. State law also prohibits the use of local resources to enforce federal immigration law when a person's only crime is being in the country illegally.
News of the potential involvement of a county sheriff's deputy in an immigration arrest comes the same week a federal government official confirmed ICE arrested people at or near Multnomah County courthouses, confirming the fears of county leaders and immigration activists.
The Arrest
Kasia Rutledge, a staff attorney with the Metropolitan Public Defenders, was at her office on the morning of Dec. 21 when she got a phone call from the mother of one of her clients.
Rutledge's client, she learned, had been arrested by ICE agents while checking in with Close Street Supervision, a pretrial release program that provides intensive custody and supervision through the Multnomah County Sheriff's Office.
Rutledge declined to release the name of her client. She said she wanted his permission first. Much of what Rutledge told OPB is based on an account from the client's mother, who said she witnessed the incident.
Rutledge said her client was told to check in to Close Street supervision anytime between 9 a.m. and 5 p.m. on Dec. 21.
But then her client got a call back, instructing him to come in specifically at 10 a.m.
"When he came in," Rutledge said, "ICE agents were in the sheriff's office – actually behind the glass locked counter — speaking with the deputy in charge of his Close Street release."
That deputy is Larry Wenzel.
The client's mother could tell something was up, Rutledge wrote in an email.
"Wenzel came out and told (the mother) that the officers wanted to talk with her son, and then they took him away," Rutledge said in an email. "Deputy Wenzel gave the mom his card."
After the arrest, Rutledge said, her client was detained in Portland for several hours before being sent to a federal holding facility in Tacoma, Washington.
In emails obtained by OPB, when Rutledge followed up with Wenzel to ask how ICE knew her client would be at the Justice Center at that time, Wenzel replied, "They asked when he would be there and I told them."
Lt. Chad Gaidos, a spokesperson for the Multnomah County Sheriff's Office, said Tuesday the Internal Affairs Unit has opened an investigation into the incident.
In an interview Wednesday, Multnomah County Sheriff Mike Reese declined to discuss the investigation.
"Obviously, we are looking into that matter and I take all complaints about service seriously," Reese said. "We have a process that we go through and at the end of the day I've got to be mindful of our responsibility to the public and to our employees."
Law And Policy
Oregon law prohibits local and state police from using their resources to enforce federal immigration law, if a person's only crime is being in the country illegally. Rutledge's client was also charged with domestic abuse.
It's not clear whether Wenzel's actions actually violated any state or local policy regarding immigration enforcement.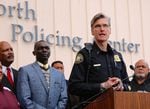 "The Oregon statute just says you can't use Oregon resources, but it doesn't prohibit an employee of the state from communicating otherwise with ICE immigration officials," said Juliet Stumpf, a professor of immigration law at Lewis and Clark Law School in Portland.
"If it's your personal cellphone that's not an Oregon resource."
But local and state employees who use any government resource for federal immigration enforcement purposes risk violating Oregon law, she said, regardless of whether they are using their own cell phone or computer.
To complicate matters, Stumpf said, there's a federal law that says local and state governments can't restrict government workers from sending ICE information about a person's immigration status.
"That may be unconstitutional if the effect is to commandeer Oregon's personnel for that federal purpose," she said, noting the 10th Amendment prohibits the federal government from commandeering state and local personnel for federal purposes.
Sheriff Reese first announced in September, just a month after taking over the agency, under his leadership the county would continue a policy of not cooperating with federal immigration officers.
"The Sheriff's Office is not responsible for enforcing federal immigration policy," Reese wrote in a public letter dated Sept. 21. "Additionally, there are provisions of Oregon law which restrict our cooperation with federal immigration authorities."
On Dec. 22, a day after Rutledge's client was arrested, the Multnomah County Board of Commissioners unanimously resolved to "be a place where people can visit clinics, libraries and other services without fear." This reaffirmed existing Multnomah County policy and Oregon law.
"Portland and particularly the sheriffs and the police have said they will not enforce immigration laws. They said that right around the same time they were helping ICE detain my client and arrest him," Rutledge said.
On Tuesday afternoon, Reese issued a new memo to staff stating it's "vital" people feel comfortable reporting crimes, participating in the criminal justice system and enter courthouses "without fear of local law enforcement enforcing Immigration and Customs Enforcement detainers."
The memo also outlines how staff is to respond when ICE agents contact the Multnomah County Sheriff's Office:
When ICE requests information from Multnomah County, the Bureau will be provided no greater information than is available to the public.
When ICE is present at a Multnomah County facility, the Bureau will be provided no greater access than is available to the public.
If information or access requests fall outside of this direction, members shall route the request through the Records Division Manager, for further review.
ICE spokeswoman Virginia Kice said since October, the agency has arrested 280 people in Oregon and southwest Washington: 64 in January, 71 in December, 75 in November, and 79 in October.
In the memo, Reese said his department is reviewing its procedures and policies towards ICE civil detailers starting March 1, a process Reese said is open to the public.
Rutledge said local officials need to follow their policies if they want immigrants to feel safe in Oregon.
"We need to send our communities of color, and particularly our communities with immigrant components, a strong message that they are going to be protected and supported by local law enforcement," she said, "and not thrown under the bus."
---
Updates
This article was first published Tuesday, Jan. 31, at 9:56 p.m.
This article was updated Wednesday, Feb. 1, at 5:05 p.m. with comments from Multnomah County Sheriff Mike Reese.
This article was updated Feb. 3 at 11:30 a.m. to clarify what's allowed under Oregon law.