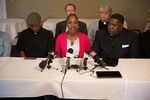 UPDATE (6:41 p.m. PST) It was late on May 25 — 10:30 p.m. — and Demetria Hester was riding the MAX Yellow Line train, heading home.
She took her seat behind the conductor.
"I always do, for protection," she said.
But that night she said, she wasn't kept safe.
Hester — who is African-American — says she was assaulted by a self-described neo-Nazi named Jeremy Christian. The next day, police say he stabbed three people while riding the MAX, killing two of them.
At a news conference Friday, Hester said she thinks Christian could have been stopped if police officers and TriMet staff had taken her attack more seriously. She said she was speaking now because of President Trump's failure to condemn neo-Nazis, white supremacists and violence in Charlottesville that took one woman's life.
"I should feel safe in Portland. I don't," Hester said. "How can you feel safe if the police, or the TriMet, are not there to protect you?"
Listen to the news conference in the audio player below.
Hester was on the train, when Christian stepped into her car, ranting. She said he delivered a hate-filled rant against African-Americans, Jews, Mexicans and Japanese.
"Anyone who is not Christian," she said, referring to the religion, "he did not like, he hated, wanted to kill."
Hester asked him to lower his voice.
"No one wants to hear you threaten or terrorize other people because of their gender, their race, or who they were," she recalled saying at the time.
Hester said Christian cursed at her, then said: "'You do not have the right to even be on this train. ... You don't have a right to speak. You're black. You don't have a right to be here. All you Muslims, blacks, Jews, I will kill all of you.'"
Still seated, Hester knocked on the conductor's door, but said she received no response.
"The ranting went on for three stops," Hester said. "Each stop, I knocked at the conductor's door to get his attention, because that's the protocol. If there's anything going on on the train, you're supposed to let the conductor know. I did, three times. No answer."
In a statement Friday, TriMet said "the operator immediately contacted the Operation Command Center and a supervisor was dispatched to meet the train." It's unclear what the operator heard, a spokeswoman for TriMet said, and added that she could imagine why the operator wouldn't open the door.
Hester got off at the Rose Quarter stop to switch trains onto the Green Line. In her hand, she held mace.
"I knew there was going to be an altercation," she said.
As she got off the train, Hester said Christian lunged at her. He struck her in eye with a Gatorade bottle filled with fluid.
"I sprayed him in the face with mace and he went down," Hester said. Then she kicked Christian in the groin.
Two TriMet supervisors met the train. Hester said they witnessed the assault. But the TriMet spokeswoman said she didn't know what they saw.
Another 25 bystanders or so watched the assault unfold. But no one intervened, Hester said.
With her eye bleeding, Hester walked over to the Green line where she sat and waited for her next train.
Christian moved towards a drinking fountain, where he washed his face.
At 11:36 p.m. a Portland Police Officer was dispatched to the Rose Quarter Transit Station, according to a police statement Friday.
After he arrived, the officer began asking a group assembled at the station if they were involved in the disturbance, the statement went on. The group included Christian, but "the officer had no information to know he was the suspect."
The officer also talked to Hester and the TriMet supervisors. Hester told the officer about the assault.
Both Hester and the TriMet supervisor pointed to Christian, she said. "We were trying to tell him that the assailant is right behind him, washing out his face," Hester said. "He proceeded to say, 'No, I asked him, he had nothing to do with it.'"
Hester responded: "That's the man that assaulted me."
Related: For Communities Of Color, Racist Portland Knife Attack Was Scary But Not Surprising
She said the officer only believed her after the second TriMet supervisor also identified Christian.
But Portland Police disputed that part of Hester's account.
"The officer asked the victim twice to confirm that Christian was the man who had assaulted her," the Bureau said in its statement. "The victim told the officer Christian was not the suspect both times. During traumatic incidents such as this, officers often interview people who need more time to process the information."
The police officer also asked Hester for her ID.
"Why do you need to know my information when my assailant, who is directly behind you, is washing his face?" Hester asked the officer.
He responded that he can read her information better from her ID, but Hester said Friday that it made her feel like the "perpetrator, not the victim."
The police officer was working alone. He said he was waiting for backup, but followed Christian in his squad car.
"Unfortunately, the suspect left the area, as the officer was starting to follow him," PPB said in its statement. "When a cover officer arrived, both officers searched the area, but did not locate Christian."
That night, Hester missed the last bus home. So TriMet drove her home. She had the whole bus to herself.
A day after Hester's encounter, Christian allegedly boarded another MAX train, delivered a similar rant, and then stabbed three people, killing two.
"My heart just dropped," Hester said, when she saw two people were killed, allegedly by the same person who assaulted her.
Related: MAX Double Homicide Suspect: 'No Heroes In This Case'
Christian faces 15 charges, including aggravated murder, attempted murder, assault and unlawful use of a weapon.
Four of those counts are associated with his alleged attack on Hester: assault, unlawful use of a weapon, menacing and also a hate crime, intimidation.
Christian has pleaded not guilty.
Months later, Hester said, she still rides the MAX. But now carries not one, but two cans of mace.
She made a plea to the community to stand up against hate groups and violence.
"Protect us, as African-Americans, Mexicans, Jews, gays, everybody," Hester said. "We're all in this together. So let's stop the hate, from the President on down."