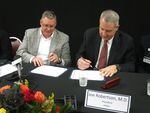 Oregon Health and Science University agreed Wednesday to share patients with Adventist Health.
The deal means patients who have crowded into OHSU's Portland hilltop campus will now be able to get treatment at Adventist.
As anybody who's been to OHSU's hospital in Portland will know — it's operating at capacity. Everything from parking spots to bed spaces is at a premium.
So over the last few years, OHSU has been trying to affiliate with other hospitals. Those facilities get overflow patients, and in exchange, OHSU gets to relieve pressure.
"That actually gives OHSU opportunities to grow," said CEO Mitch Wasden. "Because we really can't grow anymore on the hill."
The agreement makes OHSU and Adventist Health Portland part of the same metropolitan health system, bringing in Adventist's healthcare enterprise. The company includes a 302-bed medical center, 34 medical clinics and home care and hospice services in the Portland-Vancouver metro area.
"We look forward to joining the OHSU family and expanding our focus on impacting lives with high-value, quality, whole-person care," said Joyce Newmyer, president of Adventist Health Pacific Northwest Region.
OHSU affiliated with Tuality Hospital in Hillsboro a few years ago for the same reason.
A similar effort with Salem Health didn't come to fruition largely because of the distance between the two organizations.