In the small Eastern Oregon border town of Ontario, Djimet Dogo met with over 150 Congolese, Somali, Iraqi and Syrian refugees living there. They wanted to know: how can we open our own halal store here? Halal refers to food prepared according to Islamic dietary law.
They needed answers, as the closest store that sold halal groceries was across the Oregon-Idaho border — about 55 miles away — in Boise.
So Dogo, associate director of the Immigrant and Refugee Community Organization, hired one Somali taxi driver who would take the orders of the 150-plus immigrants in Ontario, drive an hour to Boise to buy those groceries, and bring them back.
Then, funding for the program ran out.
"The families are still calling us," Dogo said. "The program ended, but the families are growing."
Oregon's minority population is rising fast. About 22 percent of Oregonians belong to a minority race or ethnic group. That number is expected to double in the next 40 years.
That growth also means there's a growing clientele for ethnic grocery stores. The Agricultural Marketing Resource Center found that ethnic food sales are, in fact, being driven by a growing diverse population nationwide.
For people who belong to these communities, this growing need for ethnic grocery stores is being driven by a desire to make Oregon feel more like home.
"The grocery store was a community center," said Insil Kang, who's Korean-American. Kang's family used to drive an hour from Salem to Beaverton every weekend to shop at the Asian grocery stores there.
"My mom needed that. Whether it was chatting with just the cashier or the good fortune of running to someone in the aisle that she knew, it was her chance to actually be herself. Speak in Korean, catch up. Just be herself fully."
The Portland metro area alone has more than 40 Asian grocery stores. But studies have shown that people of color are among the hardest hit by Portland's housing affordability crisis. And for Oregonians outside of Portland, finding ethnic grocery stores is much harder.
"We have more and more people moving out of Portland metro area because of housing affordability — moving to areas like Ontario, Salem, Woodburn, Eugene or Corvallis," Dogo said.
"It is a problem. Because they're moving away from resources."
The "Extra Hurdle"
Kang knew the weekend Korean grocery store routine well. It involved sleeping in the car along Interstate 5 on the way up to Beaverton, and sleeping during the drive back down to Salem. The only difference was that on the way back, the car was full of Korean groceries and the smell of garlic and anchovies.
There were no Asian markets — and barely any other Asian families — in her neighborhood.
"It was just sort of this, like, accepted extra hurdle that you were going to have to go through in order to be Korean in Oregon," Kang said. "Whether it was driving up to Beaverton, just being sort of isolated during the week, whatever it is — that was just sort of normal."
Kang used to dread those car rides. Because it took so much effort for her family to access anything remotely related to her Korean culture, it left her with the impression that there was something about being Korean that she should be ashamed of.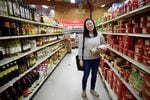 "I don't think I truly integrated my cultural identities until later in my 20s, [after] really being told I could embrace and be proud of all those different parts of me," Kang said.
Kang lives in Beaverton now where she works as the director of communications and community connections at Village Church. She's much closer to the things that her family used to travel more than 40 miles to find.
Now, the Korean food that used to elicit questions in the school lunchroom like: "WHAT ARE YOU EATING?" are the foods that bring her comfort.
"Yeah, I want to go shop at Whole Foods every once and a while and buy the lovely organic things that are available here, but at the same time sometimes I just need that fermented, soy, fish-flavored thing that says to me that I'm really loved and cared for," Kang said. "I'm Korean-American. Food is an absolute core of who I am."
You Are What You Eat
The idea of food as a cultural gateway is not lost on Chet Liew, whose kids are half white and half Chinese. Liew, who's Chinese, lives in Bend. Getting to an Asian grocery store from there can take more than three hours.
Liew says that's a reflection of the demographics in Bend.
"It is challenging to think about not even just the groceries, but just to take [the kids] to a neighborhood where it's majority-Asian, where they might see Filipinos and a Korean restaurant and a pho restaurant," Liew said.
Liew says he longs for the foods of his childhood, in part because he wants his wife and kids to share in the experiences he had growing up. As a kid in the Bay Area, Liew's Chinese immigrant parents would take the family on trips to San Francisco's Chinatown to expose them to their culture. Liew acknowledges that with every new generation of Chinese-Americans in his family, more and more of their cultural heritage gets lost.
"I think so much of your culture identity is around what you eat," Chet said. "It's the most accessible; it's hard for me to speak and teach Chinese to them ... but I can certainly cook a pot of fried rice."
The Liews look for any opportunity to expose their kids to their Chinese heritage; their home has Chinese decorations in it, and they try to attend Chinese New Year celebrations in town when they can. But to fill in that void around Chinese groceries, Liew has started thinking about opening up his own Asian grocery store in Bend.
"Food is very symbolic," Dogo said. "It makes [people] feel like they're still tied to back home even if they're here in Oregon. And some of them want their children to know about it: that this is part of our culture and this is what we eat where we came from."