An extreme and rapid drop in water on the Klamath River this past weekend caused a fish kill in the upper reaches. The water was drawn down as part of an agreement to supply irrigation water to the Basin's farmers in this drought year.
Fly fishing guide Stuart Warren was fishing a stretch of the Klamath River Monday near the town of Keno, Oregon, when he noticed something along the rocky banks.
"They had dropped the river levels to a level that I'd never seen in the over 15 years I'd been fishing there. So when I got there, we were very surprised to see … thousands of fish stranded in what you would call little tide pools. But most of them were not living anymore," he said.
A rapid drop in river flow left the fish stranded and dying in newly exposed pools.
The Oregon Department of Fish and Wildlife confirmed the fish kill, which included sculpin, catfish and minnow.  They also confirmed the fish had been stranded due to low river flows.  There are no official estimates of how many died.
The Bureau of Reclamation controls the flows on the river. It started dropping the water levels late last week as part of a water-borrowing deal between farmers and the utility that owns the dams farther downstream.
Over a two-day period, the Bureau of Reclamation decreased flows out of Upper Klamath Lake by about 85 percent. Water on the lower Klamath River did not drop rapidly during this period because flows were supplemented with releases from reservoirs downstream.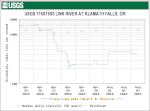 None of the fish killed last weekend are consider threatened or endangered, but Warren says these fish serve as food for redband trout, a sport fish native to the basin.
"Unfortunately, because this section of the river doesn't have any endangered species – it doesn't have the Klamath River sucker in it, it doesn't have the Coho salmon in it — this section of the river takes a beating for it," Warren said.
Since the lowest measured river flows on the Upper Klamath on Saturday, water levels have increased modestly.
The Bureau of Reclamation says flows will increase even more soon. That's when they will begin a court-ordered release of water intended to lower the rates of disease in endangered salmon downstream.