In two weeks, thousands of peace-loving, free-spirited campers will descend on Oregon for the 2017 Rainbow Gathering in the Malheur National Forest.
The annual summer event attracts hippie types and wanderers from across the nation.
Rainbow members announced Thursday on social media that the July 1–7 gathering will be in a large field at Flagtail Creek, about 20 miles northwest of the tiny town of Seneca, Oregon, off Highway 395.
Forest Service officials are preparing for upwards of 20,000 attendees to flock to the meadow. The agency is expecting more than the 10,000 typical Rainbow attendees, given that this year's gathering is situated in a left-leaning state where counterculture is nothing new.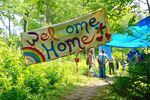 Officials say the Rainbow Gathering will be an added stressor for land managers already taxed with preparing for the total solar eclipse in August, which is also expected to attract tens of thousands of campers to national forests.
Rainbow Family members often refer to themselves as the largest "non-organization" in the world. They espouse non-violence and sustainable living and peace, love and acceptance. They make decisions by consensus and emphasize that there are no leaders.
"Everybody welcomes you home, every person you pass says, 'Welcome home,'" said 21-year old Hannah Cameron, a traveling artist from Portland. "Everyone there is family."
This will be Cameron's second Rainbow Gathering. She said her first, two years ago, was "transformative."
"I never felt fulfilled. I didn't know what I wanted to do with my life until I got there," Cameron said. "I saw so many capable people build a fully functioning society in the middle of the woods for two weeks and be happy."
Malheur National Forest Braces For Crowds   
The Forest Service requires groups of 75 or more to obtain a special-use permit to camp on public lands, but the Rainbow members dodge that requirement by emphasizing there are no official leaders and no official organization to their group. They assert their right to assemble on public lands is constitutionally protected.
"The potential for resource impact is huge," said Ryan Nehl, deputy forest supervisor for the Malheur National Forest. "While we'll take steps to mitigate resource damage, we know that the opportunity for damage is high."
The Rainbow Gathering started in 1972 and the event has a long history with the Forest Service.
Years ago, the agency recognized the futility of trying to prevent the gathering from happening altogether. It's not like land managers can put up roadblocks to prevent people from camping — not to mention that such blocks might lead to confrontations and possible claims of First Amendment infringements.
So, the Forest Service takes a "damage control" approach, according to Nehl.
As Rainbow Family members met near John Day, Oregon, recently during a pre-gathering known as "spring council,"  Forest Service officials were there.
Nehl sat in on those meetings to provide information about the possible sites discussed for the gathering. He said the Rainbow community is eager to protect forests, habitat and water resources.
"The folks at the gathering are very interested in knowing where resources are so that they can avoid them," said Nehl. "Such as archaeological sites that are culturally sensitive to tribes, as well as areas where they have Endangered Species Act sensitive fish, and any sensitive plants or other features on the landscape."
Now that the group has settled on a site for the event, the Forest Service will quickly draw up an "operating plan" to try and protect the area as throngs of people arrive.
Natural resource advisers mark off areas containing sensitive plant or wildlife species to avoid and highlight areas for camping and waste latrines. They give instructions for how to access drinking water, use firewood and safely manage campfires.
For all the cooperation, the agency is by no means sanctioning the gathering, said Nehl. The Forest Service is simply trying to be proactive.
"We're not authorizing this event," said Nehl. "But we know it's coming. It would be foolish not to prepare and defend our resources as best we can."
Each year, the agency deploys a special team out of Washington D.C. to wherever the gathering takes place. Similar to the incident management teams that handle wildfires, it includes logistics, planning and finance personnel — as well as 30 to 40 law enforcement officers.
The Forest Service spends about $500,000 on law enforcement and management during the gathering each year. That money is appropriated from the Washington D.C office specifically for the annual Rainbow event.
Attendees emphasize their love for nature and point to efforts to mitigate the impacts of thousands of people.
"There's not a lot of people who live in the woods for two weeks and poop in a trench who aren't willing to abide by certain rules," said Cameron, the Portland artist. "All the trash is picked up. We walk in certain paths so we're not trampling the wildflowers."
After the crowds leave, a small crew stays behind to try and rehabilitate the site, and some will return the following year to further mitigate impacts.
For Many, Rainbow Is A Calling Home
Rainbow Gatherings typically include drum circles and music, dancing, fire-spinning, yoga classes, costumes and more. There are no clocks and electronics are discouraged. There's also no commerce of any kind, but if participants want to chip in for food from communal kitchens, each night they pass a "magic hat" for donations.
Alcohol is frowned upon, but drugs tend to flow freely at the events.
For many in the self-described "family," the annual gathering is a place to escape regular society, be creative and feel completely accepted. Some attendees have typical nine-to-five jobs or go to school. Others are full-time vagabonds. For some, the gathering is the one place where they feel comfortable and loved.
Stevie Silver is a DJ who is currently en route to the gathering, pedaling her way by bike or hitching rides from Los Angeles. She said she's been living in a tent for the past two months there. She said Rainbow is her only family.
"I need their hugs. I need their family. I need their connection," said Silver. "My real family is a tattered and torn thing. It's full of judgment."
Silver said she doesn't mind having the Forest Service's watchful eye over the gathering.
"I love them! They're great," she said. "I collect stickers from them and hugs and pictures.
"They take time and they show us what's going on," she said, referring to how Forest Service officials explained delicate natural resources to attendees at a previous gathering.
Silver disputes the idea that the gathering could hurt public lands.
"People go three, four months later, finding sprouts from seedlings that have come up from where people spit out seeds, and they remove them," she said.
But in a crowd of thousands of people — even thousands of people calling for love, peace and acceptance — there's still potential for conflict.
At the Rainbow Gathering in Vermont last year, the Forest Service issued about 200 citations for offenses like drug use, assault and traffic violations.
Just recently in Oregon during the pre-gathering this year in Grant County, a man who was allegedly using LSD stabbed a 23-year-old woman. The Grant County Sheriff's office said Noah Destefano was taken into custody and charged with first-degree assault June 10 for injuring the woman.
Cameron said there will always be a few people who act inappropriately in a crowd of so many. But most Rainbow members are harmless, she said.
She's thrilled to have the gathering in her home state this year.
"It's awesome. I know these forests," said Cameron. "But honestly, wherever the gathering was, I would go."