Oregon's 2018 toxic algae troubles didn't begin with the summer bloom tainting Salem's water supply.
The opening salvo actually came from the wintry Pacific, where high levels of domoic acid — a neurotoxin byproduct of marine algae blooms — disrupted seafood production along Oregon's South Coast.
For Port Orford in particular, where the fishing industry sustains about one-third of the local economy, this meant a season of loss instead of bounty.
Hot Crab And Empty Stockings
By the numbers, Port Orford really can't afford more economic distress.
Data from the Oregon Department of Human Services in 2015 show that Port Orford lies in a poverty hotspot in what is an already depressed Curry County.
"You can feel it in the community, that sensation that there's a good portion of your neighbors that are struggling," said Port of Port Orford Commission President Tom Calvanese.
At the heart of the town's crisis this year was Dungeness crab.
According to the Oregon Dungeness Crab Commission, commercial fishermen up and down the state netted more than $65 million for this native West Coast crab in 2017. In Port Orford, a town of just over 1,100 people, that value was almost $1.5 million.
"It's kind of our ticket," Calvanese said. "There aren't a lot of other options. When your annual cycle includes this large influx of financing at a certain time of year and that doesn't happen, you start to hurt."
But the Pacific Ocean is undergoing changes to its water chemistry: from widespread domoic acid events and ocean acidification to low-oxygen "dead zones" that — as shown in the 2017 footage below by the Oregon Department of Fish and Wildlife Marine Resources Program — are suffocating Dungeness crab in their habitat.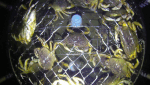 And these climatic phenomena directly impact coastal communities like Port Orford.
In November 2017, the waters from Coos Bay to the California border tested positive for "hot crab," or high levels of domoic acid in the Dungeness population. The state delayed the South Coast's 2018 crabbing season, which normally kicks off Dec. 1.
"The crab concentrates that toxin in their tissues and they become toxic to us. So we can't eat the crab that have too much domoic acid in them," Calvanese said.
Port Orford's fishermen were finally given the green light to go crabbing in early February, but they had already missed the December–January window when the Dungeness stock is most abundant and most profitable.
This meant many in the community had to go without gifts under the Christmas tree, like fisherman Steve Shelton.
"I didn't have a Christmas. We couldn't do anything else — because this town, its Christmas is crab," Shelton said. "There's a few hundred people that work on that dock that are dealing around crab."
'Fishermen Lead The Way'
The 2018 Dungeness crab season delay was a window into the volatility of the Oregon coast's fishing economy.
On the flip side, the months following the actual open demonstrated coastal resilience in action — when Port Orford fishermen stormed the ocean to regain their losses.
"Some of us hadn't worked for three or four months before that. So it's hard to prepare for those times when you're not ready for it," said Rodney Fisher, a Port Orford seaman of 20 years.
That urgency showed, even as late as May.
On deck, Fisher was a dynamo: all sinews and explosive movement.
With his boat steadily running at 3 knots, he jabbed at the water with a hooked pole and yanked up a line, which was quickly fed through a motorized pulley called a "crab block." A loud whirr and the block pulled up a potful of Dungeness crab.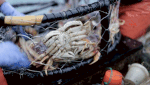 "Then I'll drive to my next crab pot and I'll buoy up the next one, and we just run through 40 to 50 pots at a time, until I get through all my gear," Fisher said.
At the same time that Port Orford fishermen are persevering, they're also exploring other ways of making a living.
"Fishermen are leading the way," said Calvanese. "Just, for example, we have a local fisherman who has gone into the business of cultivating an edible seaweed called dulse."
Port-side farming may be a less thrilling alternative to the high seas, but there are good incentives for growing dulse: It tastes like bacon and a recent analysis predicted the global seaweed market to reach over $20 billion by 2023.
At any given time, dulse farmer James Weimar cultivates up to 700 pounds of the stuff, which supports about 100 pounds of production each week. Currently selling at about $10 per pound, fresh dulse is relatively on par with the retail value for whole Dungeness crab — which slides between $6 to $12 per pound throughout the season.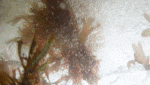 And although Weimar has to constantly "weed" out unwanted growth from the dulse crop, his company can grow dulse in seawater tanks year-round — unlike seasonal catch like crab.
When it's slim pickings in the ocean, that just means more options for a fishing town looking to stay above water.