After the second day of large scale protests in Portland against racial inequity and police brutality, Mayor Ted Wheeler held a May 31 press conference saying it was a dark morning in America.
"The cause that rallied the country to decry systematic violence and racism against our black friends and neighbors," Wheeler said, "has been coopted by rioters and looters to use the moral soul of this movement as cover to destroy our communities."
The day before, nonviolent protesters had
marched through downtown Portland for hours
before taking up station at the Multnomah County Justice Center. There, protesters held die-ins, with groups laying down in the street to symbolize death at the hands of the police. Standing a few feet away, officers behind a fence surrounded the building.
Around 6:50 p.m., a little over an hour before a curfew was set to go into effect, police in riot gear formed a line across SW Main Street and SW 3rd Avenue between the Justice Center and the Mark O. Hatfield Federal Courthouse.
With protesters and police lined up face to face, one protester walked down the line of police filming each of them. Halfway down the line, an officer used his baton and shoved the protester to the ground. A second officer sprayed pepper spray in the face of a protester, and from there the police proceeded to use a bevy of "less lethal munitions," including tear gas, rubber bullets and flash bangs, to disperse the crowd.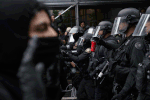 For the next few hours, small groups of protesters ran through downtown and around Lloyd Center as police chased and fired off more weapons to scatter them.
Similar scenes have played out in Portland for weeks. Politicians and law enforcement have justified the tactics by labeling some protesters good and others bad. But critics say such distinctions are misguided, at best, and propaganda meant to squash popular dissent, at worst.
Each night, thousands have been gathering at Revolution Hall in southeast Portland where Black people have shared their stories and experiences with racism before marching throughout the city, blocking streets, and bringing their protest to different neighborhoods.
Related: Protest Profiles: Oregonians Speak Out Against Police Brutality
In downtown Portland, a similarly large but loosely organized group of protesters have gathered at a fence surrounding the Multnomah County Justice Center. That protest has frequently ended with police using tear gas, flash bangs and rubber bullets.
Portland Police and city officials have said it's a tale of two protests. Each morning in press conferences and statements, they praise the so-called peaceful demonstrations and criticize violence at the justice center.
But demonstrators said that's not an accurate story. Instead, they said dividing protesters and deciding what type of protest is good and what type is bad is a ploy to delegitimize popular uprisings.
"There's a vested interest in the state to be able to present which protest is good or bad because it's a way to attempt to keep people complicit," said Lilith Sinclair, a 25-year-old Afro-Indigenous nonbinary organizer based in Portland. "I don't believe that destroying the systems of oppression that we exist in is violent, considering the fact that none of these systems are in and of themselves alive."
Sinclair said that protest is supposed to be disruptive. If the mayor and police approve of a protest, then they think people need to rethink what it means to protest.
Standing along the side of the crowd at Revolution Hall, wearing a mask to protect from the coronavirus and listening to speakers talk about their experiences being Black in Portland, 77-year-old Kent Ford recalled his experiences in Portland during the 1960s civil rights movement.
Ford founded the
Portland chapter of the Black Panther Party
and recalled that most of their work in the 1960s and 1970s was providing social services to the Portland Black community. The Black Panthers served breakfast to neighborhood kids each morning and established health clinics, Ford said.
"At Irvington park, we had a three-day thing; we had a sickle cell test, passed out food, classes, books," Ford said.
He said he and his fellow activists were under constant surveillance by the FBI as part of the infamous COINTELPRO, or counterintelligence program originally established to monitor communist activity and later expanded to surveil what the FBI called "Black nationalist hate groups" like the Black Panthers.
Standing with Ford was his close friend, Professor Jules Boykoff, who teaches at Pacific University.
"They didn't care about the good protester or bad protester, you were just a Black man in America if you were Kent or Malcolm or Martin," said Boykoff, who has studied suppression of political dissent. "It didn't matter, you were put under that surveillance program."
Boykoff said that labeling demonstrators good or bad can help political leaders and law enforcement crack down on activity they don't like.
"When one agrees to use the good protester, bad protester idea as the framework for understanding protests," Boykoff said. "One is actually muddying the political waters in a way, making space for police to violently attack protesters for acts of vandalism.
And it's a label the protesters on the ground in Portland roundly reject.
At Revolution Hall, during the second week of protests, two organizers — Darren Golden and Devin Boss — were there meeting with some of the other organizers.
Golden and Boss both grew up in North Portland. Neither has organizing or activist experience, but they both emerged in the first few days of protests as dynamic leaders.
"I'm not going to sit idly by while somebody creates a narrative for my existence," Boss yelled to a crowd of thousands. "Our existence is our own. As soon as we lock arms like this right here we show them, they ain't untouchable. Y'all ain't untouchable. You're gonna get touched."
Boss and Golden both said it's not for them to tell other protesters the right or wrong way to express rage.
"How convenient would that be," Boss asked, "that the person that's oppressing us also gets to tell the oppressed how to be outraged about their oppression? No. There's no rulebook to this"
Golden said their group is focused on nonviolent protest and that they fully support the protests downtown at the justice center. He explained that nonviolent protest means they are going to do everything they can, without inciting violence, to make sure Portland city officials and residents know they are here and that they aren't going away.
"That doesn't mean that we wouldn't respond to violence," he said. "But we're not inciting violence."
Boss said the demonstrations are all about disrupting the city.
"Spreading awareness, giving context and making demands and disrupting the shit out of things," he said.
Undermining messages from Wheeler and the Portland Police Bureau is the reality that many Portlanders are attending both protests, and that demonstrators see both forms of protest as necessary to bring meaningful change.
"I think that if we are not out here on all fronts that we can be on, that we will not be able to impact large scale change," Golden said.
One day, after walking six miles with protesters through the streets of Northeast Portland, Portland Black Panther's founder Ford was back at Revolution Hall where he's come every night since protests began.
"You know, that little business about what's going on downtown, more power to everybody," he said. "It's all together. You can't separate them. Personally, I feel comfortable in both places."
Golden, Boss and their group are asking the city to cut $50 million from PPB's budget and reinvest it into their community. They're also asking for cannabis tax dollars to be reinvested into the community instead of going to the police department. Currently almost half of the $4.6 million in cannabis tax revenue goes to PPB.
And, Golden said, they want to see ineffective leaders step down.
So far, few of these demands have been met. But while politicians and law enforcement decry what they call violence, they're also responding.
The city council met last week to vote on proposed $15 million in cuts to the police budget. A final decision on those cuts was delayed after Commissioner Chloe Eudaly voted no, saying the city wasn't doing enough to meet protester demands.
Another vote is scheduled for Wednesday.