Mohammad Noyeem told his story in soft, well-practiced English.
He was on break from his job at a Habitat for Humanity ReStore, where he shelved donated items for $12 an hour. He had spent his morning putting away bedroom mirrors, a box of children's books and a recliner sofa — objects that speak of home, of comfort and security.
But Noyeem's own memories of home as a Rohingya from Myanmar are of cruelty and violence.
"

I saw people burning my village. Many were killed in front of me. I was only 13 years old."

— Mohammad Noyeem
Noyeem was referring to atrocities he witnessed firsthand in 2012 when Myanmar's military helped ethnic Rakhine civilians murder hundreds of Rohingya in Rakhine State.
Watch: Portland's Rohingya, the hell they escaped and life in a distant refuge.
The Rohingya, a largely Muslim minority ethnic group, has long been oppressed in Buddhist-majority Myanmar. An exclusionary law passed in 1982 by the authoritarian Ne Win regime stripped the Rohingya of their citizenship.
This statelessness became a defining feature of Rohingya life in Myanmar. It meant a lack of access to adequate education and restrictions on their ability to marry and to have children, among other violations of their human rights.
Democratic reforms in 2011 only unshackled long-simmering sectarian hatred. The Rohingya were increasingly demonized as "illegal immigrants" and "terrorists" by radical Buddhist monks and politicians, a United Nations report found.
After the 2012 bloodletting, Myanmar's government declared a state of emergency in Rakhine State and imposed even harsher restrictions. A ban on gatherings of more than four people. A lockdown on travel. The Rohingya homeland became a massive, open-air prison.
Even youths like Noyeem were subjected to arbitrary violence.
"

I was beaten a lot, with my hands tied behind my back."

— Mohammad Noyeem
Desperate to secure a better life for their son, Noyeem's parents pushed him to flee Rakhine State in 2015.
This decision meant Noyeem was spared from a more brutal campaign of genocide by Myanmar's military in 2017. It also set his life path on a divergent trajectory than most Rohingya, a path marked by access to citizenship and formerly unthinkable opportunities in the distant United States.
'Then The Boat Started Sinking'
Noyeem's exodus from Myanmar is a Homeric tale of survival.
He walked more than 10 miles north through dense jungle from his village of Thawinchaung to Anauk Myin Hlut on the coast — evading snakes and security checkpoints.
From there, he — like thousands of other Rohingya that year — boarded a smuggler's boat, bound for the relative safety of Malaysia.
Noyeem said he embarked on Jan. 19, 2015. He didn't see dry land again for three months.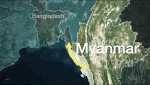 Map of Rohingya refugees' sea route to Malaysia and Indonesia.
Denied permission to land by Malaysian and Indonesian coast guards, Noyeem's boat was abandoned in the Andaman Sea by its captains.
Supplies ran out. Passengers took to drinking seawater. Among the children, about 20 died of dehydration and diarrhea, Noyeem said.
Then the boat started sinking.
"

It was something like 'Titanic.' I jumped into the water and swam for 5 hours."

— Mohammad Noyeem
Noyeem was one of the lucky ones: He was pulled out of the Malacca Strait by local fishermen and joined a handful of Rohingya asylum seekers in Medan, Indonesia.
He learned English and even caught the attention of local news when he began teaching other Rohingya children at the asylum shelter.
In March 2018, nearly three years after his sea rescue, Noyeem arrived in Portland, Oregon, joining the nearly 10,000 Rohingya who've been resettled in the United States within the last two decades, according to publicly available data.
This American Rohingya diaspora has set down roots in cities as varied as Chicago, Dallas and Milwaukee.
Portland's own Rohingya community consists of more than 100 families — roughly 1,000 people — clustered along a swath of strip malls and low-rent apartments in the city's southeastern fringe.
They live in close proximity to refugee resettlement support services, heading to Mid County Health Center for medical checkups and seeking job assistance through the Immigrant and Refugee Community Organization (IRCO).
Mohammad Noyeem is taking full advantage of the latter. His job at the ReStore was facilitated by IRCO's Work Experience for Youth program, giving him a broader idea of work other than forced labor in Rakhine State.
Most important for Noyeem, however, is the race to close his educational gap.
Within months of arrival, he'd registered for classes at Mt. Hood Community College in nearby Gresham, with the goal of completing his GED high school equivalency.
"

Everyone has aspirations but we couldn't fulfill ours. Our parents arranged for me to leave to get knowledge."

— Mohammad Noyeem
At the first meeting of an ESL class in January 2019, Noyeem shared his background with his classmates.
"R-o-h-i-n-g-y-a. Yeah. That's my language. That's my primary language," he said.
Then he began to tell his story to new listeners, again in a soft voice and with great detail: from the massacre in his village to his near-death experience at sea to the beginning of hope upon arrival in Indonesia.
It is the story that both anchors and guides him as he navigates a foreign land.
'When My Family Comes'
But exploring new lives in the United States also comes with guilt and anxiety over loved ones left behind.
Two years after the 2017 attacks, nearly 1 million Rohingya still live in limbo as refugees in neighboring Bangladesh.
An estimated 500,000 more, including members of Iman Hussein's family, remain trapped in Myanmar's Rakhine State under worsening conditions.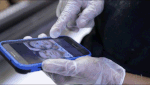 Iman Hussein scrolls through photos of his family on his smartphone.
Hussein fled in 2015 along the same dangerous sea route as Mohammad Noyeem. He left behind his wife, Hamida, and two young children in their village, Kin Taung, anticipating a future reunion.
"

They're now in a very desperate situation. It's not enough to feel good by myself when my family, parents, my sisters and brothers are in a very difficult situation." —Iman Hussein"
There are complications. Khin Niang Cing, Hussein's resettlement case manager with Catholic Charities of Oregon, said Hussein managed to bring his children's birth certificates but not his marriage certificate.
This missing document, compounded by the slashing of the refugee resettlement quota by the Trump administration, might mean years of delays for the Hussein family reunification.
Yet that doesn't mean Iman Hussein has lost hope.
"He's always saying, 'When my family comes, I need to be ready for them,'" Cing said.
Toward that end, Hussein is working as a grocery clerk at Mingala, one of the oldest halal markets in Portland. He hopes to someday earn enough to fully support his family — whether they're by his side or oceans away.
Each morning, he prepares Mingala's meat-cutting equipment and cases, learning the trade from more experienced staff.
"

In America, I wish to start my own business."

— Iman Hussein
The steepest learning curve for Hussein was using the electronic scale, according to Mingala's owner Yusuf Iqbal, also a Rohingya.
"He is illiterate. He doesn't know [how to] read and write," Iqbal said.
But Hussein is a quick learner, Iqbal adds, noting that it took him only a month to learn the numbers and button sequencing.
With the future of his family at stake, Iman Hussein sees no other way but to learn his way forward.
'We Are Now Asking For Justice'
Across the Rohingya diaspora, these dual lives are lived at all times, split between trauma and glimmers of hope.
Nowhere is this visceral tug-of-war more visible than at their local mosque: Masjid Omar Farooq.
On most weekends, the nondescript building brims with activity. Rohingya children pack the classroom-size space for weekly Quranic lessons.
Their parents, in turn, gather for prayers and shura, or consultation, on daily community matters.
This by itself is groundbreaking for Rohingya who came of age in Rakhine State. Myanmar's ban on gatherings of more than four people in Muslim-majority areas effectively meant a ban on communal meetings and worship for all Rohingya.
For the adults, the shura often turns to the subject of justice or lack thereof.
"There's no clear vision that the genocide will end. This is all we talk about," Yusuf Iqbal said. The Mingala market owner was also the one responsible for organizing the shura.
When OPB attended one such gathering, the men patiently lined up to provide testimonies. They wanted the opportunity to be heard.
Abdul Amin recounted his family's suffering:
"

Everyone fled but my mother could not flee due to old age and she was slaughtered. I have a sister who has four children, and her husband was taken away and killed in front of her."

— Abdul Amin
Harun Din (shown above) pulled out a piece of paper with his parents' original citizen card numbers before Myanmar's 1982 Citizenship Act:
"

Today, the government is not issuing the photo cards to us and to our children. We are now asking for justice and we hope that the American government and public will solve our problems as quickly as possible."

— Harun Din
Many more stories of the tragedy were shared. None had a sense of closure.
That's partly because the international community has failed to provide a solution to the crisis in Myanmar, other than imposing sanctions against the country's military leadership. Between landmine-strewn borders and failed — even ignorant — diplomacy, the stateless Rohingya have no clear path of returning home.
"I think that repatriation faces many difficulties," said U.S. Sen. Jeff Merkley, an Oregon Democrat. He was the first member of Congress to lead a delegation to Rakhine State following the 2017 mass killings and was the sponsor of a Senate Resolution calling for the safe return of the Rohingya.
"

I just concluded a fact-finding mission to Bangladesh and Burma. Our goal was to find out what would be most helpful in resolving the refugee and humanitarian crisis following the shameful persecution of the Rohingya people. pic.twitter.com/wsl3sCvEvw"

— Senator Jeff Merkley (@SenJeffMerkley) November 21, 2017
"The [Myanmar] government has talked about so-called 'model villages.' So, what does that mean? It is more prison camps, that is what the government is offering. Who wants to be repatriated to a prison?"
No one does. Beyond a corralling into these euphemistic concentration camps, there's no place many Rohingya can even call theirs anymore.
In the wake of the 2017 mass exodus, Myanmar's military razed whole villages, crops and even trees to make any Rohingya attempt at returning "yield nothing but a desolate and unrecognizable terrain," according to a separate UN report.
That leaves the mosque and the market. The Western-style homes. The concrete expanse of strip malls, strip clubs and everything in between.
Within this new Rohingya world in Southeast Portland, the formerly displaced must now make a productive sense of home — even as their old one recedes from view.
Postscript From The Pacific
"

I had a trip with my tutor to Pacific Ocean yesterday."

— Mohammad Noyeem
It's late July 2019, and Mohammad Noyeem's text message came across with several photo attachments.
It shows him climbing rocks and exploring Ecola State Park on the Oregon Coast with Ben Fahy, his academics tutor and frequent travel partner.
This was Noyeem's first time seeing the Pacific Ocean. It was his first experience with a vast body of water he wasn't compelled to cross in a floating coffin. An entire horizon he could simply enjoy — an emblem of his freedom.
By 2023, five years after Noyeem's arrival to the U.S., he'll be eligible to apply for American citizenship. By then his career path might also have solidified, inklings of which are already forming:
"

When I finish school I want to become a journalist. I want to tell the story of my people."

— Mohammad Noyeem
When that time comes, it's quite likely that the Rohingya will still need all the help they can get.
Animation by MacGregor Campbell
---
Resources and Information
Online Resources
Books
Francis Wade, "Myanmar's Enemy Within, Buddhist Violence and the Making of a Muslim 'Other'," The University of Chicago Press, 2017.
Azeem Ibrahim, "The Rohingyas: Inside Myanmar's Hidden Genocide," Oxford University Press, 2016
---