On a recent Saturday afternoon, Alan Evans strolled through the hallways of Northeast Portland's Wapato Jail singing Freddy Fender's 1974 hit "Before the Next Teardrop Falls."
Around him, 300 or so curious Portlanders roamed freely through the never-used jail, pressing their faces against the glass panes of the facility's visitation rooms and meandering through the industrial freezer. All had come to hear Evans' plan to convert the facility into a massive homeless shelter.
"If you get locked in one of those rooms, we don't have a key — but we can talk to you through the little phone on the other side," he joked to the visitors before then setting them loose. "I've always wanted to be on the visiting end of that."
The 6-foot-1-inch Evans, with a quick wit and an impressive baritone, had the crowd's attention. He told stories of living behind bars and sleeping under the Burnside Bridge. He offered up impressive credentials for the job at hand: nearly three decades of living on the street followed by 16 years leading the Oregon coastal homeless service provider Helping Hands.
And he had the latest vision for Wapato: He wants to turn the never-used jail into a 155,400-square-foot one-stop-shop service center for the region's homeless.
He's calling it the Bybee Lakes Hope Center, a nod, he said, to both the surrounding wetlands and the opportunities that will be offered to all who enter: programs to address mental health issues, addiction and abuse-related trauma.
Cooking classes in the industrial kitchen. A program for residents to learn how to build tiny homes. A vegetable garden. An aviary. And, of course, shelter: roughly 230 beds to start, spread across three of the jail's wings — one for men, one for women and one for families.
Many in the audience that day said they were taken by the proposal — and the man behind it, who was promising at least a partial antidote to the region's homeless crisis.
"It's getting to a critical mass where people are like, 'Something has to happen. All these people are out on the street,'" said North Portland resident Marian Gallagher, noting a tent city had grown near her neighborhood Rite Aid. "Maybe this can take a chunk out of it. There's no silver bullet. Try it, measure it, see how it works."
Kathy Deggendorfer, a Sisters, Oregon, artist and daughter of Columbia Sportswear Company's longtime chairwoman Gert Boyle, said she had made the trip to Northeast Portland because State Sen. Betsy Johnson, D-Scappoose, and real estate developer Jordan Schnitzer — both of whom she knew personally — were standing behind the project. And, after a tour with Evans, so was she.
"You can't just tread water when the problem just keeps getting worse and worse and worse. I'm going to support somebody who actually makes a positive step forward," Deggendorfer said. "He's one of those charismatic leaders. We need a charismatic leader."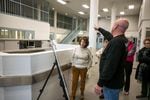 Public Problem, Private Solutions
It's been two years since Schnitzer bought Wapato Jail from fellow developer Marty Kehoe and began scouting for a provider to convert the space into a shelter. In a recent interview, Schnitzer said his motivations were part moral, part strategic. He said his heart goes out to the people he sees sleeping on the street on his morning commute to his downtown office. The same people, he believes, are causing the Arlene Schnitzer Concert Hall, named after his mother, to lose senior subscribers and blocking the entryways to storefronts based out of the property he owns.
Schnitzer said he's considered a series of proposals, but the most promising one had a fatal flaw: it required money from city and county leaders adamant they did not want their stretched-thin funds going to a shelter 12 miles from Portland's downtown core.
Related: New Wapato Jail Owner On Its Future As A Homeless Shelter
Evans said his plan is different. He's not currently asking for public money – and has secured the little he is asking for from private donations. While Volunteers of America, the most recent nonprofit to take an interest in Wapato, said they'd need $18 million annually to run the space, Evans estimates he'd need just $4 million to get off the ground — $3.7 million for two years of operating costs and a little left over for renovations.
He said he's hit his goal with four $1 million checks: three from local real estate figures — Schnitzer, Portland developer Joe Weston and investor John Niemeyer — and one from an anonymous donor. Plus, a few well-connected Portlanders have agreed to sit on the advisory board: Portland developer Homer Williams, Nike executive Cheryl Hunter, and State Sens. Lew Frederick, D-Portland, and Scappoose's Johnson.
Evans has generated enough initial support that, as of last week, Schnitzer agreed to make Helping Hands a tenant. They're now negotiating a lease.
Large battles loom ahead, namely a fight to get the industrial area zoned for use as a shelter — not an easy ask from a city council whose members have insinuated housing the region's homeless in an old jail was idiotic, ill-informed, and "inappropriate on philosophical grounds."
Multnomah County has been just as blunt: When Schnitzer announced last fall he planned to raze the building if no provider immediately stepped up, Multnomah County officials issued a statement, saying they were glad he had "reached the conclusion that he can't afford to warehouse people in this remote jail."
Soon after, Schnitzer headed to Clatsop County's annual Iron Chef fundraiser, where he was starring as a guest judge, and hit it off with Evans. A few million-dollar checks later, Schnitzer's plan, which just months ago seemed fated to be laid to rest in a pile of rubble, feels more tangible than ever — a reason to celebrate for those who see it as a critical step to addressing the city's homelessness crisis, and a cause for concern for elected officials who believe, if it gets off the ground, they'll one day be asked to foot the bill for a shelter they never wanted.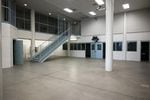 Surviving, Then Giving Back
Before there was Helping Hands Reentry Outreach Centers, there was Thugz Off Drugz.
This is when Evans first hit the radar of Seaside Mayor Jay Barber. His wife, who had met Evans while developing a community garden near his shelter, insisted he meet a man with a powerful vision for setting up emergency shelters and reentry housing along the Oregon Coast. Barber resisted.
"I said, 'I do not want to be involved with somebody whose organization is called 'Thugz Off Drugz,'" Barber said. "Finally, I relented, and I did meet Alan. And like so many other people, I was taken by his story."
His story is a powerful one, the bare bones of which Evans readily discussed during an interview with OPB at his Astoria shelter.
By the age of 13, Evans said, he was addicted to methamphetamines, a way to numb the severe physical and sexual abuse he'd experienced growing up in Southern California. He spent the next three decades transient, moving through Michigan, Florida, Arizona and Washington, before landing under Oregon's Burnside Bridge.
And then, about 18 years ago, he said he had a reckoning near Seaside. Freezing under a tarp, he overheard a couple leaving home and piling into a packed car, arguing over who was going to check their mail while they were gone.
Once they drove out, he broke in. He found a .22-caliber pistol in the glove box of a pickup truck in the garage, and — realizing he had nobody to call from the landline he now had access to — he debated whether to pull the trigger.
"I chose to live," Evans said. "But the funny thing about it was that when I tried to get food stamps, they told me I needed an ID. I tried to get ID, they told me I needed a residence. I tried to get a residence, but I had no money."
He broke back into the house, printed himself an overtly fraudulent check, and delivered it to a local Wells Fargo bank — the only way, he felt, to secure three meals and a bed. The arresting officer sympathized and instead of sending him to jail sent him to a recovery house. Evans began going to support meetings, got a driver's license and a job, and, soon after, decided to start an organization that could lift up people who'd been in his position: penniless with a desire to stay sober.
In the two decades since, Evans, now 56, has seen his organization spread along the Oregon Coast, growing from an eight-bed shelter in Seaside to an 11-shelter operation in Clatsop, Tillamook, Yamhill, and Lincoln counties. Their largest shelter in Astoria can fit about 60 people. Supporters such as Jay Barber and Sen. Betsy Johnson have helped guide the growth, connecting Evans with fundraising opportunities and advising a name change.
Their board, which Barber now chairs, has become a roster of big players in small coastal towns. From Seaside, the police lieutenant and fire chief have joined. From Cannon Beach, the police chief. From Tillamook, the sheriff. Astoria Police Chief Geoff Spalding is a new addition.
While Spalding said he was initially apprehensive when Helping Hands came to town a year and a half ago, he's since been impressed by their "little bit of the tough love philosophy."
The organization has strict requirements for those who decide to stay long term: daily chores, "highly-suggested" 10 hours of community service each week, job applications submitted until they're employed. Perhaps most challengingly, residents must remain sober at all times – and prove they're doing so by passing random drug and alcohol tests.
At the proposed center, staff envisions everyone referred to them will first spend four nights in "emergency shelter bunks" where they can access basic services like food and laundry. After that, they'll be asked to decide if they want to enroll in the long term re-entry programs — and abide by all the rules that go with it.
"They are a good mix of compassion and accountability. They don't take just anybody. Their model is to turn people's lives around and not just give a warm shelter for somebody that doesn't want to do anything," Spalding said. "They make people follow the rules."
Related: Permit Filed To Demolish Never-Used North Portland Wapato Jail
Others who work with Evans say they've been impressed by his business model, which eschews restriction-heavy federal and state money. Their current $950,000 annual budget comes mainly from private donors, grants from municipal and charitable foundations and dues that residents pay. (Those that are able — usually about 70% of residents — pay $250 a month, according to Evans. Those that can't afford it can ask for "scholarships," which will cover them up to two months, at which point Evans said residents have always been connected with some form of income. The same, he said, would be true of Bybee Lakes).
"The guy keeps opening up new facilities and new locations, in absence of any major funding streams," said Amy Baker, the head of Clatsop Behavioral Healthcare, which frequently refers people with mental health issues or substance use disorder issues to Helping Hands shelters. "I think that's pretty impressive."
Who Should Pay? 
Since Wapato was built, the question of how to fund the sprawling jail has been a thorn in the side of everyone who owns it.
The county spent $58 million of taxpayer money to build it, but could never come up with the cash to open it to inmates. County leaders couldn't open it as a homeless shelter either, in part because they felt the millions it would cost to run would be better put toward providing supportive housing. And Schnitzer's desire to have Volunteers of America step in as a tenant never took because the plan needed too much public money.
There's now a fresh face leading the charge, but old concerns about how you pay to use a place like Wapato linger.
Some have expressed skepticism about what kind of programs could be operated in the space with only a $1.9 million a year operating budget. This has led to concerns among some homeless advocates and county officials that Evans' plan represents a kind of Trojan Horse — and that Helping Hands will soon come knocking for more from Multnomah County.
Related: Despite HUD Visit, Wapato Jail's Future Still Unclear
Asked about that worry, Evans said he's heard it before — and he wants to dispel it.
"Our biggest battle we have to face is the people who fear that we're coming after money that would be competitive to other agencies," he said. "I'm telling you that private dollars, state dollars and federal dollars will be coming down the road, but we will not be competing at a city or county level."
It could be a difficult sell for Evans. Developer Homer Williams, who now sits on Bybee Lake's board, made a similar promise two years ago, pledging to build downtown's Harbor of Hope River District Navigation Center entirely with private money. He began, promisingly, by netting a $1.5 million check from Columbia Sportswear CEO Tim Boyle.
But the project costs doubled and the nonprofit ran out of money to open it. The Joint Office of Homeless Services, a government agency run by Portland and Multnomah County, agreed to step in, as they were reportedly already scouting for beds in Old Town Chinatown. They paid $1 million for this year's operating budget.
Though no one would comment on the record, some of the people who had been involved in financing the Navigation Center said they were concerned history would repeat itself if Bybee Lakes gets off the ground.
Unlike the Navigation Center, however, this is not a facility — or a program model — the county is likely to want in its portfolio.
Before selling the jail, county leaders spent a long time deliberating whether the space should be used as a homeless shelter before coming down firmly against that idea. Their reasons still apply: Wapato remains just as far from downtown as before, a distance advocates worry will isolate those experiencing homeless from their communities. County leaders still feel their limited dollars would go further if spent on supportive housing rather than shelter.
And there are new concerns cropping up, specific to Evans' high-barrier shelter model.
"A certain segment of the community is being prioritized here, specifically people who think we've been too soft on homelessness and that we need kind of this more tough love, more authoritarian approach, this high barrier shelter," said Greg Townley, the director of research for Portland State University's Homelessness Research & Action Collaborative and an associate professor of community psychology.
But, Townley said, this is not the approach that research shows is most effective — and it's not the direction the county and city are headed. Instead, the Joint Office of Homeless Services is championing a housing-first approach, which emphasizes getting people into stable housing before addressing the issues that may have landed them on the streets.
"We need housing-first that meets people where they're at without requirements of sobriety or having to jump through hoops to access housing and services," he said. "Putting barriers and requirements in place reduces the likelihood that those who are most in need of support will actually utilize it."
As January's open house wound down, Johnson, the state senator from Scappoose, sat at a table in the jail's entryway chatting as visitors filtered out. She told Evans, who had just come from a TV interview in the room next door, that she'd called Schnitzer to report on the event's success.
"I told him you were on your A-game," she said. "And he is as happy as a little clam."
Supporters of Bybee Lakes are in community campaign mode. So far, they've planned four public tours of the jail and two "community education" events. They have a lively Facebook page and a newsletter. You can now reserve an Eventbrite ticket for a volunteer clean up day this March and be tasked with pressure washing sidewalks and removing moss.
They're still looking for more money to make more renovations. But they're also looking to demonstrate they have a critical mass of community support, which will come in handy for the bureaucratic battles ahead, namely the push to get the space zoned for a shelter.
Johnson said she's sure they have the support — just look around.
"I've been to four of them," she said. "And each one of them, there are more people and more enthusiasm and more volunteers, more signups, more contributions."
"So show us an obstacle. We'll get over it. We'll go around it. We'll dig under it"