UPDATE (4:30 A.M.): FBI officials have established checkpoints around the Malheur National Wildlife Refuge as a handful of armed militants remain inside.
FBI officials say any vehicles approaching the checkpoints will be stopped and searched, and all occupants of the vehicles must present identification. Law enforcement officials said in a press release early Wednesday morning they will arrest anyone who is not compliant with the checkpoint procedure.
The only people allowed to pass the checkpoints will be local ranchers, according to the FBI.
"Anyone coming out of the refuge will have his or her identification confirmed and any associated vehicles searched," a press release from the FBI stated.
---
The monthlong occupation of an Oregon wildlife refuge took a turn toward a possible conclusion Tuesday night – with the death of one militant after an officer involved shooting. At least eight others were arrested.
Law enforcement wouldn't release additional information about the deceased individual, but multiple sources
said it was Arizona rancher Robert "LaVoy" Finicum
.
"You don't draw a line in the sand unless you're willing to go all the way," Finicum told OPB in an interview last week.
Leaders of the occupation at the Malheur National Wildlife Refuge – including Ammon and Ryan Bundy – were arrested along Highway 395 between the towns of John Day and Burns, according to the FBI and Oregon State Police.
Police said those arrested will face felony charges. All of the individuals arrested in Oregon were booked into Multnomah County Jail around 2 a.m. Wednesday.
With the armed occupiers' leadership in custody and another dead, the future of the occupation is unclear.
Related: A Rundown Of The Players And Issues At The Occupation
 
Kieran Suckling, the executive director of the Center for Biological Diversity, told OPB the FBI called militants camped near the refuge and told them to pack up and leave. Other armed occupiers put out calls on social media, asking more people to come and defend the remaining occupiers.
But a handful of men remained at the refuge into the early hours of Wednesday morning, as a convoy of law enforcement vehicles surrounded the refuge.
Militants reached at the refuge headquarters said they were well armed and preparing for a possible standoff with police.
"LaVoy was killed, I can't turn my back on that," said
. "Everybody's on alert for obvious reasons."
Fry wouldn't say how many people remained at the refuge, but said it included both men and women. He said there were no children.
Police said one of the people they arrested Tuesday suffered non-life threatening injuries and was reportedly transferred to a local hospital. That person was later released into FBI custody.
Others arrested Tuesday included Brian "Booda" Cavalier, Shawna Cox and Ryan W. Payne, police said.
The militants were traveling to John Day, Oregon to host a community meeting there.
Right wing Internet radio host Pete Santilli was also arrested outside Burns, while armed occupier Jon Ritzheimer was arrested in Arizona.
In a separate event in Burns, Oregon State Police arrested Joseph Donald O'Shaughnessy. They did not give details about the nature of the arrest.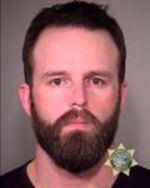 The Bundys were arrested and Finicum was killed while the group was traveling to meet with ranchers in Grant County.
"It's just shocking the way it went down," said Jarvis Kennedy, a member of the Burns-Paiute tribal council. "I kind of see why the FBI waited to get them in that area because it is secluded, especially during winter time. It's nothing but snow and timber."
During an interview with OPB, Kennedy expressed sympathy for Finicum's death and said he'd hoped for a peaceful resolution.
"That's a human life that's gone," he said. "Somebody loved that guy. He was somebody's husband. Somebody's brother. Somebody's uncle. I feel for the family."
With the situation still unfolding in Harney County, state leaders issued statements that expressed some relief.
"I ask for patience as officials continue pursuit of a swift and peaceful resolution," said Oregon Gov. Kate Brown.
Oregon Sen. Jeff Merkley said he was pleased the FBI took action.
"I hope that the remaining individuals occupying the Malheur National Wildlife Refuge will peacefully surrender so this community can begin to heal the deep wounds that this illegal activity has created over the last month," Merkley said.
Armed militants began their occupation of the wildlife refuge Jan. 2nd.
Ammon Bundy led the armed takeover of the vacant federal buildings south of Burns, along with his brother Ryan Bundy, and Finicum.
The group said they originally came to Oregon to protest the imprisonment of Dwight and Steven Hammond, two Harney County ranchers sent to prison this month after being convicted of arson on federal land.
The militants said their aim was to free the Hammonds and turn over the refuge to local authorities.
In the weeks that followed, international attention increased on the small rural Oregon town.
As the occupation has drawn on, Harney County residents became increasingly divided over whether the occupation at the refuge should continue.
Law enforcement is scheduled to hold a press conference 10:30 a.m. Wednesday.