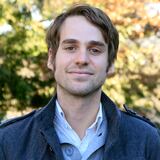 John Rosman was the enterprise digital producer at Oregon Public Broadcasting. He produced digital video and worked on long-term projects.
Previously, John worked as the digital editor for NPR affiliate KPBS in San Diego and the social media editor for Fronteras Desk. His reporting has aired on American Public Media's "Marketplace" and PRI's "The World" and been published online at PBS NewsHour and Univision.
By way of metro Detroit, John is a graduate of the University of Oregon's School of Journalism. He's worked as an editor in television and film, but he found his passion for public radio during a long winter in a lonely hotdog stand.