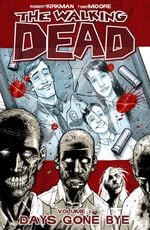 For a week, rumors have been circulating that Image Comics, the nation's third largest comic book publisher, is moving to Portland. OPB can now officially confirm the rumor with an exclusive interview with publisher Eric Stephenson.
Image plans to relocate its staff of more than 20 people to the Montgomery Park Building in northwest Portland by early next year, adding its $50 million in annual sales to Portland's already booming comics industry.
"Image moving to Portland solidifies its place as one of the three major hubs for comics in the United States, with the other two being Los Angeles and New York," says Charles Brownstein, the executive director of the Comic Book Legal Defense Fund, a free speech advocacy nonprofit that itself moved to town in June from New York City. "And I think it makes Portland even more of a beacon for people that want to participate within the comic's industry."
"The Bay Area has changed over the last 12 years," Image publisher Eric Stephenson tells OPB of why they're moving (you can hear the interview above). "A lot of people focus on the expense. It's not just that. The culture has changed a lot. It's become more of a corporate place."
He sees Portland as much more focused on small businesses, creative industries and employees, values Image believes in. Not to mention the city is a longtime hub for comic publishers like Dark Horse (the industry's fourth largest) and ONI, thriving comics stores, and, of course, numerous comic artists of all stripes.
"Since we have so many creators here, we're going to be able to talk to them face-to-face instead of over the phone or email or at conventions," Stephenson says, guessing that at least 24 Image creators now call Portland home. "We're going to keep doing what we've been doing, but hopefully better, thanks to our proximity to creative people."
Of course, finances also play a big role. Stephenson says they've found an office in Montgomery Park that is both bigger and cheaper than their space in Berkeley, and that Oregon is more business and employee friendly when it comes to taxes, healthcare, and wages.
Given Portland's DIY ethos and Image's DIY history, they seem primed to make a powerful duo.
Image Comics started in 1992, when seven comic superstars did the unthinkable and abandoned Marvel Comics, where they steered leading books like "The Uncanny X-Men" and "The Amazing Spider-Man," to start a new creator-owned company. They set only two rules: each creator would retain full ownership of his work, and no partner could tell another partner what editorial or business decisions to make.
"What this meant is that, while we had the advantage of a co-op between all of us — that gave us buying power, distribution, printing, that kind of stuff — we also had the freedom of autonomy," says Image co-founder and vice president Jim Valentino, who moved to Portland 10 years ago and was central in steering Stephenson to Portland over Seattle.
The contract is unchanged to this day and just as important for the dozens of creators who publish through Image, which puts out around 65 titles at a time and has seen its market share grow from 3.5 percent to 10 percent over the last seven years.
For example, Portland author Greg Rucka writes "Wonder Woman" for DC and "Lazarus" and "Black Magick" for Image. "The trade-off is when you do creator-owned work, you take a lower page rate and less up front, but the hope is that the longevity of the work will provide an ongoing back-end that will provide close to a living wage," he says. "'Lazarus' is in development for television right now, and I get to be a part of that because that's been my choice. When you create for Marvel or DC, it's theirs. They're not going to call me and say, 'write the movie just because you write the comic.' As far as they're concerned, they're different animals."
Many see that this unwavering creator-owned model was only Image's first revolution. The second was demonstrating to American audiences and retailers that comic books and superheroes are not synonymous.
ldquo;Thanks to Image, we're starting to understand in this country that comics are as diverse and versatile as any other medium," says Portlander Kelly Sue DeConnick, who writes "Pretty Deadly" and "Bitch Planet" for Image, in addition to writing regularly for Marvel, DC and others. "
Beginning in part with the massively popular "Waking Dead" series, Image has championed books as far ranging as DeConnick's satirical feminist dystopia "Bitch Planet," the inter-species space romance "Saga," the story of a guy who gets crime-solving visions from what he eats called "Chew," and tales of all genres. Concomitantly, the publisher has played a leading role in getting comics and graphic novels into book stores and libraries.
"They are providing something this industry needs," says Rucka. "For comics to continue to survive, we need to appeal to a broader base."