For months, as Oregon's state bureaucracy imploded under a crush of unemployment claims, lawmakers have lamented that the snarl could not be fixed simply by legislation.
Now, several bills have emerged that backers say could improve matters for Oregonians still waiting on unemployment payments — and those who may find themselves out of work in the months to come. The question is whether there is any appetite to take them up in the budget-focused special session lawmakers will convene Monday, Aug. 10.
In recent days, three legislative concepts related to streamlining and improving benefit payments have circulated among policymakers.
One concept reviewed by OPB would make it easier for tens of thousands of school employees to receive unemployment benefits. The bill would relieve the state employment department from needing to determine, on a case-by-case basis, whether those employees are likely to have their normal jobs resume at the end of the summer break, a factor which typically disqualifies them from payments.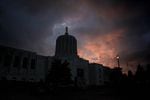 Another concept would make it easier for the agency to verify the incomes of contractors and self-employed workers eligible for payments under the new Pandemic Unemployment Assistance program, or PUA.
The last proposal would more than double the amount of money a person could make while working part-time and still receive full unemployment benefits. Currently workers lose full benefits if they make upwards of $132.50 a week. The new proposal would set the limit at $300.
The three concepts are aimed at easing the strain on a system many lawmakers have criticized bitterly in recent months, as the human toll of delayed unemployment payments has become clear. But it remains uncertain whether any will see the light of day as lawmakers prepare a special session focused on budget matters.
The top Democrat and Republican in the Oregon Senate have each said that the session should focus exclusively on closing a $1.2 billion budget hole brought on by the coronavirus pandemic. Senate President Peter Courtney, D-Salem, said earlier this week he wanted to keep proceedings as brief as possible to limit potential spread of COVID-19.
"The longer we're in the building the more chance we're taking someone's going to get the virus," Courtney said. "This is the budget session. Let's get this budget passed."
Rep. Christine Drazan, R-Canby, the House minority leader, has also voiced support in the past for sticking to budget matters, though she has been working in recent weeks on a proposal to offer liability protections from coronavirus-related lawsuits to businesses.
Less restrained are House Speaker Tina Kotek, D-Portland, and Gov. Kate Brown, who have both signaled support for potentially opening up the session to policy matters such as changes in police oversight. Both Brown's and Kotek's offices have been involved in talks over the unemployment proposals, and Brown's office said Thursday she "anticipates these two concepts to be taken up during next week's special session..."
The state's employment department is in better shape today than at almost any other time since the pandemic hit Oregon with full force. As hundreds of thousands of Oregonians lost work, the department's phone lines became hopelessly jammed, and an outdated computer system was not nimble enough to process changes to benefit policies.
But while the OED says it has processed — and paid — hundreds of thousands of claims, many others still remain tied up in a process called "adjudication," where agency employees must determine whether a person qualifies for benefits.
Many of those cases concern school employees, which acting employment department director David Gerstenfeld said this week were an increased focus of his agency.
"It's a much larger body of work now, because the pandemic has caused more uncertainty … and a lot more school employees are seeking benefits," Gerstenfeld said.
A portion of those claims could skip the adjudication phase under one of OED's proposals. The bill would temporarily allow the agency to approve school employees for benefits without investigating whether those employees are likely to be working their regular hours once school returns.
"You can then expedite those claims," said Bob Estabrook, a lobbyist for the Oregon School Employees Association, a labor group that has supported the change.
The bill would not apply to teachers, professors and principals, who are regulated by federal unemployment laws. It would expire in December.
Related: Oregon schools face tough climb to in-person learning
Another proposal being floated would give the state Department of Revenue formal statutory permission to disclose tax information to employment officials that can help them verify a person's identity and income. The change is apparently intended to streamline claims under the PUA, which involves self-employed workers and contractors.
"Both concepts — if passed — would allow OED to decrease processing times, particularly for PUA benefits, as well as free up adjudicators to work on the most pressing claims that require adjudication," Brown press secretary Liz Merah said in a statement. "The outcome will be faster delivery of benefits for all Oregonians."
The last proposal allows part-time workers to earn up to $300 a week and still qualify for full unemployment benefits in the state. That's a big step up from current law, which sets the upward limit at 10 times the state's top-tier minimum wage, or a third of a person's weekly unemployment benefits. Oregon has a tiered minimum wage that ranges from $11.50 to $13.25 an hour depending on region.
The idea was proposed by Labor Commissioner Val Hoyle, who borrowed it from a similar policy in Georgia. She has been working with state Rep. Paul Holvey, D-Eugene, to craft the proposal.
Hoyle said Thursday the proposal is designed to encourage people to return to work in sectors like the service industry, where hours for many workers have been slashed. She believes a higher income limit will help people return to work without fear they'll suddenly lose benefits they rely on to get by.
"As [restaurants are] trying to get up and running, they don't have the ability to hire people full time and people don't have the ability to work and get full-time wages," Hoyle said.
Hoyle does offer one caveat, however: Her bill will not be feasible if it requires extensive computer programming by the Employment Department. As of Thursday, she was waiting to learn more about how difficult it would be to implement.
"This is something that is urgent and important that can be a lifeline for business and labor at a time that business and labor really need a lifeline," Hoyle said. "It seems like a win-win proposal."