Activists seeking to abolish police caused damage to several buildings in downtown Portland on Friday night, including a church, the Oregon Historical Society and a bank.
The widespread violence closed a tense day in Portland, after police officers shot and killed a man in a city park Friday morning.
Fatal police shootings across the country this week led to several destructive protests in the city in which activists set fires, damaged windows, and attacked police vehicles and other law enforcement property, but Friday's killing in East Portland's Lents Park – of a man who witnesses said appeared to be having a mental health crisis – brought much wider destruction.
The crowd that caused that damage gathered in downtown's Director Park before 10 p.m., and carried out a spree of window smashing and graffiti that police quickly declared a riot.
Police officers in riot gear made several arrests throughout the night and told the crowd to disperse.
Videos and images posted online showed fires started in dumpsters downtown, and around a hundred protesters squaring off with officers at times. Despite dispersal efforts by police, activists continued carrying out damage into the early hours of Saturday. Some ripped plywood off shuttered buildings like the Pioneer Place shopping mall, others set fire to the Apple store and scrawled the words "No More History" onto broken windows of the Oregon Historical Society.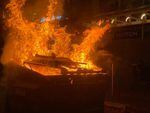 At one point, gunshots erupted downtown, though it did not immediately appear anyone had been injured. It was not clear who fired the weapon.
Earlier in the night, hundreds of people also participated in a Black Lives Matter march and speech event along the downtown waterfront, where speakers encouraged white Portlanders to take an active role in ending police killings.
The crowd then marched across the Hawthorne Bridge as people shouted "stand up, fight back!"
City officials began to brace for protests almost immediately after word of the Friday shooting in Lents Park began to spread. Portland police sent officers in riot gear to surround the shooting scene, and Portland Mayor Ted Wheeler quickly issued a statement urging calm.
"I recognize why people are concerned and possibly angry. While our understanding of this incident evolves, I urge everyone to proceed with empathy and peace," wrote Wheeler, who is also the city's police commissioner.
The mayor's plea had little effect, as the Friday night protests reached a level of violence not seen since the beginning of last year's massive protests for racial justice following the killing of George Floyd by Minneapolis police.
This latest round of protests came as the city is facing pressure on several fronts involving law enforcement. City Council is scheduled Saturday to hear public testimony about the police budget for the next fiscal year. A nationwide surge in gun violence has proven deadly in Portland as staffing shortages have left police scrambling to keep up with record killings. And the U.S. Department of Justice could soon slap the city with sanctions over officers' excessive use of force at 2020 protests that violated a longstanding consent decree.