It's close to 10 p.m. on a Thursday in downtown Portland. The warm weather has roused higher than usual foot traffic in a city that's still slowly stretching and yawning from its pandemic slumber.
Near the North Park Blocks, a bright projection of a drawing gleams across two building walls, covering almost an entire city block.
It attracts the attention of passersby, drawing some of them instinctually towards the light.
The people fluttering near the projector, understandably, have questions, "So you guys put the outline on and then someone paints over it? All that up there is just an outline?"
Underneath the massive projection, a group of people set up ladders and strap into boom lifts. They're preparing to paint the beginning tracings of the mural, "Never Look Away" — a project pushed into existence by many hands throughout many years.
"We're a hodgepodge of folks that decided to make this happen," Zoe Piliafas says.
And like many origin stories, this one begins at a bar. That's where Piliafas first ran into Oregon gay rights activist, Kathleen Saadat. As a history buff, Piliafas had read up on Saadat's involvement in the civil rights and gay liberation movement.
Piliafas remembers she immediately recognized Saadat at the bar and approached her a couple of beers in: "I said, I know who you are. I'm going to be putting a mural up that's going to have you on it along with some other significant community members from the LGBTQ community. And [Saadat] said, 'That sounds great. I'd like to see you do that. I'll wait.'"
That was six years ago, but by early August she will be one of eight people featured on the mural dreamt up that night.
Along with Saadat, the mural will include other Oregonians like Rupert Kinnard, creator of the first African American LGBTQ comic book characters, and more nationally known figures like gay liberation Marsha P. Johnson and actress Angelica Ross.
A massive mural Piliafas says is long overdue.
"I'm a former school teacher," Piliafas says, "And as I was teaching our young people the history of the United States. I realized I didn't get the history of the United States. And so I've sat in frustration realizing that we are not teaching properly. And there has to be ways that we disrupt this old tired narrative of who did what. And I think there is no better way than to do it through public art."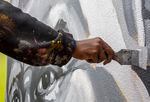 Piliafas has helped produce three other public artworks that depict Portland's rich history: The Black Heritage Art Markers on Alberta Street, the Black United Fund Mural by Eatcho and Jeremy Nichols, and the Jeremy Okai Davis mural, "Fiercest Athletes."
Eventually, her team plans to create educational materials about the "Never Look Away" mural that can be used as teaching tools in schools and handed out at walking tours. "We hope to move this beyond a mural and into a conversation and build history," she explains.
But before the walking tours start and the educational materials get drafted, Piliafas and her crew need to paint this massive mural. "It's 120 feet wide. The whole artwork is about three stories tall," explains Cassandra Swan, lead artist and producer.
"I think that everybody on the project has had a moment at some point where we've come to the wall in person and kind of been like, 'Oh, this is really big. This is a big job!'"
Ruban Lawrence is Swan's fellow producer. Lawrence says the ambitious scope of the project led to many stalls. "But right when we needed it, there was always community support that came in from all kinds of places," Lawrence says.
One of those places where they found support was with Pride Northwest. Pride Northwest provided sponsorship and also helped guide the selection of the eight people featured in the artwork.
The City of Portland also contributed money for maintenance and graffiti removal services, and The Portland Street Art Alliance shared their artist roster and production support.
But it's the in-kind contributions from the community that keep the lights on — literally.
PJ and Maria Harvey owners of "Really Big Video" showed up that first night of the outline painting, to donate the use of their high-powered projection. The Harveys stayed well into the night after putting in a full day's work at their shop.
The Harveys see their contribution as a way of paying it forward after receiving community support themselves.
Like many buildings, downtown PJ had to board up his storefront during the pandemic.
"We had a window shot out so we decided to board our entire shop up." PJ Harvey says. "And then we got tagged floor to ceiling."
The Portland Street Art Alliance connected local artists with shop owners and soon colorful murals popped up all over downtown Portland.
"It kept our building from being tagged the entire 18 months since it was put up!" PJ Harvey says.
So now, whenever the Street Art Alliance calls for support the Harveys show up.
"This is a good way to decorate our city with good artwork so every chance we can, we give back," explains Harvey.
While many community members like the Harveys are lending time and resources, all of the artists working on the mural are getting paid. And the production team was as intentional in selecting the artists as they were the subjects for their mural. They wanted the people holding the brushes to come from the same communities the mural was representing.
Muralist and portrait artist Kyra Watkins is thrilled to be part of the team.
"My brush will touch every face on this wall," Watkins says through a wide smile.
Watkins moved to Oregon from Ohio only two years ago. She thinks landing this project was fate.
"This is perfect for me because portraits are what I do," Watkins says, "It's right where I feel comfortable and right at home so I'm really excited. And the cause means a lot to me so you know that's divine planning I think."
Painter Tommiemc Davis, who goes by Nafsi, says their involvement doubles as a political statement.
"I'm from Tanzania where it's still very illegal to be gay and gay people get murdered," Nafsi says, "To be a Tanzanian and up here being able to paint such gayness! And be proud of it! It's really huge to me. To be like, 'Tanzanians are gay as well, and we support that even if our government does not.'"
After two years of active production, the mural project still needs more funding. Piliafas and her team are looking for a few more hands to help push the project closer to its end goal funding of $25,000.
"Each person depicted on our mural, worked relentlessly on behalf of their community and themselves to fight for equality," Piliafas says, "And every person said that they were honored to be selected, but they said it was not just me," she continues, "In fact, Kathleen [Sadaat] said to me, I am not just the founder. There were many of us. And to me, that is the crux of all of this that we lose often in history. It is not just the one person. It is all of us together."
To donate to the Never Look Away mural project visit https://www.pridenw.org/neverlookaway.