Editor's note: This story comes from the Next Generation Radio Project, a journalism training program sponsored by NPR, OPB and public media organizations across the country.
When he worked as a student advocate at Fort Vancouver High School, Damien Wheeler connected with a student who was at risk of failing. Wheeler said the student wasn't asking his teacher for help, so he stepped in.
"He felt comfortable because he had someone on his side," Wheeler said. "And he knew I wasn't going to target him and say like, 'oh, you're going to fail your classes.'"
Wheeler said the student received the credits to pass his class.
"They were Ds, but they were still passing," Wheeler said.
He doesn't work at the high school anymore but, the work he is now involved with is similar. Wheeler is a community resource liaison at Bridgeview Resource Center, where he gives families in the Skyline Crest community resources connecting them to housing assistance, education and employment.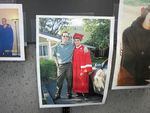 "Not everybody's life is the same, but being able to help them through it and being that consistent piece is the important piece of it," he said.
Wheeler grew up in Skyline Crest, a low-income Vancouver Housing Authority community in Vancouver, Wash. Today, he is 27, married, and a first-time homeowner, returning to work in the community that connected him with a mentor and the opportunities to fulfill his American dream.
"To be American is to provide those with opportunities who might not see it, to be an example for the next generation, because they're going to be the ones that dictate what happens next," Wheeler said.
The community is a small version of America's Melting Pot, where people like Wheeler connect homeowners with essentials like housing, education, and employment.
"Being this low income doesn't make you feel less American," he said.
"There might be times where you feel like you're being targeted and stuff like that, but I think being able to be connected to the resources ... America with land of opportunities and all that. The opportunities are out there, I just think that people just need help finding them."
Wheeler has spent the majority of his career in social work advocating for "at-risk" teens.
"Low-income children count as at-risk due to certain factors," Wheeler said. "Primarily I've worked with youth who are at risk of drug and alcohol addiction and gang involvement. I'm able to build relationships with these kids to help better themselves, they know that I'm not there to harm them in any way."
In the six years Wheeler has been working with young people, he's left with memories of the kids he's helped. He's assisted them with school or helped them process trauma while taking them on field trips and college tours, or playing at weekly basketball games.
Nowadays, he gets to catch up with the young people he used to mentor and hear about their success. "It's a great feeling, seeing them move forward," he said.
Wheeler's passion is to provide his community with equal American rights he said everyone is entitled to, housing, an open community, and comfortable living.